Now that I've shown you the bathroom, let's back up and look at the entrance and living room! Here is how I've added some festive cheer to those spaces.
I do want to mention that after coming to New Zealand I've started replacing most of our Christmas decorations. I found them to be a big homesickness trigger each year, plus I can't handle snowmen and snowy things considering it's summer here!
I decided to really think about what I wanted to add in, rather than just buying random stuff, and narrowed it down to: I like red and grey and white and silver (not so much green), and I like nativities, stars, and angels (not so much Santa and reindeer and Christmas trees). I did keep quite a few of our old decorations, but only the ones we were sentimental about or particularly enjoy.
I also didn't want to just add things to the decor that we usually have in our home, but rather decorate strategically by replacing regular items with Christmas items (for example, replacing the picture above the fireplace with a driftwood tree, and replacing the framed pictures on either side of the French doors with Christmas card hangers.) This keeps our home from seeming too cluttered over the Christmas period. I simply stash the regular items in another room until Christmas is over.
You'll probably also notice that we don't have a Christmas tree. We couldn't bring ours with us when we immigrated and haven't bothered to replace it since. I asked the boys and Grant if they wanted a tree and none of them cared, and since I really can't be bothered - and don't like the clutter of one - we just don't do one, and we're all quite happy with that. The Christmas police have yet to show up and arrest me!
So, to show you the actual decorations, let's begin with our door, to which I added a wreath. I made this wreath by taking a circular wire form (actually a metal ring from a broken lampshade!) and tying on 6-inch long pieces of fabric in Christmas colours. It was a soothing way to pass the time while watching a movie with Daniel. These wreaths can be made in any colours for any occasion.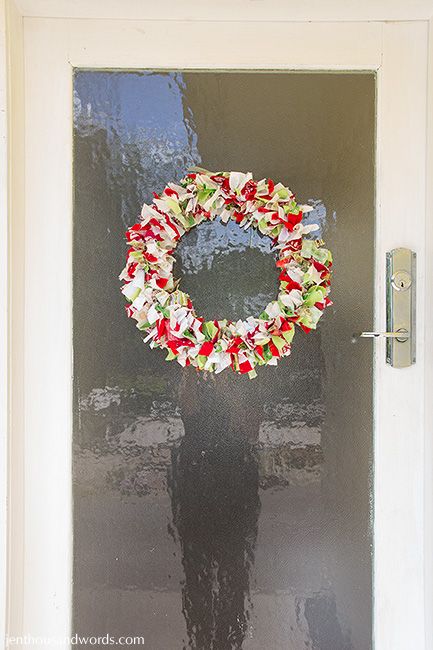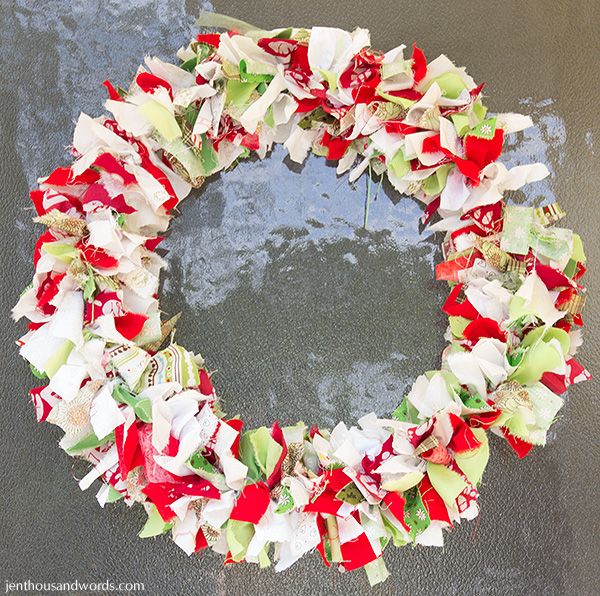 Once inside, you'll see a few little changes. I didn't do a whole lot to this space partly because it's so small, and partly because we haven't actually renovated here yet. I simply removed the pictures that were hanging on the wall and hung up our stockings in their place.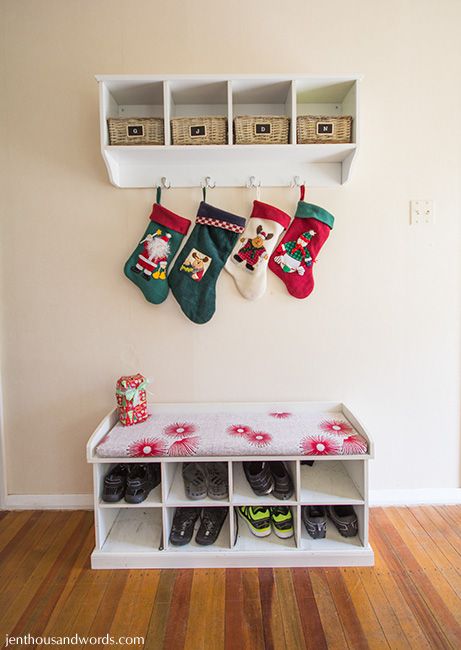 We've always had these stockings so I didn't want to replace them. It's nice for the boys to see their stockings each year - I'll just have to overlook the designs on them.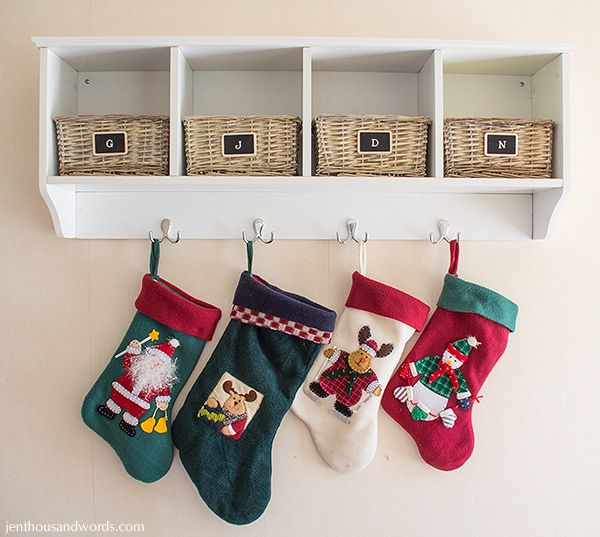 I also made a new cover for the bench cushion. This fabric is a graphic pohutakawa design - pohutakawa is a flowering tree that blooms right before Christmas, and is known as New Zealand's Christmas trees.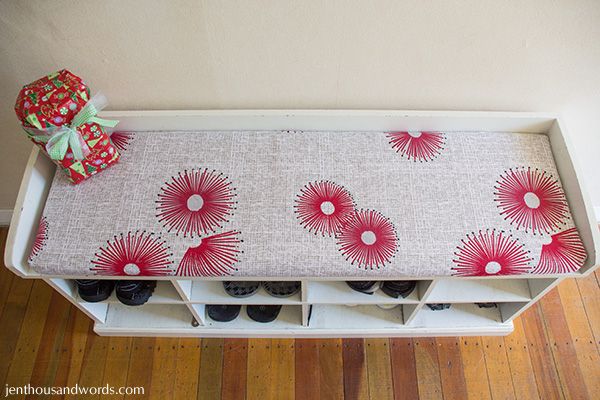 Here's a photo of an actual pohutakawa that I took last week while the boys were having their surfing lesson:
I also added this little ceramic Santa, as Noah enjoys him.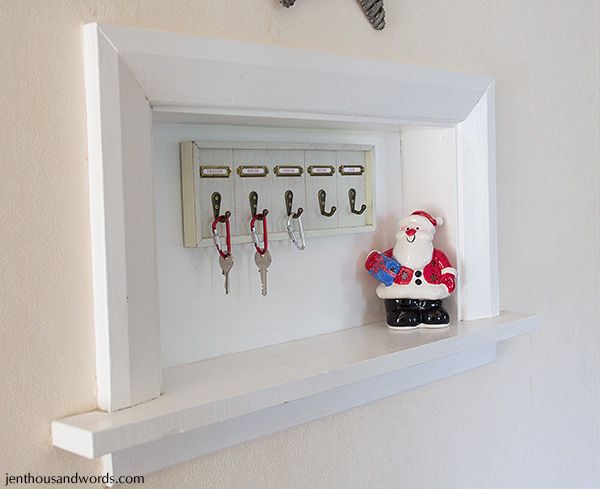 Moving onto the living room.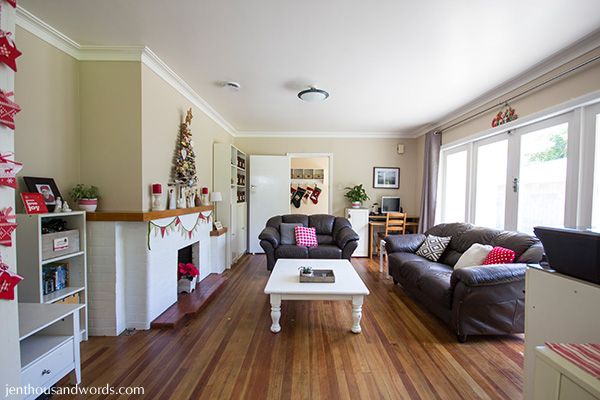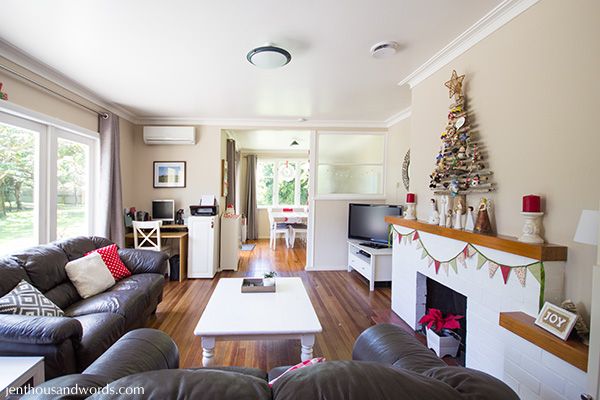 I forgot to take photos of a couple of the details that you can see in the photos above: I replaced our regular white candles with red ones, and added a little dollar store Merry Christmas sign to the space above the window.
To the right of the fireplace I added this little paper tree and Joy sign that my friend Carley made me.
This nativity sits in the bookcase.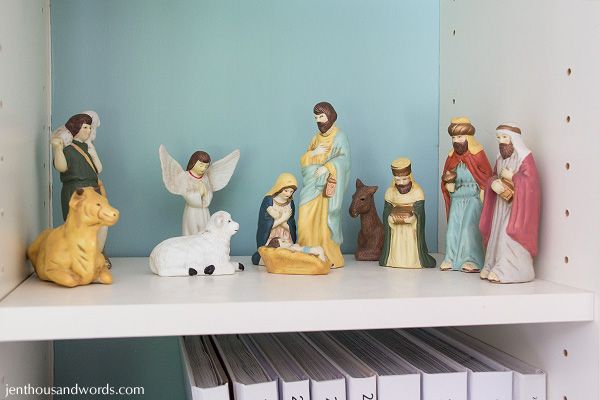 I replaced the fern in the fireplace with a poinsettia and strung up some Christmas bunting that I made a couple of years ago.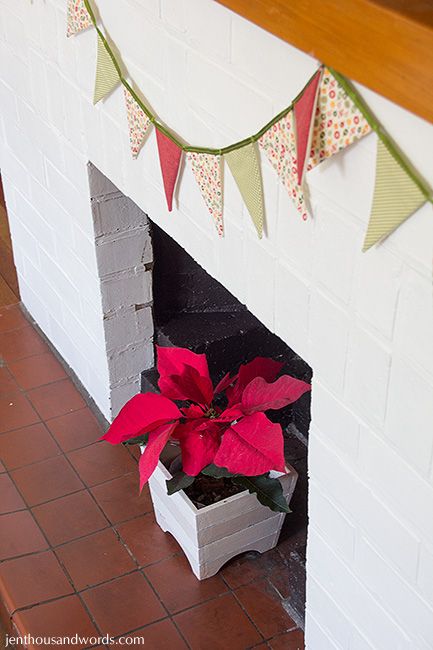 Above the fireplace hangs a driftwood tree that I made. This tree is a fun place to display all of my boys' special ornaments. They each get one special tree ornament each year that signifies a milestone of theirs from that year. Let me know if you'd like to see close ups and the stories behind them and I'll do a post -
here's an old post
covering some of the ornaments.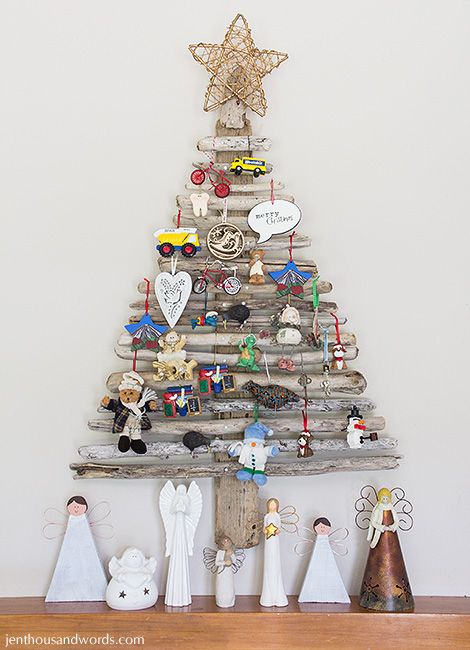 I've started an angel collection and the mantel is a great place to display the ones I have.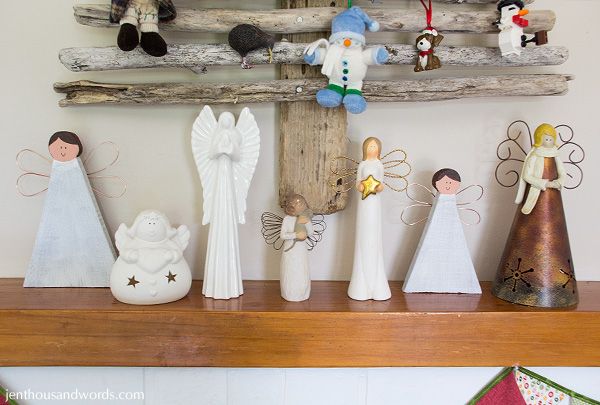 I made this spotty cushion cover ...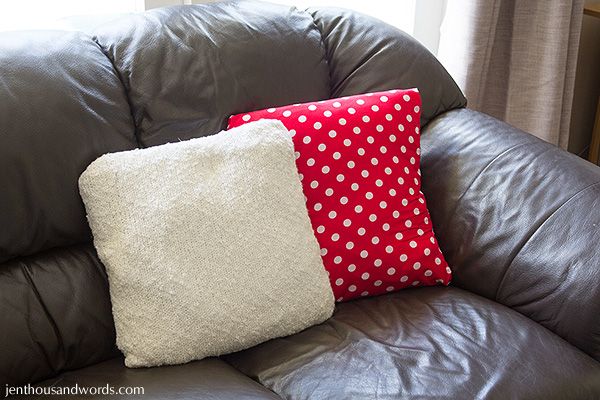 ... and this buffalo check one.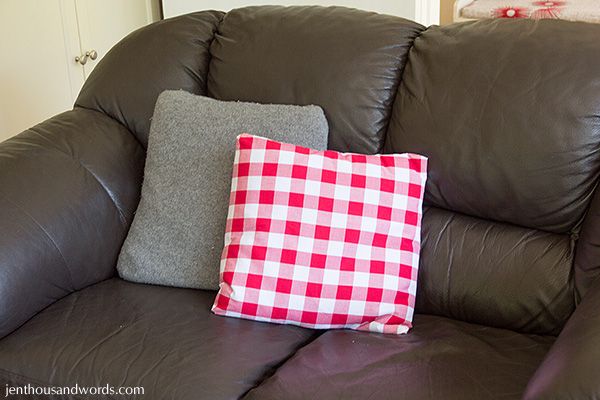 On the coffee table sits this little tray. I switched out the candle for a white one that says Peace on it, and added a festive little ribbon to the plant pot (which is actually a sugar bowl!)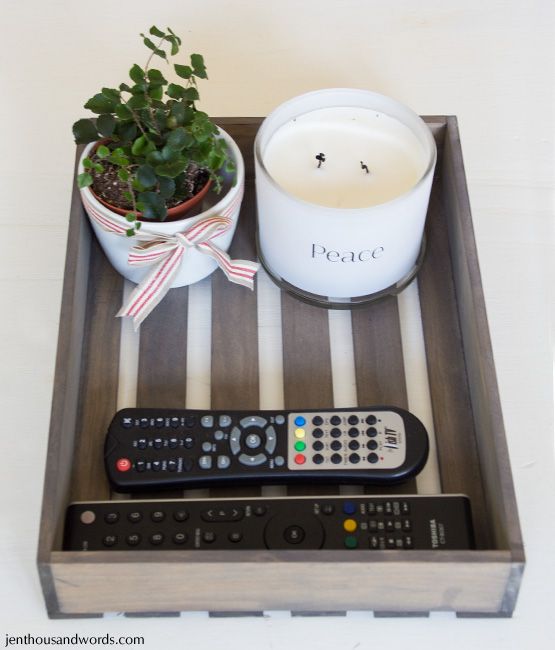 To the left of the fireplace is this bookcase.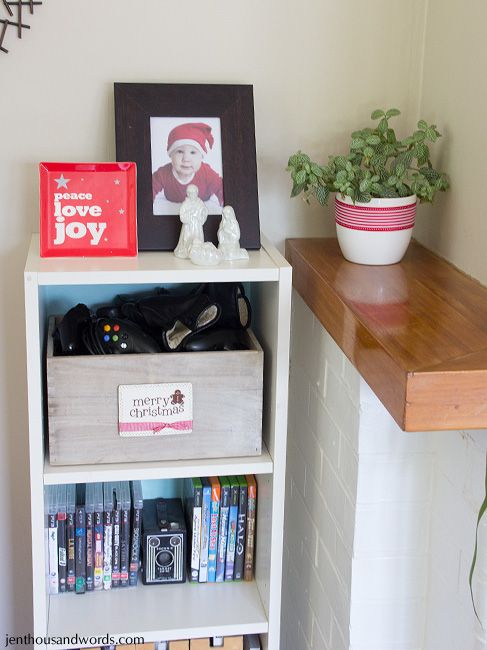 I used poster putty to stick this little sign that I'd made to the crate holding the gaming controllers.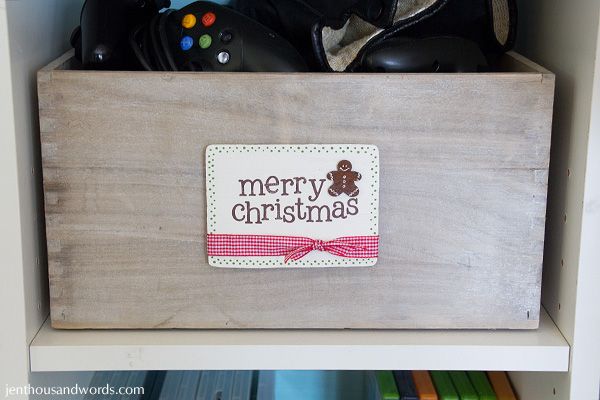 I switched out the square photo frame that was on top with this little thrifted place, replaced our wedding photo in the wooden frame with a shot of Noah when he was a baby, and added this pearly thrifted nativity. You can also see that I added a striped red and white ribbon to the plant pot - I did the same with the peace lily on the other side of the room but forgot to take a photo.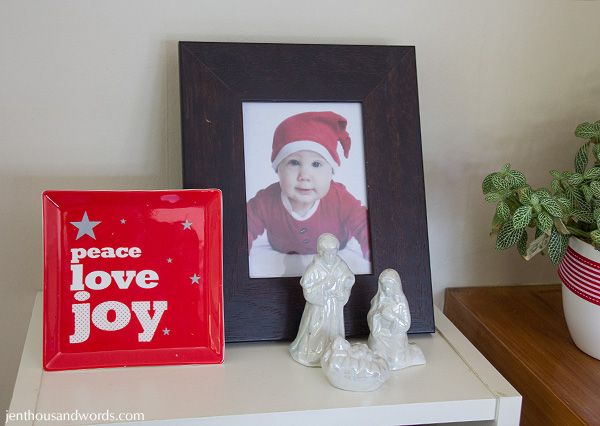 So that is our living space, all spruced up for Christmas! I also made a few additions to the kitchen and dining room, which I'll show in the next post.