I've gardened in bits and pieces before, but we've never been settled in one place long enough to really put my heart and soul into a garden. That changed when we moved into this house and this past spring / summer I gardened like it was my job and loved every minute of it! I wanted to share some of the transformations I've wrought, and thought I'd break it up over various posts as I'd like to share before / after and progress pictures. We have half an acre so there's a lot of space to cover!
I'll begin with the beds in front of the guest house / garage. When we moved in there was an awkward path angled from the deck back towards the driveway, and a few dead or half dead bushes.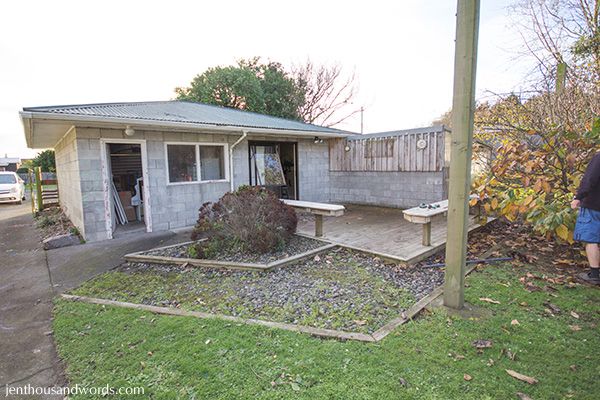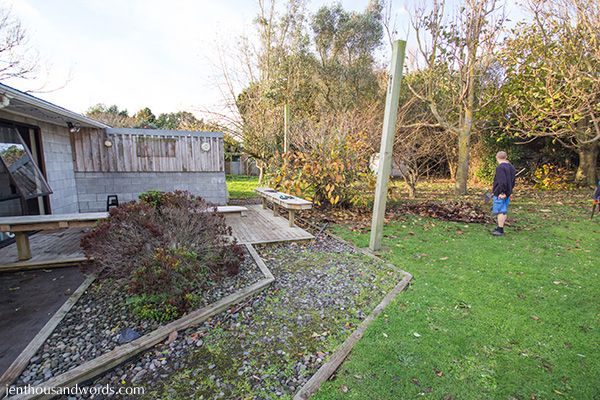 To begin with Grant removed the half dead bush on the right. Then I tackled the stones. It was a lot of very hard physical work to remove the stone path. It was a dense layer of river rocks over a layer of thick plastic, and the rocks were bound with dirt, moss, and even concrete in places. But once I had pulled it up I was able to cultivate some beds, cut a swooping half moon bed in front of the deck, and lay a path of log slices, angled back towards the house. I bought a few seedlings and tried to start a garden but didn't have a plan or know what I was doing. I planted a Virginia creeper at each post (they are for the shade sail) and trained them to climb the posts. This was last spring / summer, not the one just gone.
It was a start. I had a vision.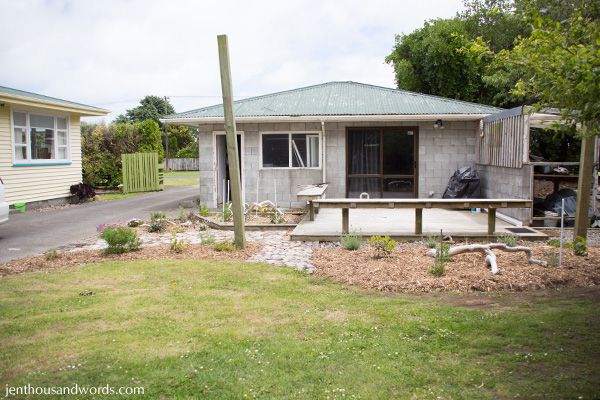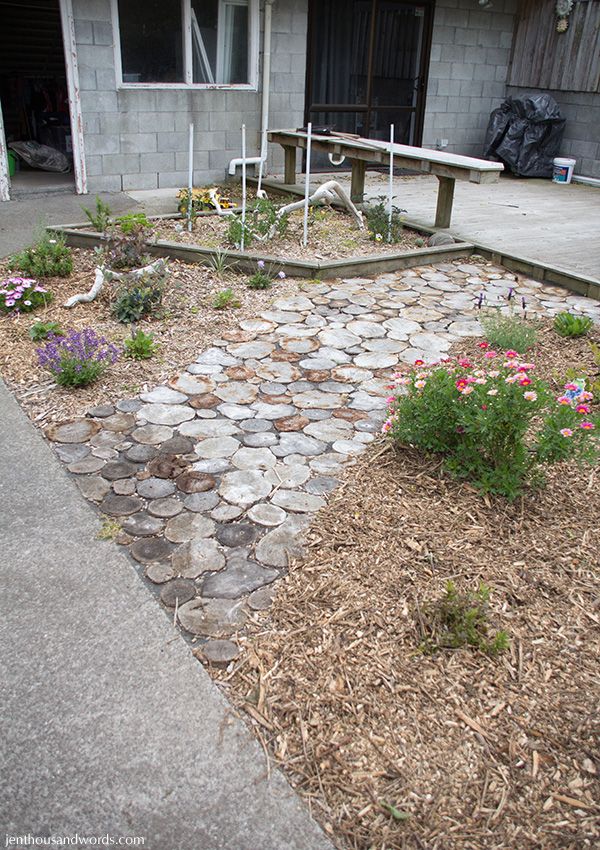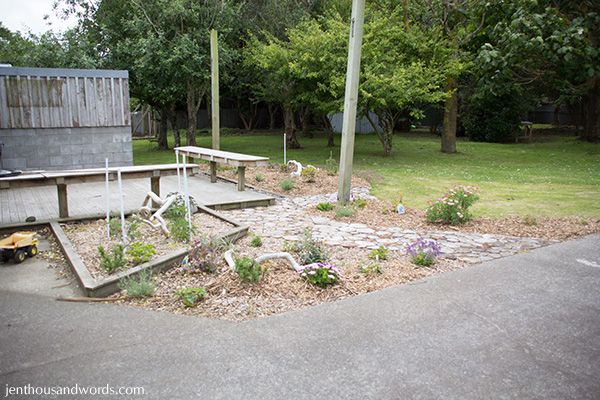 This is how it looked at the end of the autumn.
Fast forward to October 2016 and the middle of spring. The lavender that I'd planted the first year came back in full force, putting on a beautiful purple display. I removed some plants that hadn't done well, and moved others that had grown too big for the space, and began again.
Over the summer I planted out the seedlings I had grown from seed, added a few salvia and foxglove seedlings I had bought, and edged the log path with rocks to stop the mulch floating out over the path in heavy rain. It was starting to look like a cottage garden. This is my favourite angle of the garden, with the evening light playing through the plants.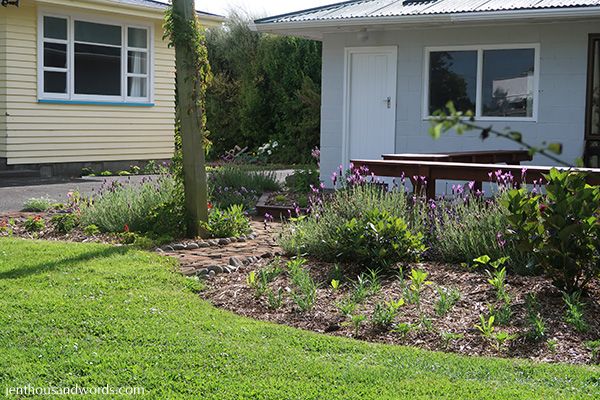 I couldn't believe how fast the seedlings grew, and how established a garden I could make from seeds and in only one season! I chose lots of perennials and I'm keen to see how they look next year. But this is how the garden looked at the height of summer (not that we got much of a summer this year!!)
The flowers I have are lavender major, English lavender, foxgloves, centauria (Bachelor's buttons), cosmos, dwarf cosmos, teddy bear sunflowers, salvia, pansies, alyssum, zinnias, dwarf zinnias, hydrangeas, calendula, carnations, marigolds, poppies, dahlias, pyrethrum, scabiosa (pincushion flower), and probably some more that I can't think of. There is always something opening and something ending, it changes all the time. I took these photos just over a month ago and it already looks completely different!
I love it more than I can express. There are no words for the amount of joy this garden has brought me, my family loves it, and our guests enjoy it too! Not to mention the bees ...