Jenny from
Words on Wendhurst
said,
"My question is, how to organize a linen closet with very deep (more then two feet) shelves? I just can figure that one out."
My favourite organising tool for deep shelves are the plastic bins I bought from Ikea. I looooove them because they are just the right size for so many things. We use them as laundry baskets and to store linens, toys, and food and plastic tubs in the kitchen. The bins we have have been discontinued but
these are similar
.
Their very best use:
in a deep closet or cupboard they act as drawers, giving you access to the very back of the shelf
.
Here are some old pictures showing how I've used them in the kitchen to store pasta and rice ...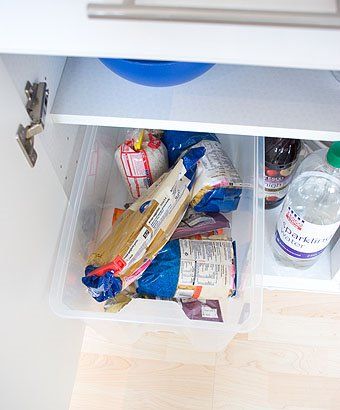 ... snacks ...
... children ...
... baking ingredients and tools ...
... and plastic containers (
click here for more information
).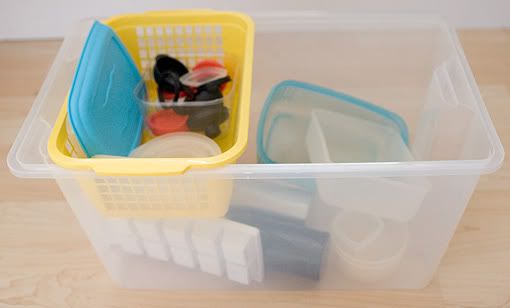 You'll notice in a couple of these pictures that I also sometimes nest smaller plastic baskets on top of them to create another level.
On shallow shelves they fit sideways. Here is how we've used them in the cellar. You can create labels with a piece of tape and a marker - it's easy to pull the label off when you want to change it.
Here's the wardrobe in Daniel's bedroom in our last home - the tubs store blankets and toys.
The above are all old pictures so I went upstairs to snap some new ones. Here are the wardrobes in the boys' room in our current home. They have shallow shelves as well as deep ones and the plastic tubs fit on both (oh, and in the picture below this is less than half my shoe collection - I love shoes!):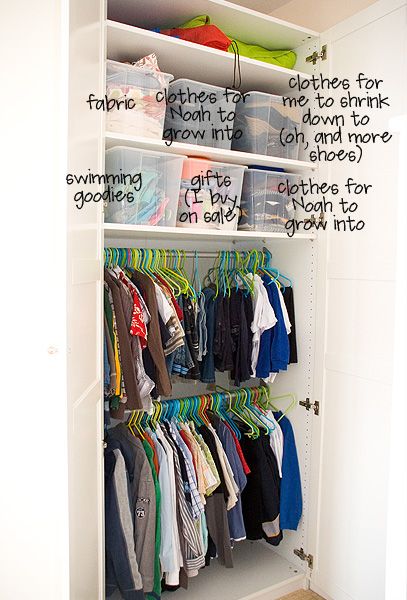 This is the airing cupboard in the boys' room, it has the boiler in the left hand side. The right hand side had half as many shelves so we added more shelves to fully make use of the space. A note on the linens: I put each duvet cover together with the sheet and spare pillowcases into one of the pillowcases so that it's one little package - when I change the linen on a bed I simply grab the package and it's the whole bed's linen together.
Here are our extra plastic bins, they sit on the landing and are used for laundry, picking up toys downstairs and bringing them up to put away, taking groceries down to the cellar for storage and freezing, and all sorts of other uses. They are cleverly designed - they nest well but if you turn the top one the other way it will stack on the one below.
For shelves that are more than 2 feet deep I would have seldom-used items in bins placed horizontally against the back wall, and then in front of those bins I'd put more bins lengthways like drawers with items used more often, to maximise the space.
I hope that was helpful and that you'll be able to find handy plastic storage bins!