As you may have gathered, I freakin' LOVE shoes. Adore them. Unfortunately I have weird feet and can't wear regular heels (pumps) because I walk out of them and they flap on my feet like flip flops, even when they are the right size, with or without tights, even with heel grips. I just can't do it. I have to have some sort of strap across the top. I also can no longer walk in heels over 2.5 inches high, even though I used to wear 3.5 inches to work way back in the day. I don't wear heels frequently enough for that to be possible nowadays.
Fortunately I've found plenty of cute shoes that meet my criteria
and
at the right price. I very, very seldom spend more than £20 on a pair of shoes and often spend as little as £2-£3. I shop eBay (yes, you can get new shoes for next to nothing on eBay) and places like Asda and Tesco (grocery stores). I especially love colourful shoes - they just add a cheeky something to your outfits (see
here
and
here
).
A couple of days ago I sorted out the cupboard in the boys' bedroom and got rid of some odds and ends and added an extra shelf that was stashed behind our wardrobe. Now I can fit all of my shoes onto the shelves (but not the *gulp* 8 pairs of boots I have).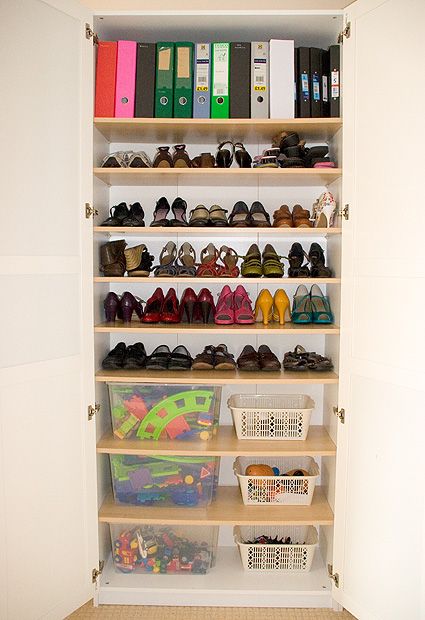 They make me so happy! I still need orange and grey shoes to add to my little collection.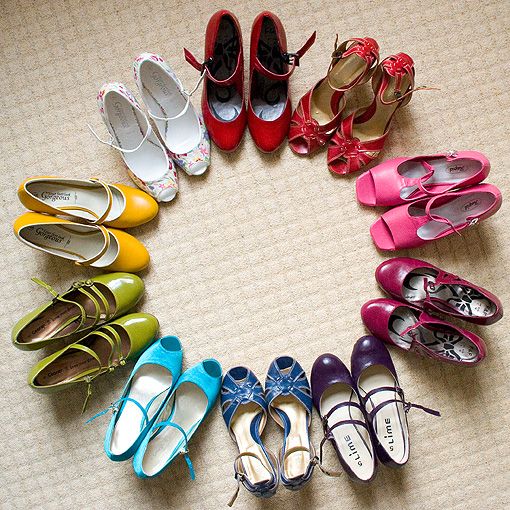 For what it's worth, here's to demonstrate how affordable these shoes were:
Red patent: £12 at Tesco
Red sandals: £15 at New Look
Pink peeptoe T-bar shoes: around £7 on eBay (new)
Pinky-purple shoes with cutout detail and centre buckle: £15 at Tesco
Purple shoes with cutout detail on side and double strap: £18 at Next outlet
Blue sandals: around £4 on eBay (new)
Turquoise satin peeptoes with patent heels: £12 at Asda
Green patent with double strap: £12 at Asda
Yellow with white piping: around £3 on eBay (new)
White floral: around £4 on eBay (new)
Yes, the risk of buying shoes on eBay is that they might not fit right. But when you buy 6 pairs for around £3-£5 each (including shipping) and can only wear 4 of them, that still only means it works out to around £18-£30 for
4 pairs of shoes.
Bargain. And all you do is put the ones you can't wear back on eBay - and sometimes end up selling them for more than you paid. Try it!