I've been wanting a dressing table to do my makeup at so I shopped the house for furniture. This is the beauty of having white furniture throughout the house - pieces can fit into any room.
Remember this pine desk ...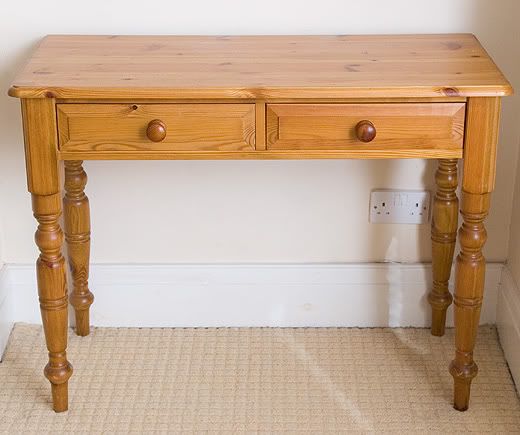 ... that I painted?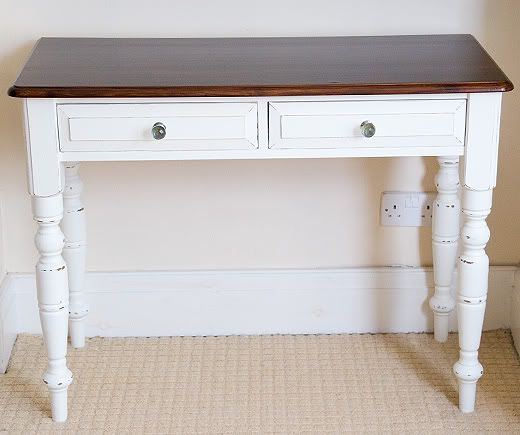 It first lived in the studio as a computer desk ...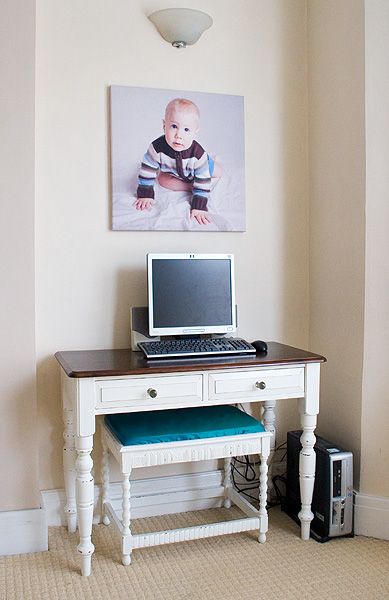 ... then lived behind the sofa once I
switched rooms around
.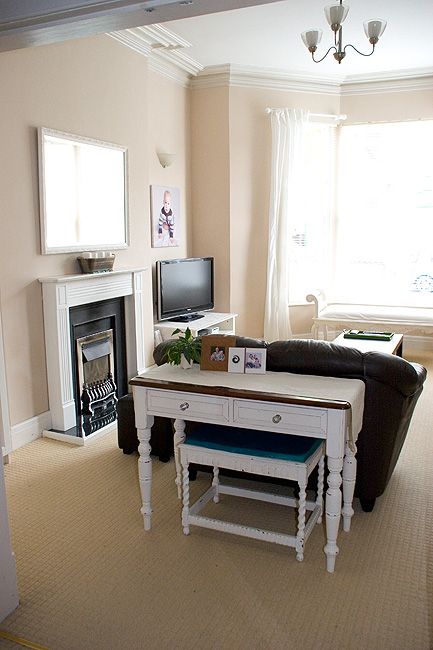 Well I decided that it would make a perfect dressing table, especially since that's what I think it originally was, paired with this mirror: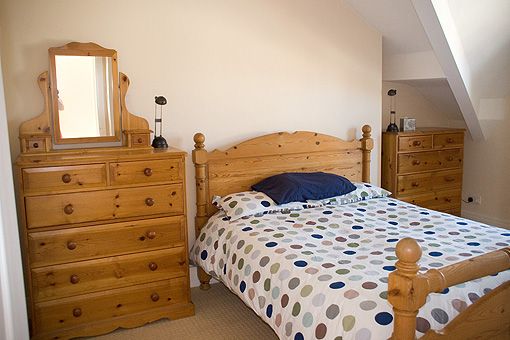 I painted the mirror antique white to match the desk - but it somehow still doesn't match exactly and I don't know why since I used the same paint. Oh well!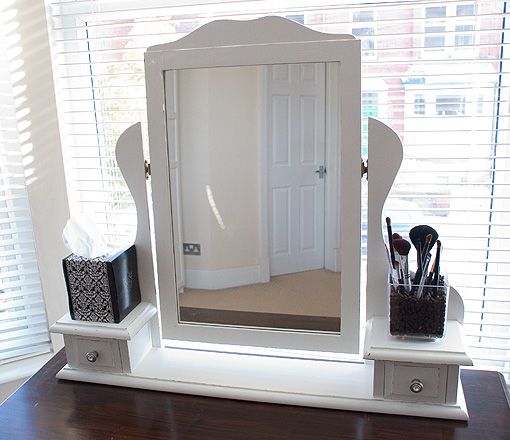 So, where did I put it? Well, I thought the perfect place to put on makeup would be in front of a window for natural light. The bay window in our bedroom was the perfect spot: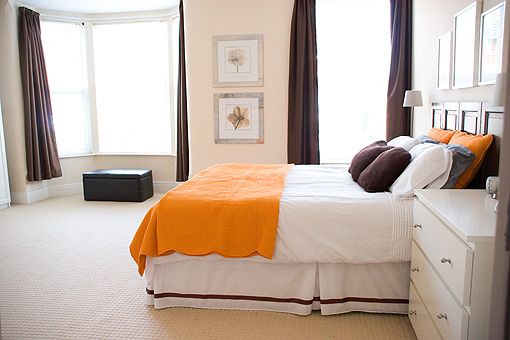 I moved the faux leather trunk to behind the sofa and added the dressing table (yes, I know the curtains are too short but I'm not altering them now because we're moving and I doubt I'll have 11 foot ceilings in our rental in New Zealand):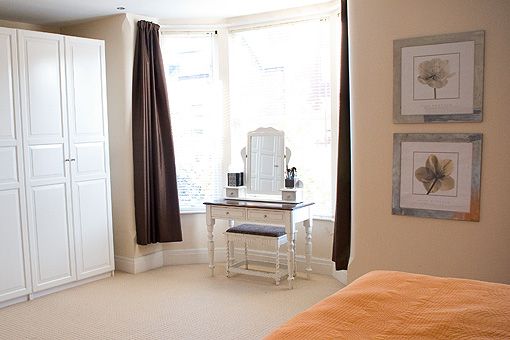 Remember this little table ...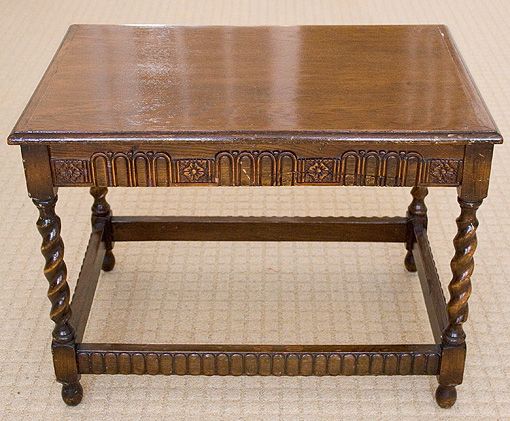 ... that I painted, distressed and added a turquoise cushion to?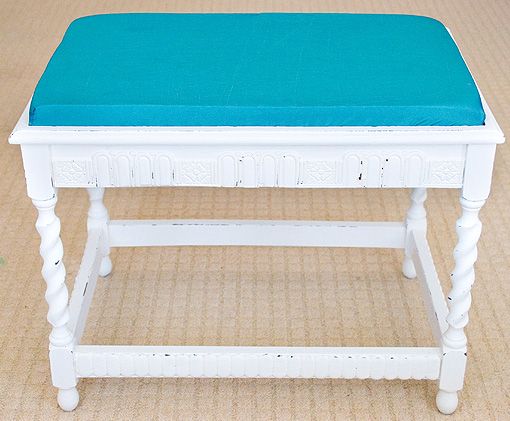 I'm glad I distressed it because it's had some knocks since then but the chips just look like they're meant to be. Anyway, I re-covered the cushion with some fabric I had: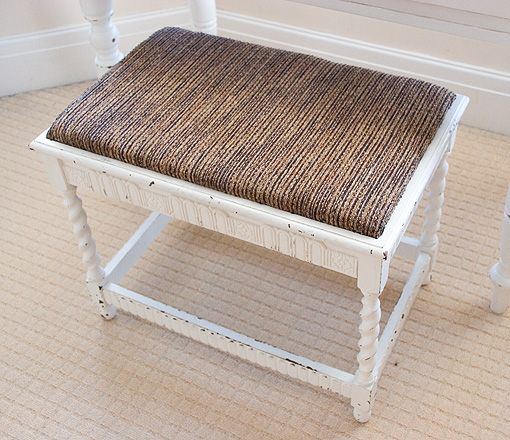 I also replaced the knobs on the table so that they would match the knobs on the mirror drawers - I bought these off eBay because I couldn't get any more to match the ones that were on the table and also because one of those broke and I didn't want to buy more in case they broke too. I love these - the crystals catch the light and twinkle as you walk past.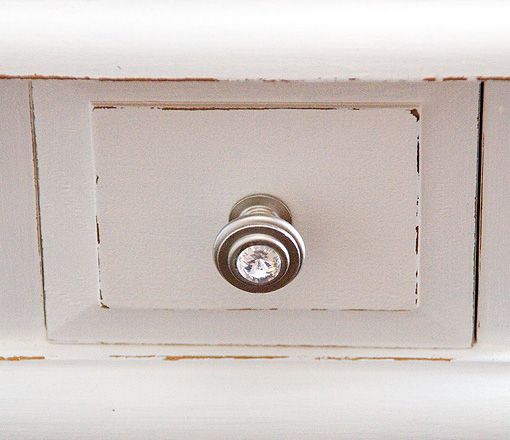 I bought this little container at Tesco and filled it with coffee beans for my makeup brushes. I don't drink coffee but I like the smell and it's just as well because for about a week after I first got them it felt like I was sleeping at Starbucks. The smell has faded now.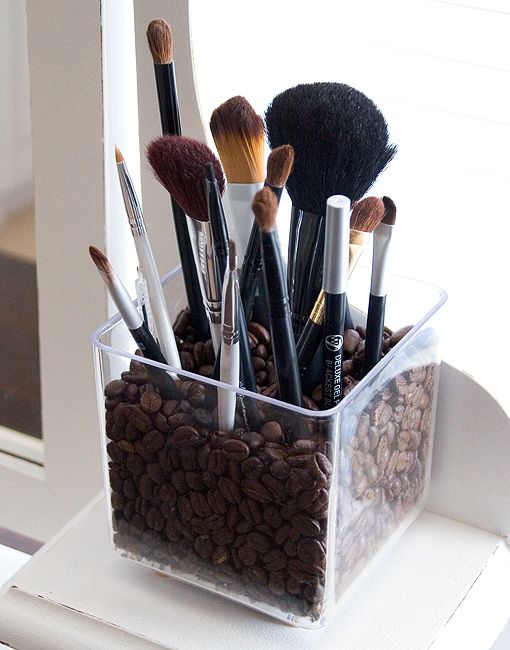 The left drawer holds my eyeshadows and a little basket with my blushes, powder and cream-to-powder foundation: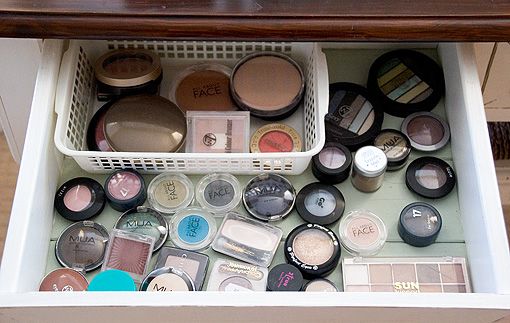 The right drawer holds my lipsticks and lip glosses and a drawer organiser which holds my brush cleaner, mini perfumes, eyelash curler, mascaras, liquid and felt tip eyeliners, kabuki brush, a rag for cleaning my brushes, my foundation and eye primer: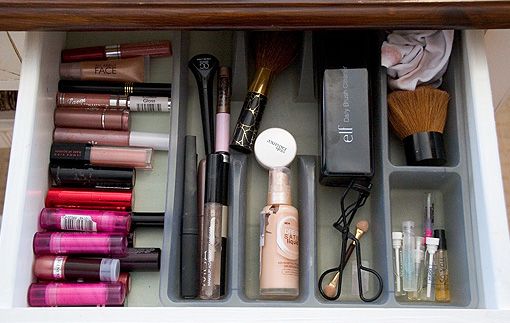 I put these little felt pads underneath the mirror so that I can slide it forward when I do my makeup - I need to be up close to a mirror, especially when doing eyeliner: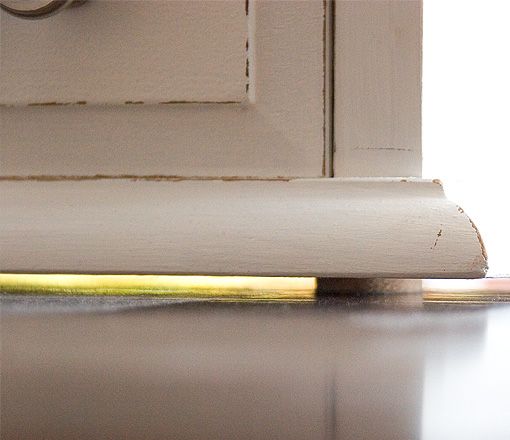 I love having this little spot to get ready! And all it cost me was the price of the knobs (I think £6) and the little container and coffee beans (oh, and the box of tissues on the left).