Thank you all for the kind wishes and sweet words!
I still love my dress. Of course, I can't fit into it since on my wedding day I was 100lb (that's 7 stone 2 pounds for my UK peeps, 45kg for my metric dudes) and I grew another 3 inches and a shoe size after our wedding day! That's right, I only stopped growing about 3 years after I got married. I had just turned 20 six weeks before our wedding day. Talk about a late developer.
Anyhoo, I designed my own dress and hired a seamstress who used to work with a South African clothing designer. She came to my house and while I was standing there in a baggy t-shirt describing my dress design to her she started cutting into the fabric! I was shocked - she hadn't even taken a measurement - but the dress was a perfect fit! Talk about talent.
As requested by Beautiful Handmade who said, "I love what I can see of your dress; do you have a photo of that day you could post for us so we can see your dress better?" I scanned a photo from the day that shows my dress a little better than the video did.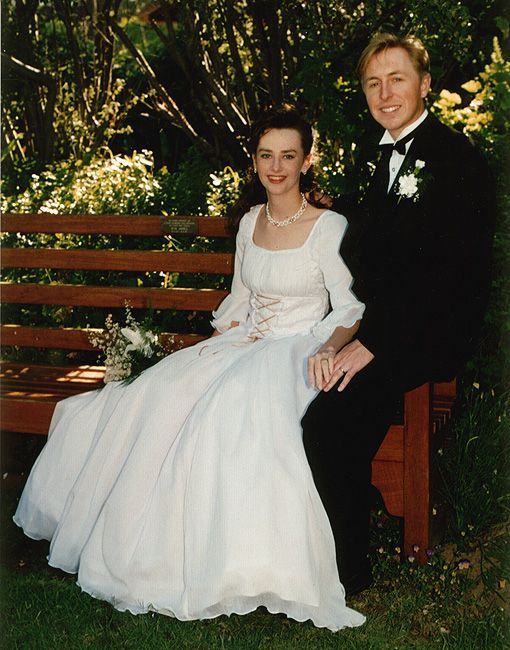 It was lightweight, sheer fabric with a bit of texture to it, the bodice had embroidery on, ruched bust area (hey, as a then A-cup I needed all the help I could get!) and old-gold cording that laced in the front. Three-quarter length sleeves ended in ruffles and I had a (hired) net petticoat under the skirt. I made my own necklace. I didn't wear a veil but had flowers in my hair.
I guess this is my ultimate what-I-wore post!