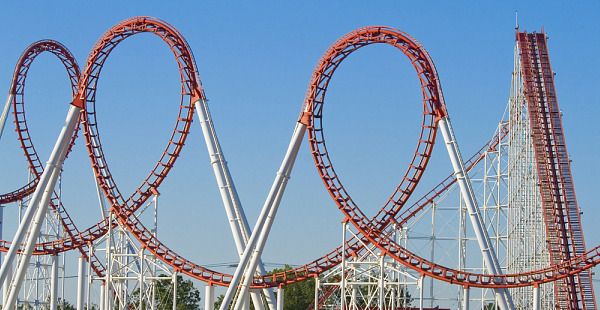 You know that feeling you get as the rollercoast crests a rise and begins a descent? The way you kind of catch your breath and hold on tight? That's how I feel pretty much all the time right now. I have to remind myself to breathe - literally. I find myself taking shallow panic-style breaths. In any given hour I fluctuate between exhilaration, panic, impatience, fear, excitement, worry, enthusiasm, sadness, hope, grief, happiness, frustration ... you get the picture. It's
exhausting
.
Grant and I are anti-commute. We don't see the point of wasting hours every week just driving back and forth, not to mention the financial cost. We've always tried to live close to where we work.
We were under the impression that in New Zealand he'd be stationed in Counties Manukau, which is south Auckland. A lot of people commute down from the North Shore, but we felt the suburbs there were too crowded, not to mention out of our budget. Ages ago we chose Pukekohe as the town we'd like to live in - not too far of a commute, semi rural, affordable, but close enough to Auckland itself.
We chose the area back in 2009 because I needed to know where we were going. I needed the security of having a landing spot to aim for. But then yesterday we realised that Grant's job offer says he'll be in Auckland District. We were trying to find out what that means and which stations it covers but the police website wasn't working properly.
Did it include Counties Manukau? If it didn't, did that mean it was Auckland CBD and northern suburbs? Did that mean we'd have to choose a new place to live to avoid a nasty commute? Should we live north of Auckland and Grant commute south to work, rather than live south of Auckland with a northerly commute through the city?
I know, not a huge deal but enough to freak me out. It meant a lot to me that we knew where we were going and I have a wonderful internet friend in Pukekohe (hi
Nic
!) who is helping us find a house to rent as she is familiar with the area and the schools. We originally decided on Pukekohe with the help of my friend Amanda, who lives on the North Shore. I wouldn't even know where to start in picking a new area to live.
We've finally found out that the CBD and surrounding suburbs is the area that Grant will be working in. This is good because he will have less dealings with the really rough Counties Manukau areas but of course does mean a longer commute BUT it's manageable from Pukekohe. So relief all round, as we can continue with our plans.
But I have to say ... NOT HELPFUL when I'm already on an emotional rollercoaster!!