At the end of 2013 on Instagram I saw a few Auckland bloggers posting pictures of their advent swap gifts. They'd signed up and been assigned a swap partner and sent them 12 days of gifts (and received gifts too). It looked like so much fun that I decided to do it with a friend next Christmas.
But I couldn't wait until December, so instead I decided to give my BFF Carley 12 days of gifts for her birthday in May which, coincidentally, was on the 12th. I had so much fun putting together the little daily gifts - just small, inexpensive items that I thought she'd enjoy - and she had so much fun opening a small present each day, beginning on the 1st and leading up to her birthday. I didn't take proper photographs, and seem to have deleted the ones I took with my phone, but managed to get these from her (two are missing).
- A basting brush, mini spatula, magnetic clip.
- Homemade peach and fig jams in baby food jars.
- Bath salts and face mask
- Measuring spoons and icing piping bags
- Lemon essential oil and a necklace
- A pack of emery boards and some mint chocolate treats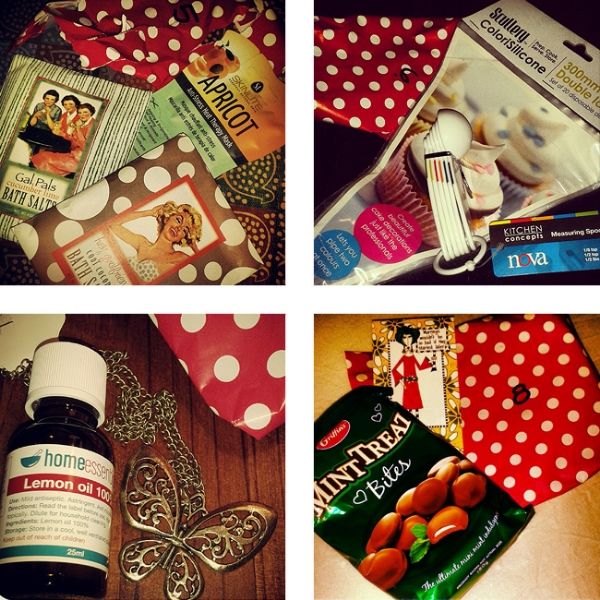 - A mug
- Cookie cutters and an ice cream scoop
- A notebook and some fruity Tic-Tacs
- Some tealight candles and a ceramic dish
When October rolled around Carley did the same for me. It was a blast having a pressie to open each day! I'm sorry I don't have photos of what she gave me each day. Of course we exchanged 12 days of gifts at Christmas too, and this time I took proper photos of what I gave her:
Day 1:
a sign she had been meaning to buy to put on her letterbox; some bag clips (always handy, especially in summer when taking snacks on picnics and camping); a felt Christmas ornament.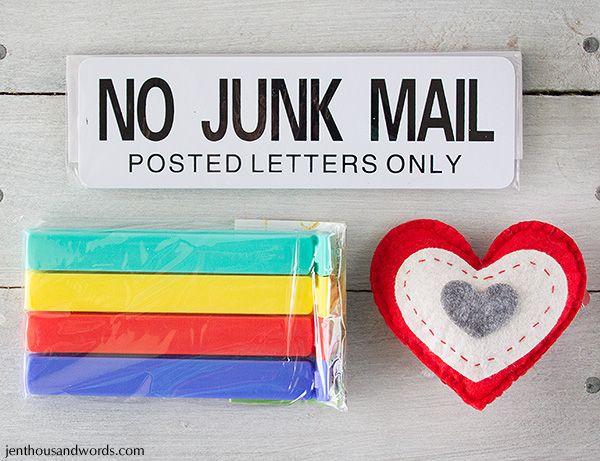 Day 2:
a sign I made with a dollar store canvas, driftwood, a shell, copper tape, and hot glue.
Day 3:
a double citronella candle; a felt Christmas ornament.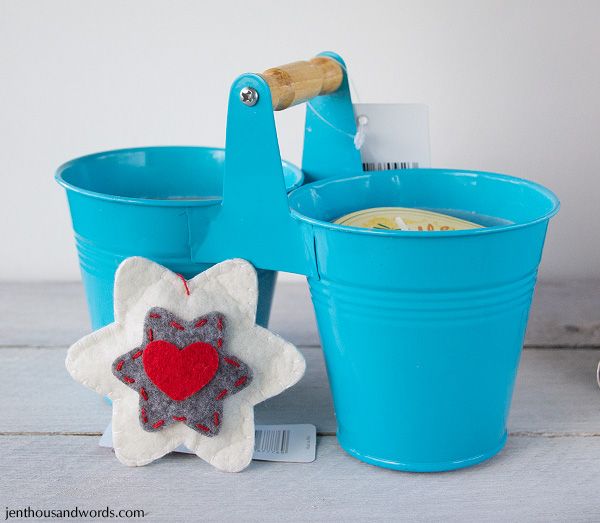 Day 4:
three rolls of washi tape.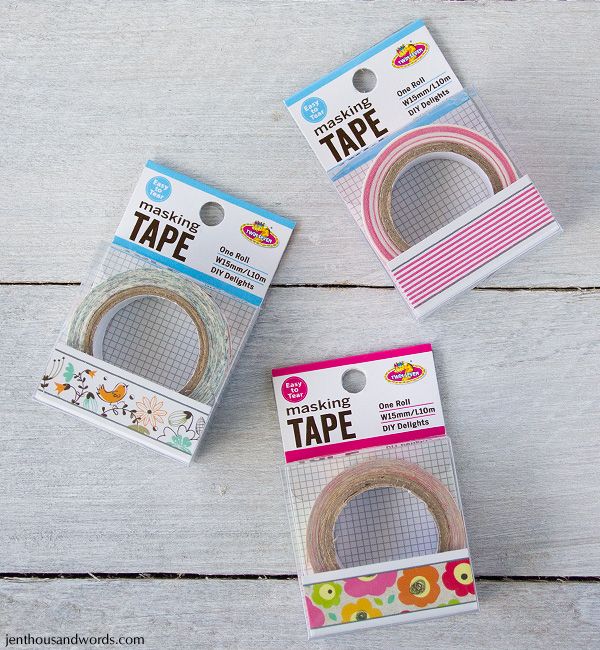 Day 5:
a little thrifted crate that I whitewashed and distressed and added twin handles to.
Day 6:
Christmas serviettes and stripy paper straws.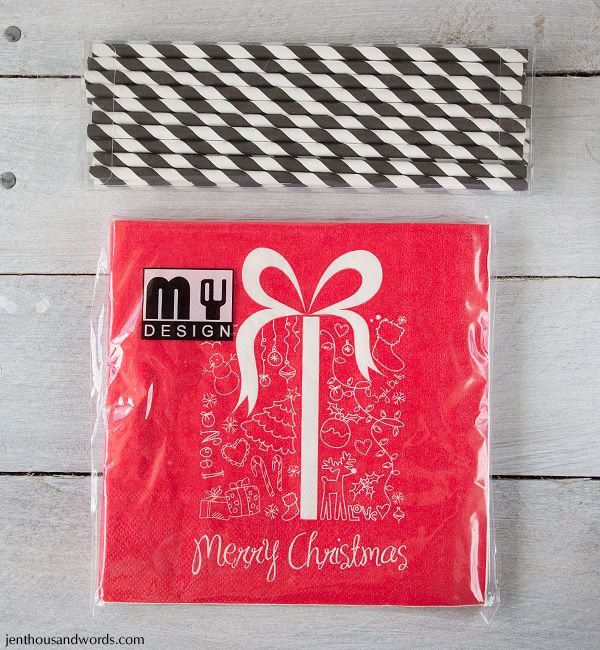 Day 7:
a water bottle for her fridge (I knew she needed one) and some cinnamon sticks to make flavoured water.
Day 8:
DIY peppermint sugar scrub and some gum.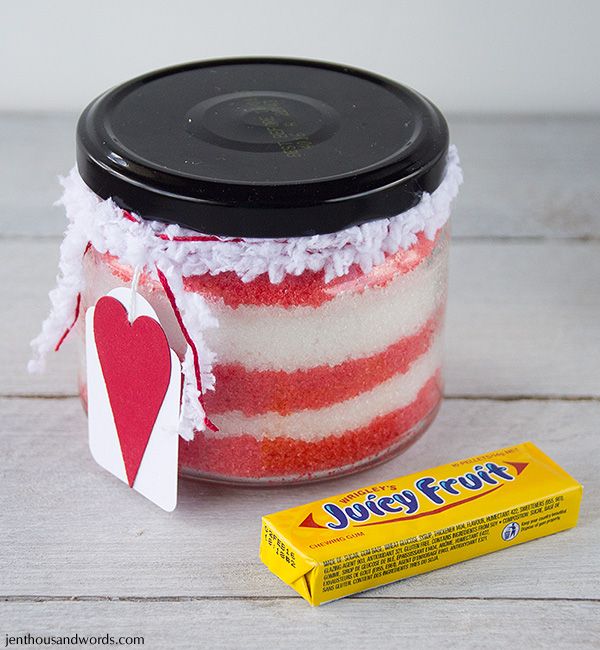 Day 9:
a wooden initial and a little Christmas ornament.
Day 10:
nail polish and mints.
Day 11:
a little sign I made, with a phrase that's meaningful to her, using some wood I found and picked up when we were walking together.
Day 12:
a watch locket (inexpensive from eBay) and some nuts.
A cellphone photo of the bag of gifts with the dates on them: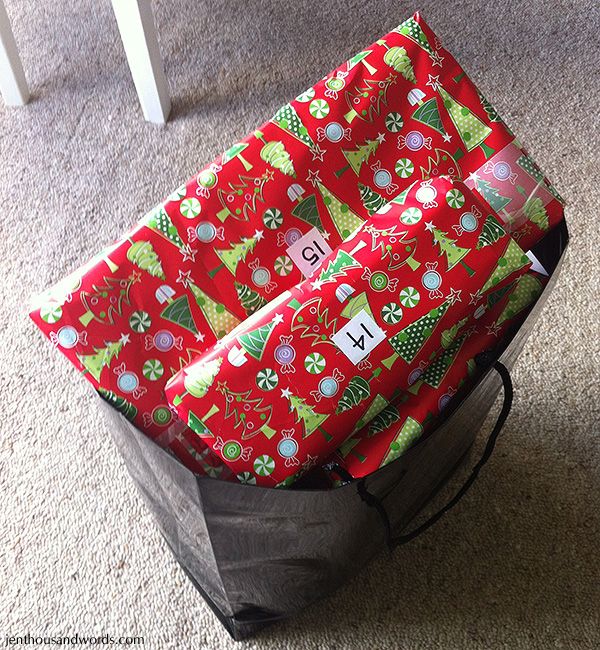 Here are some of the gifts she gave me (excuse the crappy photos, I snapped them with my phone).
- A jar of Brazil nuts, which she knows I enjoy and eat all the time
- Handmade JOY sign and some hand lotion
- Handmade paper Christmas trees
- A handmade magnet with a scripture on it (about faith as a mustard seed) and a little glass vial of mustard seeds with a cross charm on it
- A friendship survival pack with all sorts of little items in it like Snickers to remind me of the fun times we've shard, twine to tie hearts together in friendship, gum to remind me that friends stick together, etc.
- A little canvas with a picture of South Africa on it; a beaded gecko from SA
- A little canvas with England on it; a little book of nail files
- The gift of giving: she included three gifts, one each for Grant, Daniel, and Noah, of a face flannel that she'd monogrammed and a little South Africa treat (Fizzers for the boys; biltong for Grant)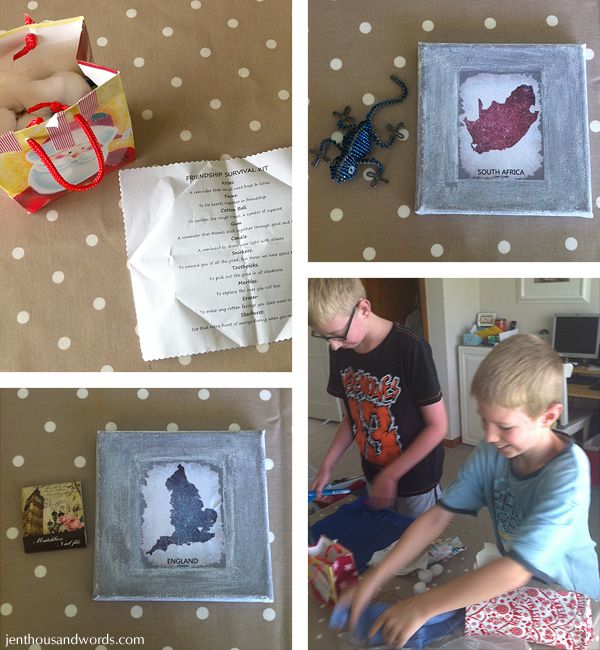 - A goals list notepade with a matching polka dot pen
- A little canvas with New Zealand on it; a pohutukawa (NZ flower) keyring
- An adorable hanging house ornament that she made (house symbols are meaningful to me)
- DIY lemon bath salts with a face flannel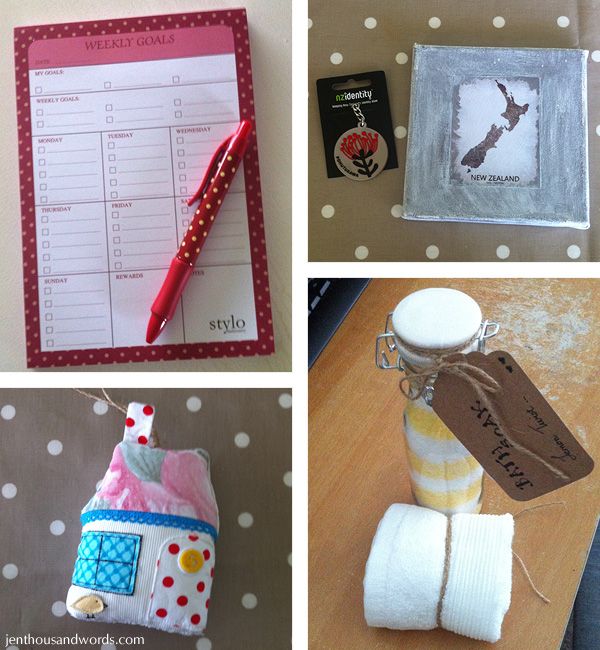 How cool are those gifts? I absolutely loved them all. Here are the three little canvases together on my dining room wall - they are all countries in which we've lived.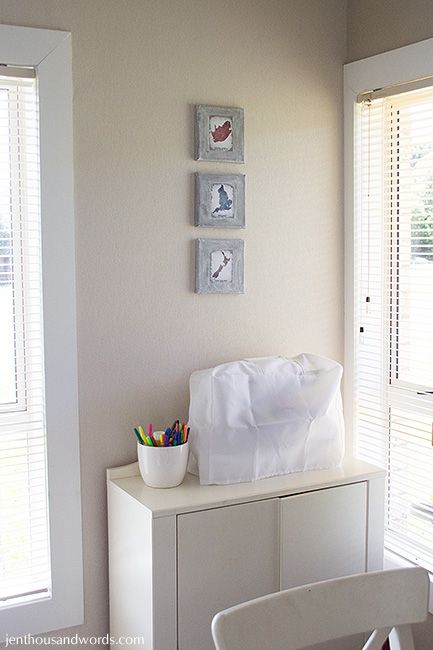 I wanted to share the idea of this kind of gift because it's so fun, especially for a birthday. You can spread the cost of buying by picking up or making little things throughout the year. Your recipient has almost two weeks of gifts, spreading the birthday fun. You could even theme the gift bundle: all of the gifts in their favourite colour, or all edible presents, or 12 days of jewellery, or all homemade gifts, or all decor items. You could also spread the amount of gifts, for example cover their entire birthday month, rather than just twelve days, or else give a week's worth of pressies.
Here are some ideas of things to include - pretty much stocking stuffer type items:
- chocolate or other sweets
- a can of their favourite drink
- nail files
- nail polish
- Christmas ornament (can be homemade)
- cupcake sprinkles
- phone case
- lip balm
- cookie cutters
- a jar of their favourite jam (can be homemade)
- preserves (chutney, onion jam, pickles, fruit - can be homemade)
- pen
- hand lotion
- notebook
- phone charger cable
- earphones
- tea towel
- photo frame
- fondant cupcake toppers (can be homemade)
- cute servietts
- jewellery
- little zipped pouches (can be homemade)
- face mask
- bath salts (can be homemade)
- envelopes or other stationery
- cookies (can be homemade)
- Tic Tacs
- gum
- mug
- candle
- fridge magnet
- seeds (if they are into gardening or want to grow their own veg)
- sugar body scrub (can be homemade)
- socks
- bookmark (can be homemade)
- table runner
- coffee / hot chocolate
- book (second hand to keep cost down)
- apron (can be homemade)
- gloves or hat or scarf
- cute jar or vase or other decor item
If you do decide to do this kind of gift for someone, I'd love to see it so please drop me an email!