We've moved around
a lot,
Grant and I. The longest we've ever lived at one address was three years and four months. Some people would say that it only counts as moving if it involves a lease or a mortgage - but me? I count every single time we've had to pack up, relocate and either unpack or live out of our suitcases, no matter how briefly. It's the disruption that counts.
We never intended to be Nomadic. In fact, I always regarded myself as a "roots" kind of person; I thought I'd need to be settled in one place to be happy. I don't know if it's because I'm actually a different kind of person than I'd thought, or if the constant moving has created a habit that is hard to break, but I'm actually quite fond of moving around a lot now. I get bored quickly, so it suits me. I seem to be like some women are about childbirth - blissfully amnesic and far too eager to repeat the experience, until I'm in the throes of it, going, "What have I done?!"
When questioned about our frequent moves I tend to laugh and say, "There always seems to be a good reason," so I've decided to chronicle them.
MOVE 1
Date:
December 1995
To:
Table View, Cape Town, South Africa
We bought a house right before we got married. It was on a plot-and-plan basis in a cute little complex (estate). The building commenced and we knew that it would be ready in April 1996, so when we married in December 1995 we moved into a 1-bedroom semi-detached (duplex) in the same complex. It was thrilling to watch our home being built. Our neighbour was a very nice single man, who I actually ended up getting a lift to work with every day. He would do DIY in his place and every time he would hammer something on the party wall I'd say to Grant, "What if he's not doing DIY tonight, what if he's fallen and can't get up and is trying to get our attention?" and Grant thought I was a nutter.
MOVE 2
Date:
April 1996
To:
Table View, Cape Town, South Africa
At last, our very own house was built! We were so excited to move in. The move went smoothly and quickly since we didn't have much stuff yet and the house was only about half a block away. The house was painted ivory with wooden windows and doors, green tile roof and white walls inside with grey carpets. It had a open-plan living-room / kitchen with a breakfast bar to eat at, bathroom, three bedrooms and an ensuite - all very compact and squeezed into a small space.
But before long our attention started to stray to a nearby neighbourhood that was being developed. Called Sunningdale, it was a picture-perfect Garden Cities (i.e. desirable) development, with pretty pastel houses in white, palest pink, creamy yellow and dove grey with fresh white trim. Oh, it was so pretty and oh, we wanted to live there! Although we couldn't afford it, we still put our names down on the waiting list for the next phase of building and by the time we'd reached the top of the list, we could afford the house we wanted! Hooray! So building commenced and we sold the house we were living in ...
MOVE 3
Date:
August 1998
To:
(My mom's house) Summer Greens, Cape Town, South Africa
... and moved in with my mom for three months to save money before our move. Some of our stuff was being stored, the rest was crammed into my mom's bedroom, which Grant and I shared while my mom moved into a smaller bedroom. My sister was also living there at the time, and although she and my mother were gracious and lovely to live with, it was challenging (for all of us, I think) being back under a parent's roof after being married and living away from home.
But time passes quickly and before we knew it we were moving into our dream house!
MOVE 4
Date:
November 1998
To:
Sunningdale, Table View, Cape Town, South Africa
We loved this house! It was so new and pretty. Custard yellow with white trim, white windows and a wooden door, it had a sprawling lawn - not a single visitor came by without remarking, "So where are you going to put the pool?" It had a double garage, small entrance hallway, living room with sliding doors onto a patio, open plan dining room / kitchen, three bedrooms, spacious bathroom and an ensuite. We'd chosen grey carpets and white worktops and asked the developers not to bother putting the floor tiles into the entrance, kitchen and bathrooms. We instead picked up some black granite tiles and had those installed once we'd moved in - it looked so good! Man, I loved those floors.
But life throws up all kinds of adventures, and within a few months of moving in Grant came home one day and said, "Why don't we go to England?" So many of our friends were going; some returning, some staying in the UK and some moving on to greener pastures. But I was too afraid. We'd both got good jobs, which is a big thing in South Africa where jobs aren't exactly thick on the ground. We'd just moved into our dream house. We each had a car. We'd just started accumulating furniture. What if we struggled to get back on our feet once we got back? But lo and behold, he talked me into it and the next October, 11 months after moving in, we moved back out and rented out our house.
MOVE 5
Date:
October 1999
To:
(Grant's parents' house) Edgemead, Cape Town, South Africa
As gracious hosts as my in-laws were, I was itching to move on. The reason? We were living out of our suitcases, all of our possessions (except for two suitcases of clothes and six boxes of personal items) had been sold and we had tenants living in our house. We were waiting for our ancestry visas to come through for our move to England. Although the visas would expire in four years, we had committed (without even setting foot in the country yet) to staying on for the extra year thereafter on Indefinite Leave to Remain, in order to qualify for British citizenships and thus British passports. We had decided that even if we hated it, we'd do it for the sake of our future kids, so that they would have options.
While staying at Grant's parents' house we said our goodbyes to our friends and family, and waited until finally our visas came through; then it was off to England.
MOVE 6
Date:
November 1999
To:
(My cousin's house) Whiteleafe, Surrey, England
My cousin was sweet to host us once we landed in England, letting us sleep on her living room floor until we could get established. Keen to get on our own feet and not outstay our welcome, we immediately began job-hunting and searching for a flat. We found a lovely one-bedroom flat near my cousin's house and she and her husband were kind enough to sign as guarantors so that we were granted the lease. Three weeks after moving to England, we moved into our flat.
MOVE 7
Date:
November 1999
To:
Kenley, Surrey, England
It was daunting but exciting being in our own home in a new country. The flat was pretty, but very small, with a tiny bedroom under the eaves, bathroom, miniscule kitchen and living room. It was part furnished so we at least had a bed and a bookcase, but it took us a while to accumulate something to sit on and eat off. We had friends come over to England in the new year, and somehow ended up with 5 of us living in the flat for a bit - yes, it was a nightmare, especially since I was the only one working! Thankfully my cousin had given us their bed when they'd bought a new one, and we had bought an air mattress. Grant soon got a job too though, and we decided to move again to a flat that was between our two places of work and on the train line. We kicked out our friends and looked for a new flat.
MOVE 8
Date:
April 2000
To:
Sutton, Surrey, England
We were thrilled to find a two-bedroom flat with bathroom, kitchen and living room in Sutton for the same rent that one-bedroom flats cost. Our neighbour upstairs had a toddler and Grant and I would awaken in the morning hearing the little one rattling his cot, wanting to be released. Once he was set free, we'd hear his little feet racing up and down. It was quite sweet and we'd get all sappy about it because at that stage we were trying to start our own family. By March 2001 I was pregnant and we started talking about moving again - it was just too expensive to stay in Greater London, there was no way I could be a stay-at-home-mom there. Grant was applying to fire services all over the country, but one of the promising areas, where he was still in the running, was Lancashire. We looked at house prices all over the country and found Lancashire, Lincolnshire and North Yorkshire to be the cheapest places to live. We decided to move to Lancashire since we'd have had to move there anyway if Grant got into the fire service there. What caused us to move a little sooner than planned: Grant lost his job (the same month my mom moved over to England). We toyed with the idea of staying in Surrey until September, when I would qualify for maternity pay through my job, but we would have ended up paying more to stay than it would be worth. I gave my notice at work and before long we were packing again.
MOVE 9
Date:
July 2001
To:
Preston, Lancashire, England
We'd driven up to Preston one day a couple of months before the move, and seen a few properties and had decided to rent this terraced house. Due to all three of us being unemployed, when we made the move up we paid six months of rent in advance - this ensured the landlord was prepared to take us on as tenants.
The neighbour whose bedroom was right next to ours had a horrific cough - he'd spend ages hacking up gobs of phlegm while we plugged our ears and groaned in disgust. He also had some domestic issues, including having his bin set alight, having the police banging on his door for over half an hour trying to rouse him in the early hours of the morning, and chasing his son with a shovel threatening to bash his head in (at 1:30am.)
Within a couple of months of moving in, Grant and I began looking around again. He still hadn't found work (although my mom was working) but I felt really anxious to start life as a new family on our own. I don't know why I was obsessed with this (and looking back I'm going, "Stupid girl!") but anyway, there it was. We didn't feel we could kick my mom out of the house so we rented a house in Chorley and moved a month before I was due to give birth.
MOVE 10
Date:
October 2001
To:
Chorley, Lancashire, England
Although neat and clean, this house turned out to be like a cave. There was little natural light in the living room and no window out onto the front. The kitchen was miniscule. There was a bathroom and two bedrooms upstairs, and this is where we brought Daniel home to when he was born. We were in dire financial straits with Grant taking on any work he could get but still unable to get a permanent job. We were desperate to buy a house but unable to get a mortgage. Our savings (from the sale of our house in Cape Town, which we'd had to go ahead with) were dwindling. It was so frustrating - the monthly payments on a mortgage would be much lower than we were paying in rent, which we had to pay every month anyway, but we were unable to buy.
The neighbour was a yeller: he'd shout at his kids constantly, and at all hours of the day or night. It really worked me up.
Eventually Grant was hired by the University and we were able to get a mortgage and buy our own home for the first time since moving to England.
MOVE 11
Date:
April 2003
To:
Ribbleton, Preston, Lancashire, England
Our excitement knew no limits when we finally moved into our first own home, a spacious three-bedroom terraced house with a long kitchen, dining room and living room and big bathroom. This was our second-hardest move, though (our hardest was yet to come) because of having Daniel with us. Suddenly it was that much more challenging: we had a little pair of hands into everything that we tried to pack or unpack, we had a little someone who needed stability, routine and regular feeding and naps. But we soon settled in and, for the first time, commenced decorating.
We lived in this house for three years and I was so attached to it. We did so much work on it: new floors, painting, knocking through to make the reception rooms open plan, installing new kitchen. Our neighbours were pleasant and we hardly ever heard them, except for the man next door who would hawk up phlegm loudly in his bathroom (with the window open) and we'd hear it if we were out in our yard or in the kitchen with the back door open.
The neighbourhood declined though, and the area became quite rough. I had started my photography business and needed studio space as I was having to shoot in my dining room, rearranging furniture each time I had a session. But since I was working we found we could afford a house with a garden, and we planned to move again.
MOVE 12
Date:
May 2006
To:
Ingol, Preston, Lancashire, England
Moving into this house was the hardest of all, with two little ones underfoot. But it changed our life to finally have a garden and we loved being able to park on a driveway. We did so much work to this house, transforming every wall with colour and every floor with laminate, gutting and installing a new kitchen and bathroom and so much more.
But while we were living in this house Grant joined the police and was stationed to a division that would have meant a half-hour commute every day so we chose instead to move again. We rented this house out to friends and made our way to St Anne's.
MOVE 13
Date:
January 2008
To:
St Anne's, Lancashire, England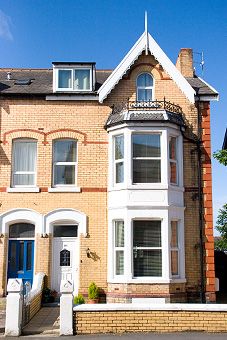 We bought this house together with Grant's parents, who had wanted to invest in property in the UK and have a place of their own to stay when visiting. They claimed the top floor of this 4-level house (two bedrooms, a bathroom and a living room) and we installed a kitchenette for them in the living room. We loved the space of this house and the elegant proportions of the rooms. It was walking distance to the beach and town.
This is the house we lived the longest in but it wasn't due to choice - we were desperately trying to emigrate to New Zealand and had hoped the process would be quicker than it ended up being. Our last two years in this house were very stressful and unsettled but finally everything fell into place, we sold the house in Ingol and we were on our way.
We had tried to sell this house but the market had tanked so instead we rented it out and headed off on our next big adventure.
MOVE 14
Date:
June 2011
To:
Pukekohe, Auckland, New Zealand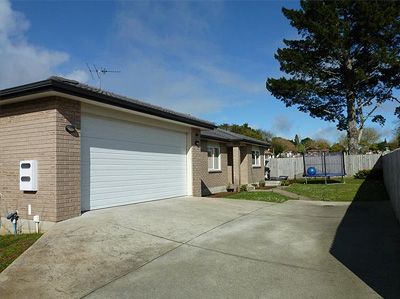 We arrived late at night and were picked up at the airport by my friend Amanda and spent the rest of the night at her house. The next day we headed straight out to our new rental home in Pukekohe - we'd already been renting it for a month before arriving in New Zealand and couldn't wait to finally move in. We had to wait another 6 weeks for our container of furniture and goods to arrive and almost immediately after that Grant had to go away to police training college for 19 weeks, but we did our best to get settled.
Unfortunately, we didn't have long to settle before the landlord put the house on the market and we were forced to move again. We'd only been in New Zealand for 16 months before we were looking for another home.
MOVE 15
Date:
November 2012
To:
Pukekohe, Auckland, New Zealand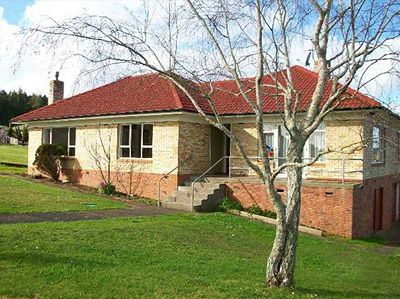 Our second home in New Zealand. We really felt settled here and felt like we were putting down roots. As much as I longed for a house of our own, we were only able to afford to rent. But this home suited us very well and our landlord was easygoing and had no problem with us having chickens and a dog as pets for a while. The first winter in this house was freezing, but thankfully the landlord (without us even asking) installed insulation and two heat pumps so our second winter was much more comfortable.
MOVE 16
Date:
May 2015
To:
a small country town in Taranaki, New Zealand
In the two-and-a-half years that we lived in the previous house our rent was raised four times, making it unaffordable. Pukekohe had become more and more crowded and the rental market in Auckland became a joke - landlords could charge exhorbitant prices as there is such a huge demand.
Long story short
, we chose to move to a small country town in Taranaki, five hours' drive away from Auckland. We were able to buy our first home in New Zealand, a mid-century 3-bedroom weatherboard house on half an acre.
Now we embark on our journey of renovating our home!