"I'm bored."
"I'm hungry, when is it lunch time?"
"Can I have a snack?"
The soundtrack to summer, right? My kids thrive on routine and schedules and summer always seems to throw us into orbit. This year I decided to create a schedule for the days we are home and stick to it. But most importantly, I decided to create a "schedule clock" so the kids know what to expect and when.
First, I devised a schedule detailing when we'd have meals, snack times, craft time (after lunch each day), bedtime etc. Any errands, outings, shopping, trips to the beach and library and so on will usually take place in the morning after breakfast. Please note that from 4:00pm until 5:30 it's DO NOT DISTURB MOMMY time, hee hee! The icon next to it is of a little boy zipping his mouth closed - too funny.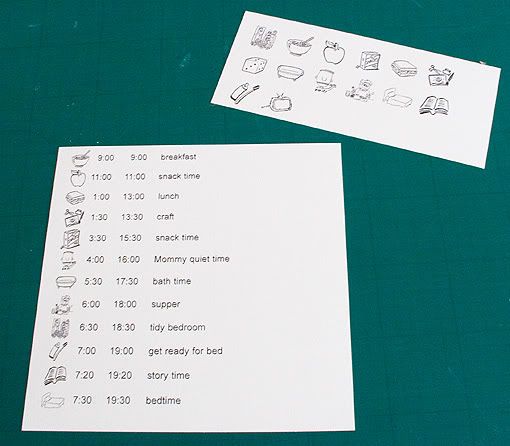 Oh, and the 7:30 bedtime is just the jumping-off point for us to start dealing with Noah's hassles for probably at least another hour* and for Daniel to read for another hour.
Anyway, as you can see above I printed the schedule on some card as well as some corresponding images. I punched the images using my 1-inch square punch, lining the image up with the back of the punch: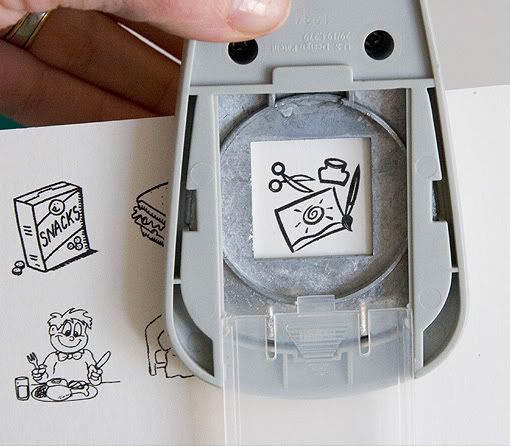 And then I stuck them on the wall in the living room. This clock had little black rubber dots that were stuck around in a circle to correspond with each hour but they fell off one by one. Perfect for our summer schedule icons to take their places. I also stuck a red paper triangle on the hour hand, which is the one they need to be looking at: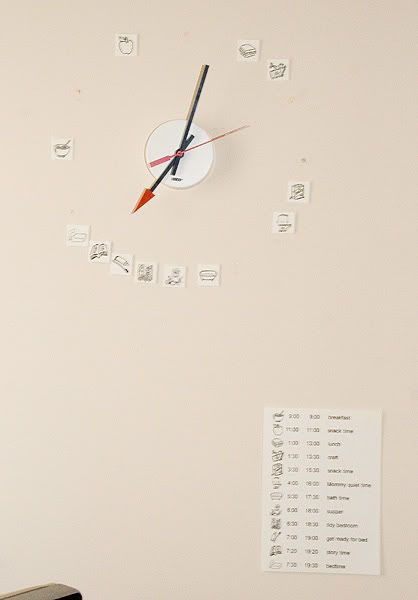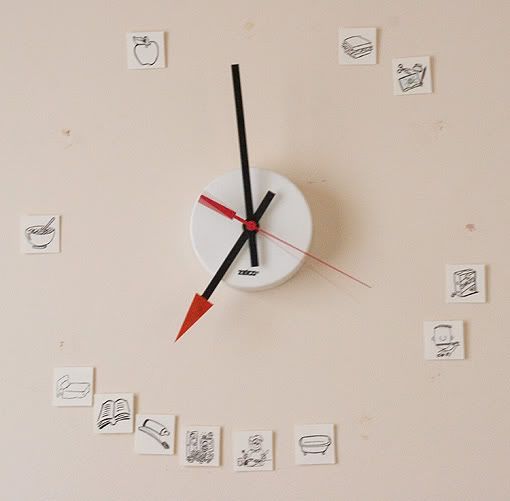 Hopefully the kids will now know when to come for meals and when to go and play and when to expect snacks and bedtime. We'll see if it works.
*
(PLEASE HELP, SUPERNANNY! Oh wait, we've tried Supernanny's technique and it doesn't work on our stubborn little Noah, ack!!)