A few months ago, when Christmas wasn't even really featuring on the horizon, Daniel came and asked me if we could "do more Jesus things this Christmas". We have had my dad visiting with us for the last couple of Christmases and since he is kind of anti-religion we haven't really done any Christian activities leading up to Christmas. But since it's just us this year I decided to make a Jesse tree.
There are
all sorts of ways
to make a Jesse tree - it can be a separate Christmas tree with real ornaments or it can be a felt tree or a decorated branch. I decided to make ours on a cookie sheet.
I made the tree from scrapbooking paper, adding glitter edges and a star-shaped brad. I stuck it to the back of a new cookie sheet.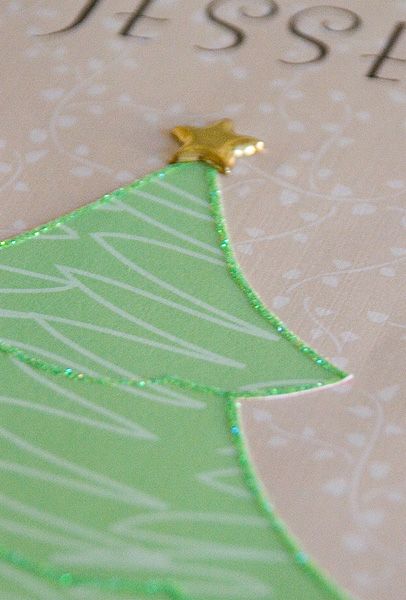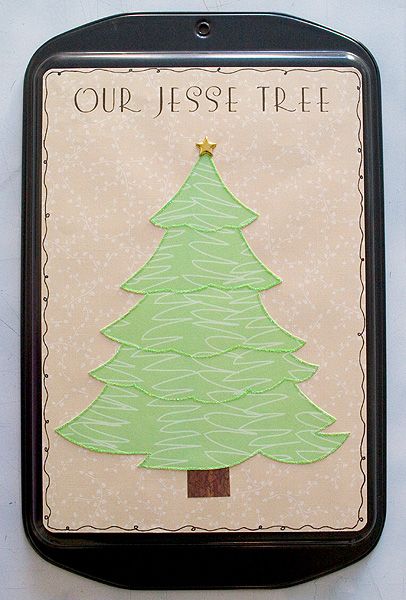 Then I made little marble magnets for the decorations and printed the daily devotions (
which I got from this site
) to be read each evening. The magnets are stored in the back (actually the front) of the cookie sheet.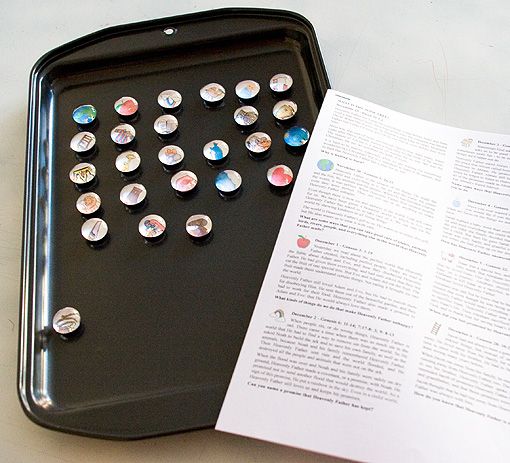 Each evening we will read a devotion and talk about it. The boys take turns: one will pick out that night's ornament and the other will place it on the tree, switching the following night. I thought they'd scatter the ornaments all over the tree, but they have come up with little ideas of their own - the camel is standing on top of the world, the baby is hanging at the bottom of the tree where it's safer, the ladder is above the trunk to aid climbing, etc! They are enjoying it (although Noah did get piqued when Daniel refused to put the crown on the baby tonight!) Here's how it looks so far: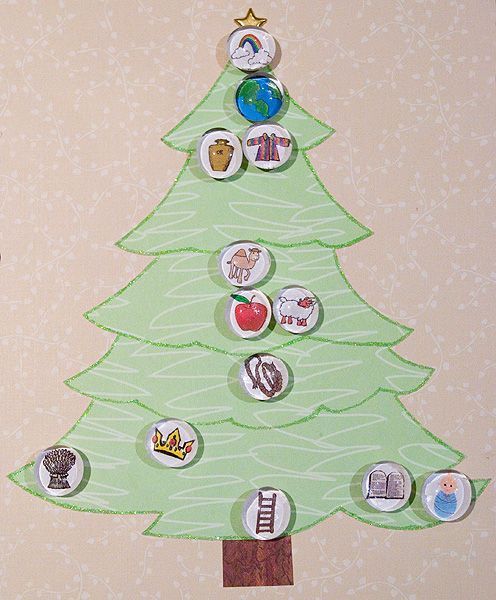 Daniel even mentioned in conversation one of the devotions, so I know he's listening and taking them in. He has been waiting very impatiently for some Pokemon toys he bought off eBay with his pocket money, and they still haven't arrived two weeks after ordering (they're coming from Hong Kong). I told him that he should just try to forget about them and then when they arrive it will be a nice surprise, rather than get his hopes up every day and be disappointed. He said, "I will just give up, like that lady." I asked which lady he meant and he said, "That lady in the Bible who wanted a baby. She gave up and then she had one." He was talking about this devotional that we had read:
Scripture: Genesis 21: 1-7
Reading: Have you ever wanted something so much that you thought you would die if you didn't get it? It's so hard to be happy when we focus on the things we don't have, instead of the things we do have.
Sarah wanted a baby more than anything, but even though she prayed a lot and tried everything she could think of, she didn't have a baby. As she got older she finally decided that God would not give her a child. But then God gave Sarah a son, and she named him Isaac. Sarah was very happy and grateful to God for giving her a wonderful son when she had given up on her dream.
Talk about: How has God answered your prayers?
It's been really nice to all connect to something new that is spiritual at the end of the day and also to anticipate Christmas together with the focus on Jesus, where it should be.