Yesterday was my first day at college, the first day of my course (Certificate in Counselling Concepts). I arrived on time and managed to get a parking spot, which I had been a bit anxious about as the car park isn't really big enough. I made my way to the classroom where a few of my classmates were waiting outside the locked classroom door. We immediately started chatting. Soon everyone had arrived. After talking for a while we started wondering where the tutor was and one of the women went to find out. Eventually another tutor came to let us into the classroom and explained that our tutor had been unable to come, something had come up at the last minute, so she would be taking our class.
We did some getting-to-know-you excercises and went through what counselling entails, what skills are required, what the outcomes of counselling should be, etc.
I just have to say that all 9 of us in the class just immediately clicked and we all got on like a house on fire. Even the tutor commented on how remarkable she found it that there was such warmth and friendliness among us and we were so comfortable with each other even though we'd only just met. Everyone in the class is just so lovely. There are 8 women and 1 man and we range in age from 22 to 58.
I completely loved the first class, I had a ball! I can't wait for the rest of the course and I am
so
glad that I signed up for it!
Naturally I had to include a picture of what I wore: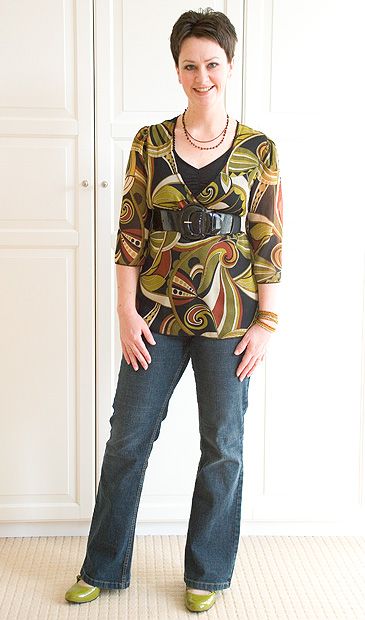 Top: charity shop (thrift store) (it's lovely floaty material with flared sleeves)
Black t-shirt: Matalan
Bootleg jeans: Matalan
Black elastic belt: Matalan
Necklace: a gift from my in-laws
Bracelet: Dorothy Perkins
Green shoes: Asda