I have been planning this project since we lived in England. Daniel is a prolific artist and I wanted to showcase some of his sketches and decided that I would do so on a duvet cover. I asked him to pick which of his drawings he wanted to use. He designs his own Pokemon, complete wtih names, types and evolutions and he chose those for the project.
Here are his design sheets.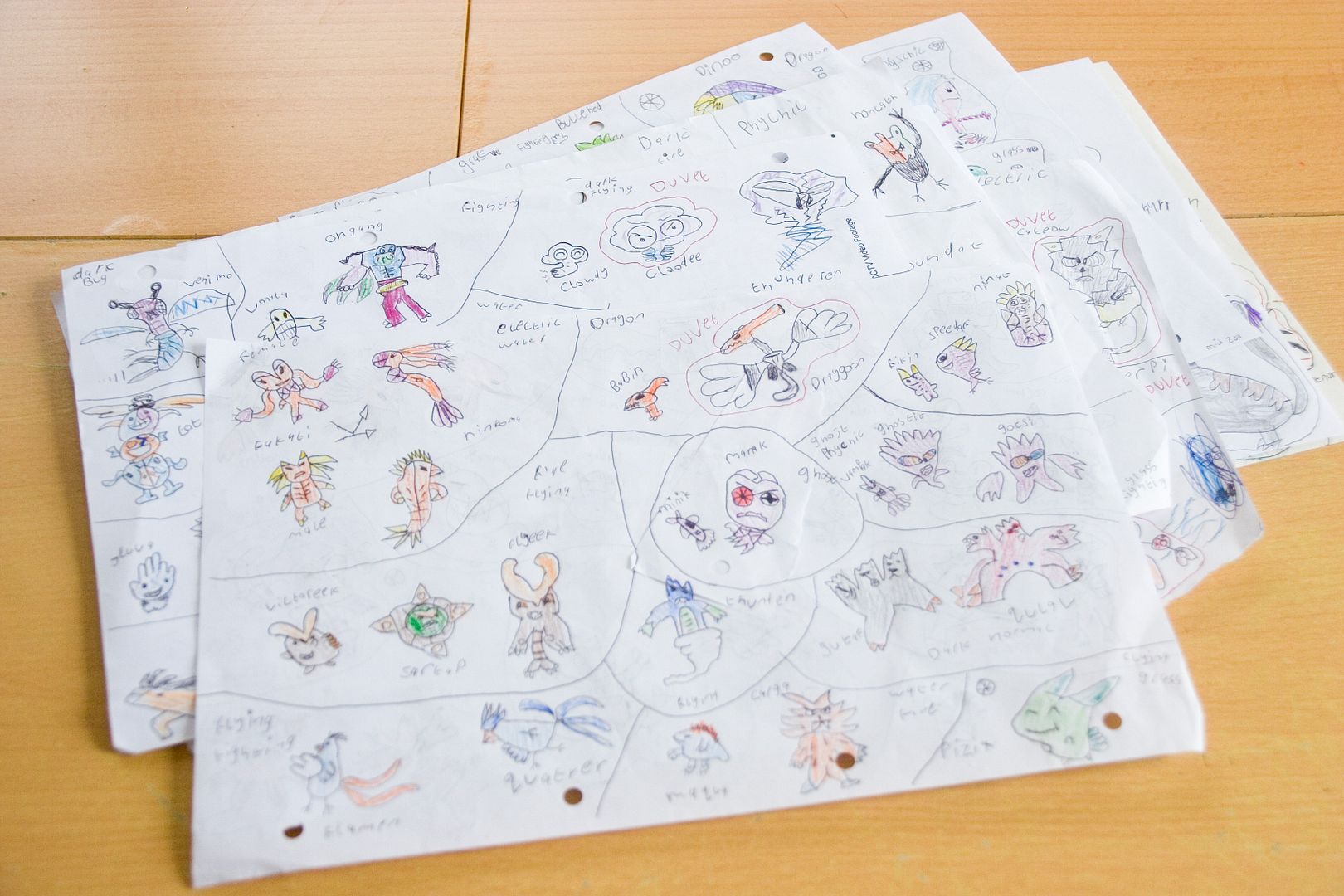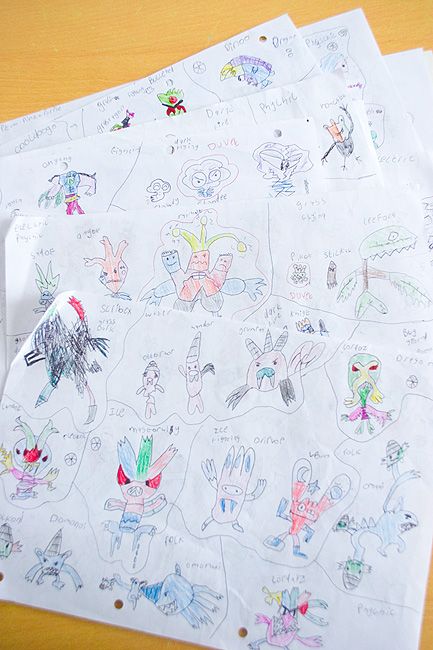 I photographed each chosen design - you can see this one has a red line drawn around it which is how I knew which ones he had chosen from his design sheets: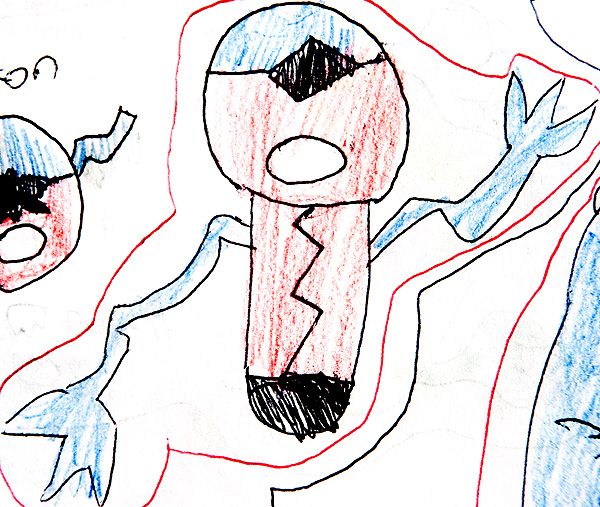 Then in Photoshop I cropped each picture right to the edge and erased all extra marks around the edges.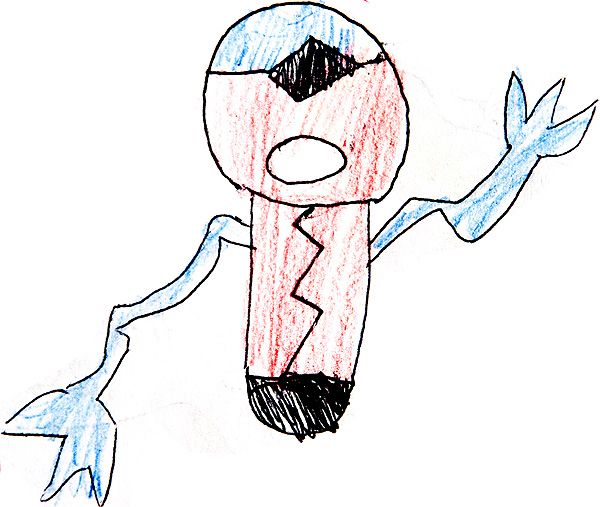 Most of his designs had been coloured in so I used the Hue / Saturation tool to select each colour group (red / yellow / green / cyan / blue / magenta) in turn and pull the lightness slider all the way to the right. This effectively bleached out all colour.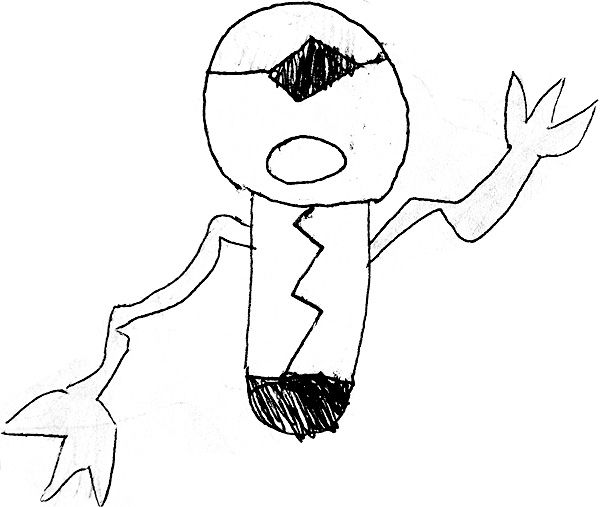 Then I converted to grayscale and increased brightness and contrast to get a nice, pure black and white image to trace.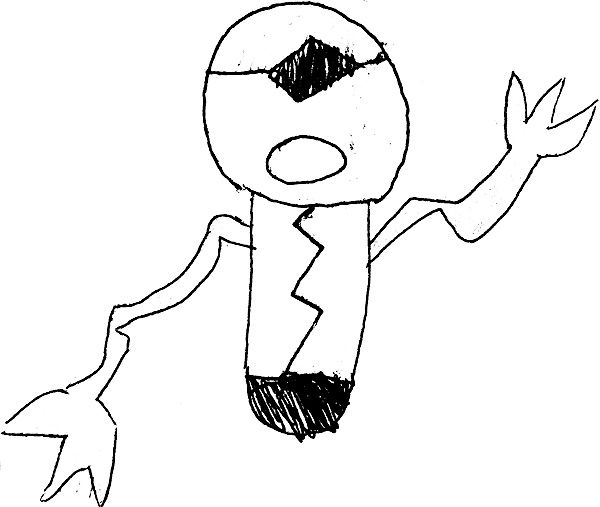 As you saw above, each original image is tiny. I resized each chosen character to fit on a sheet of paper and printed them out.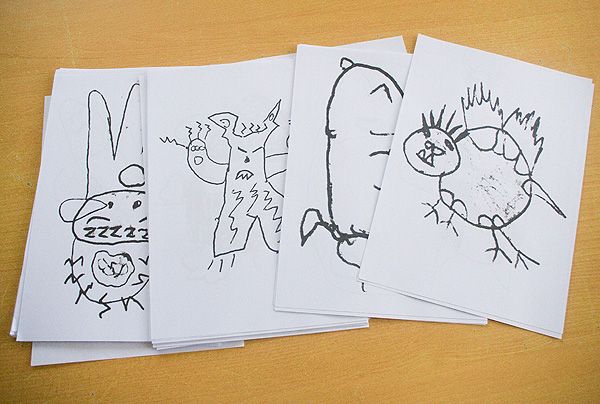 I bought felt-tip fabric markers and tested them on the inside hem before starting.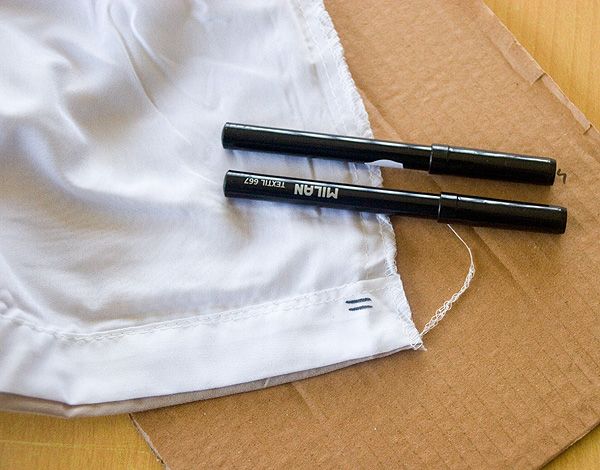 I also ironed the duvet cover so that I had a nice smooth surface to work on.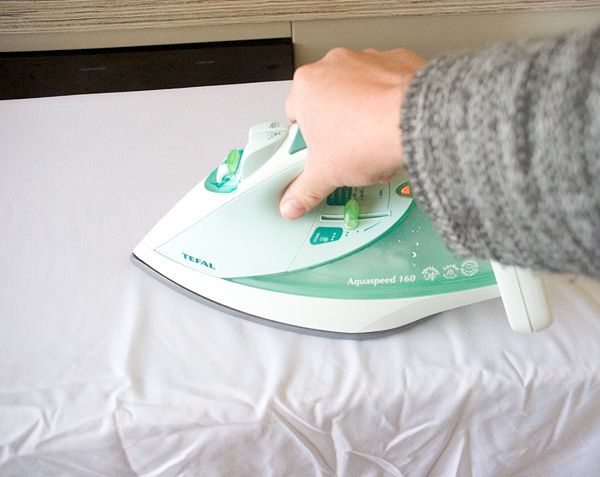 Time to get started! I chose the first image to trace, put it on a piece of cardboard ...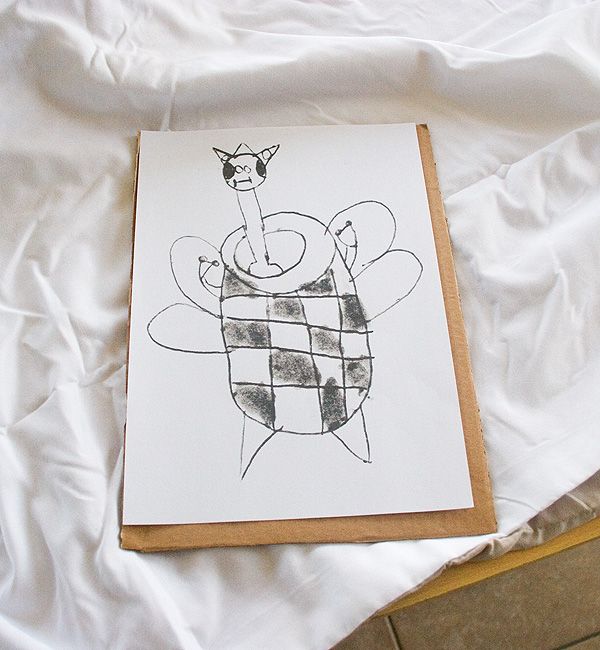 ... and slid it into the top left corner of the duvet cover.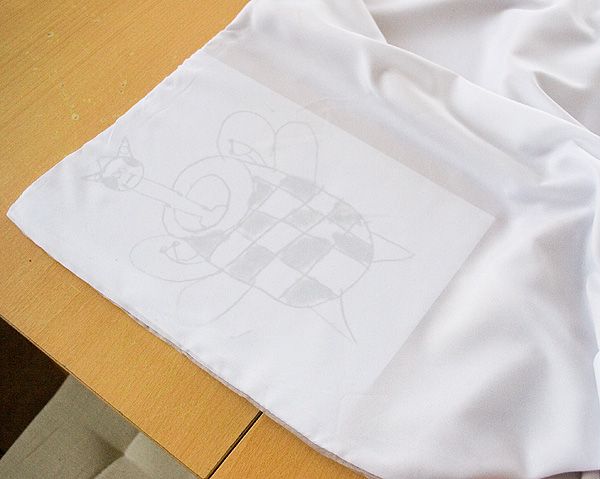 Then I began tracing with the fabric marker.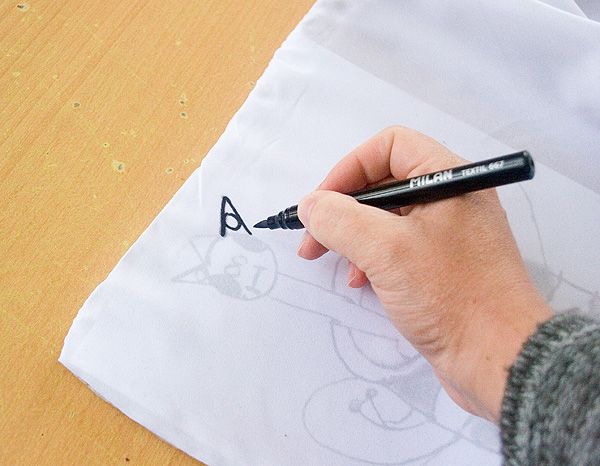 First one done, only 119 to go! I'm not even kidding - that's how many images ended up on this queen-sized duvet cover.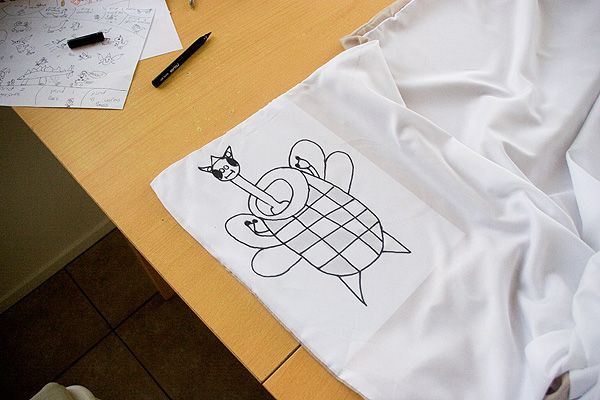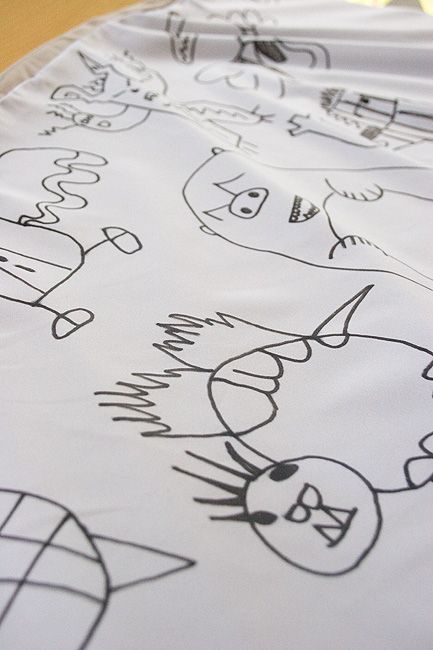 This is after about four and half hours of tracing: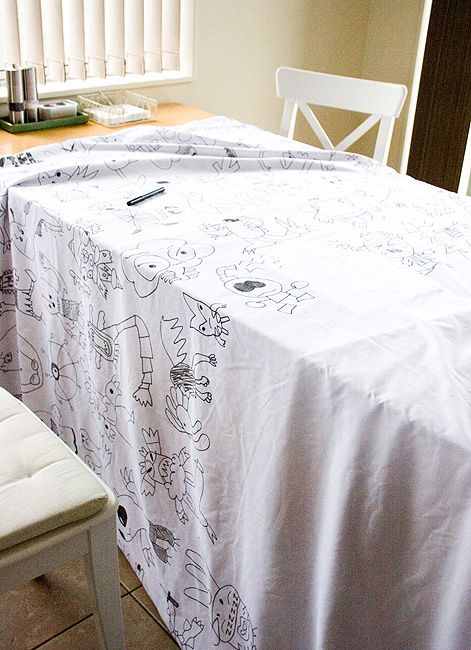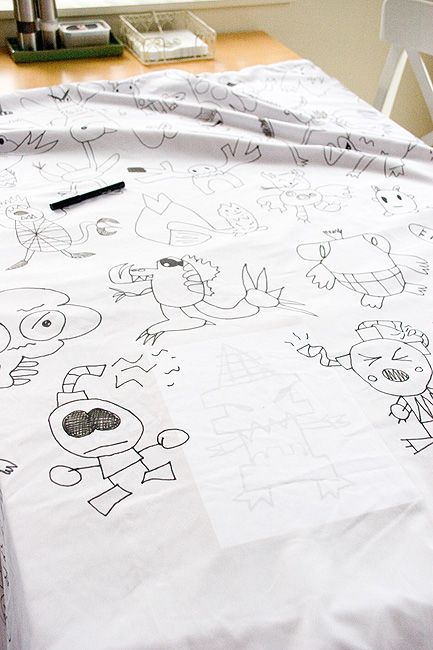 Preparing the images took around 2-3 hours (I didn't take note of the time) and the actual tracing took around 8 hours. I didn't do it all in one go but worked on it as and when I had time, packing it away in between tracing sessions.
And here is the final product, which I am so happy about - and thankfully Daniel likes it too!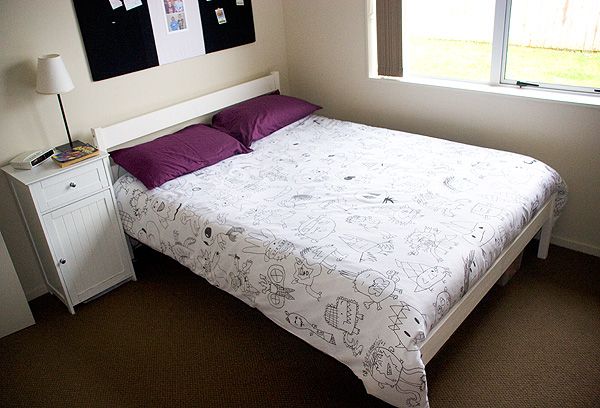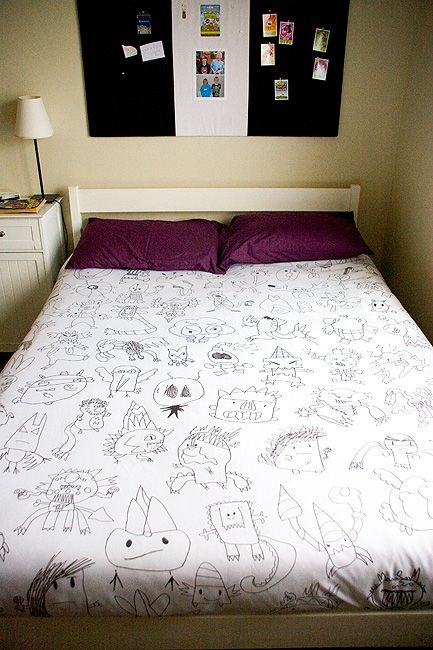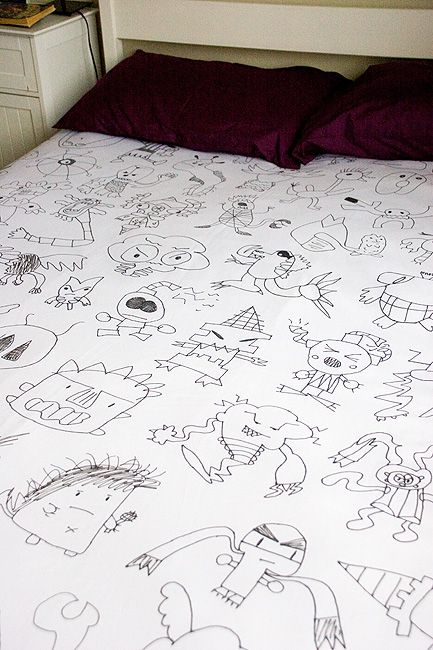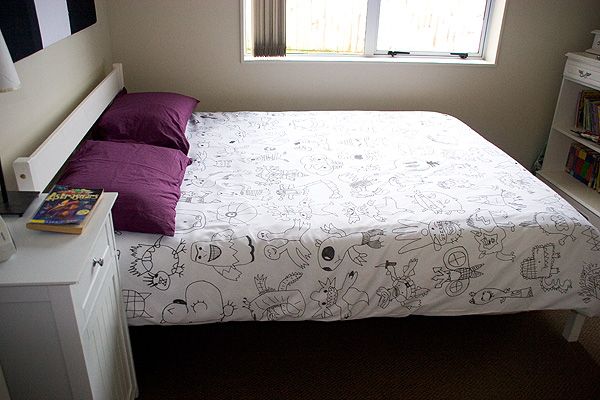 I am so scared to wash it!! I promise I'll let you know if it fades, smears, streaks or in any other way doesn't come through the wash beautifully.
Update: I washed it and the drawings faded ever so slightly. I think it is due to the higher synthetic content of this inexpensive duvet cover - pure cotton or polycotton would probably
have held the ink better.
But it still looks good and even if they fade a lot more they will look more like pencil sketches, which is also good. Overall: success!