I thought it would be fun to share how I've organised our car and all of the things we take with us from place to place.
First: a lingo lesson. Mainly for the US citizens in my readership.
boot = trunk
cubby hole = glove compartment
torch = flashlight
togs = swimsuits
rubbish bin = trash can
Okay then! Here is our boot. Yes it needs a vacuum. I'm just keepin' it real. (At least all of the black sand is invisible!)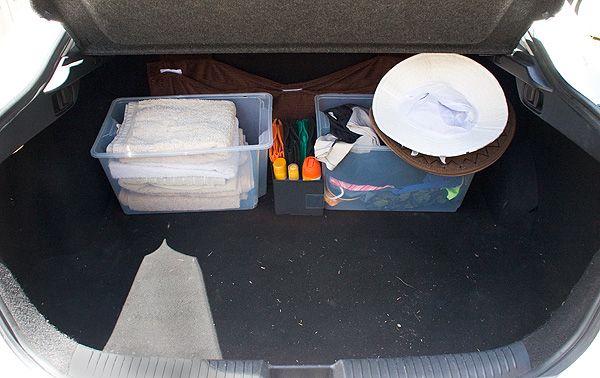 We always keep two plastic tubs in the boot, and a small container. They only come out when I go grocery shopping and when I've unpacked the groceries they go back in again. All three containers are from Ikea - the middle container is one of the drawer organisers that I had spare.
The left hand one holds towels. We go to the beach and river quite often on planned trips, but sometimes we will be out and about somewhere else and end up at a place where the kids can paddle, or where we want to sit on the grass or sand. It's always handy to have towels with us. When we've used the towels they are washed, dried and put straight back into the car.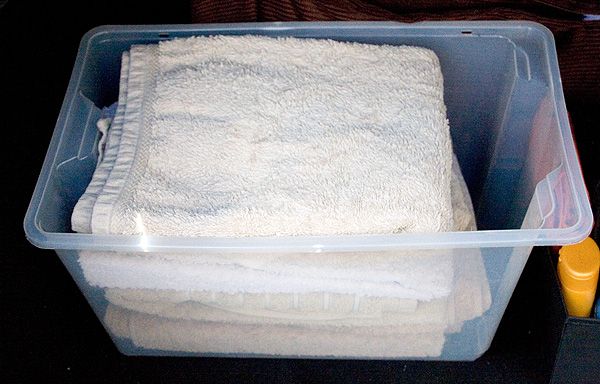 The right hand tub contains hats, peak caps, UV swim vests (rash vests) and togs. They are replaced into the car once we have washed and dried them.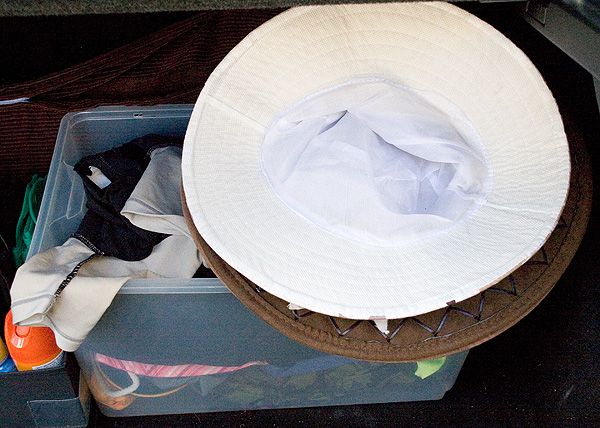 The middle container holds the following: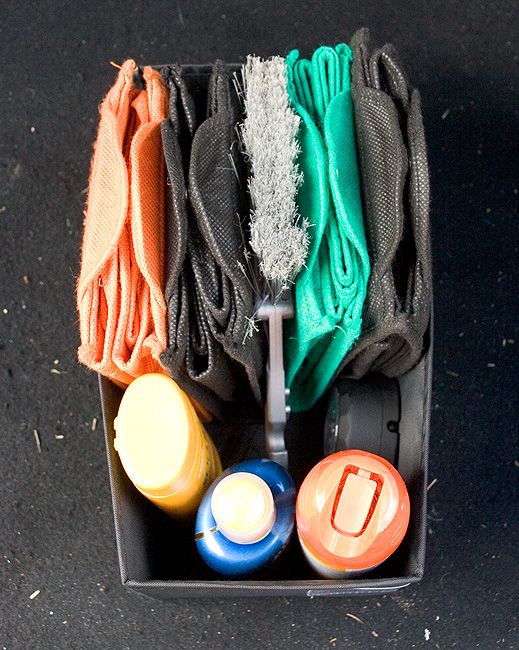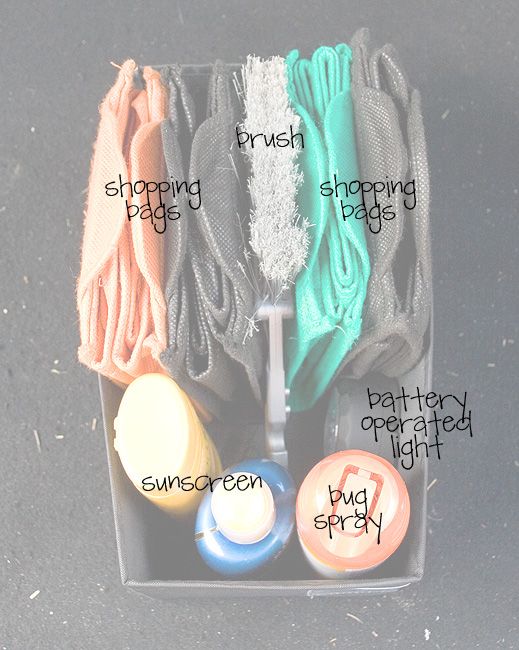 The brush is from a small dustpan-and-brush set and we use it to brush sand off of our feet and legs before getting into the car. I remember my dad brushing our legs after the beach when I was a child :)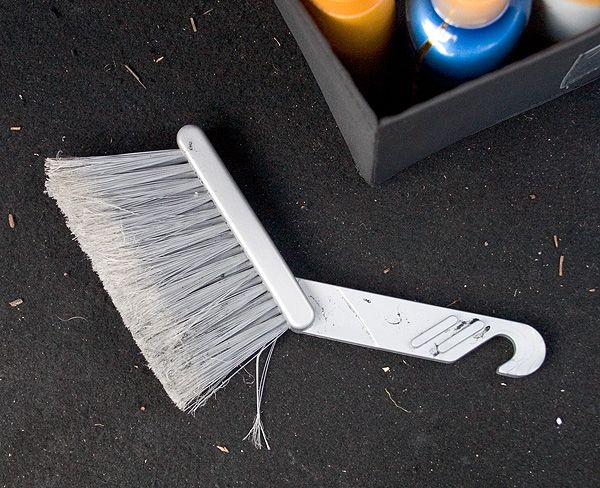 Having these boxes permanently in the car makes going to the beach so much easier. We just choose what gear to throw in (body boards, chairs, umbrellas, wetsuits) and go.
We have another plastic tub that now lives on top of
the shoe / wetsuit rack I made
. It holds a picnic quilt, flippers, goggles, more towels, frisbee - basically more junk to take to the beach or river. It's always ready to throw in the car.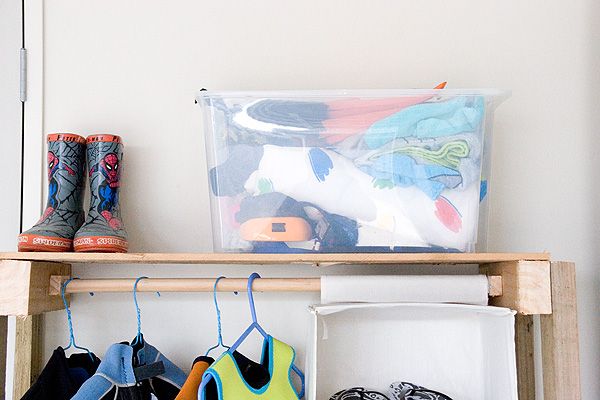 Behind the containers is a hammock contraption that I made.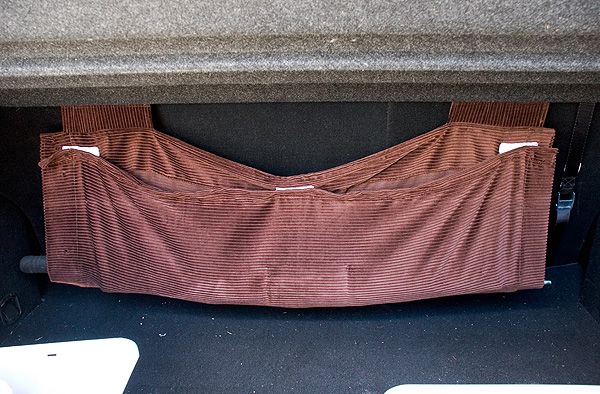 I've removed the back shelf to show you how it hangs from the headrests.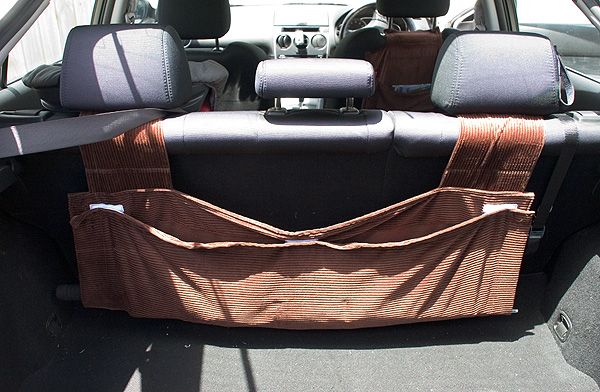 It holds umbrellas and we also stuff raincoats in there. They are always in the car and never in our way. Handy to have if we get stuck on the side of the motorway on a rainy day!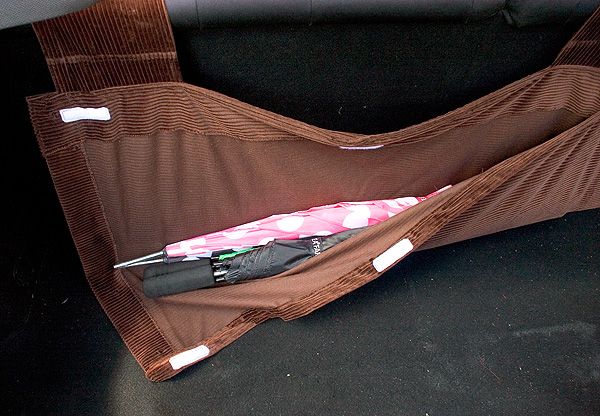 Okay, moving on to the car interior.
I made a carboard box to specific dimensions and painted it black.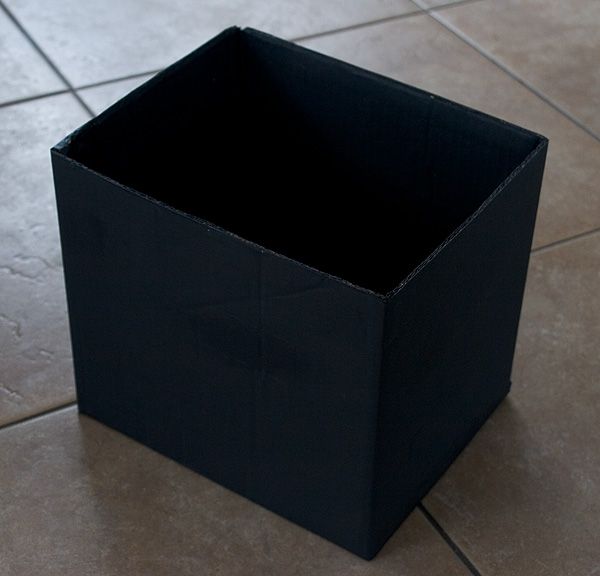 With the addition of a plastic bag it is a perfect-sized rubbish bin that wedges in behind the centre console. Easily accessible to everyone in the car.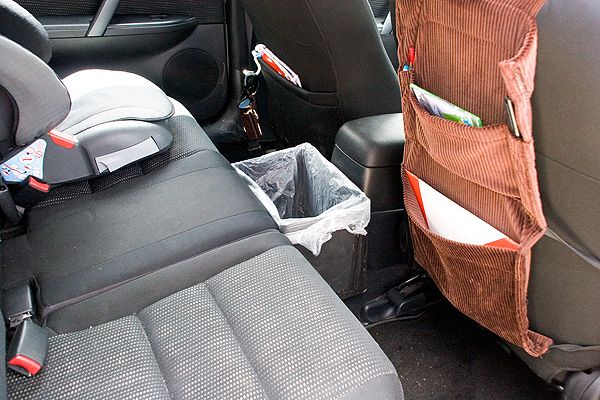 You can see how I've organised Daniel's side of the car. For some odd reason there is no pocket behind the driver's seat so I made this organiser. Yes, you can buy them but making it was free as I already had the fabric.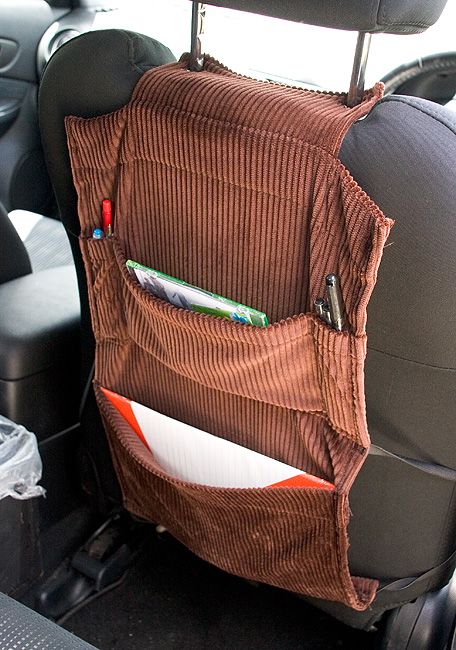 It holds pens, drawing paper and any books or toys he brings with him. Noah's side already had a pocket for his drawing books. I added a hook for his wallet and sunglasses.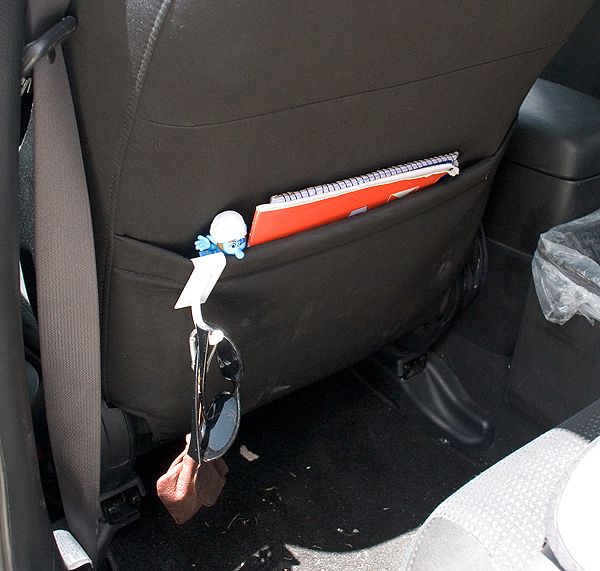 Okay, moving to the front. The passenger side door is where I stash my sunglasses and the sat nav case. (Sometimes we throw our sunglasses into the centre console.)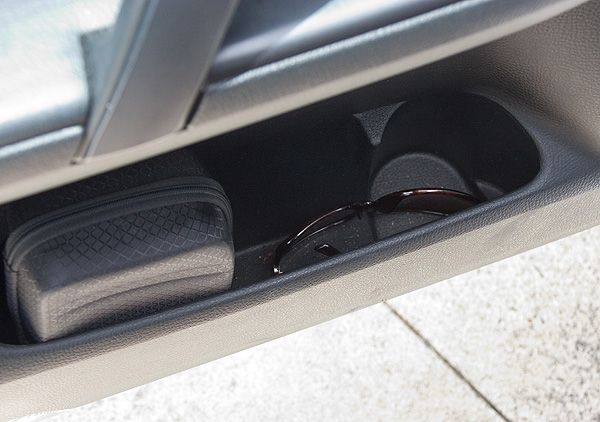 Wedged between the passenger seat and the centre console, behind the seat belt slot, are some fold-up sun shades. They are for the kids to stick to their windows if they are bothered by the sun.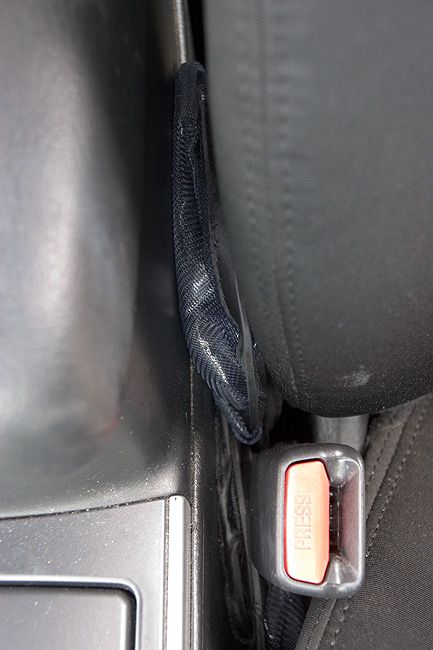 The centre console has a little cubby:
We generally keep it empty as it's handy to stash our water bottles.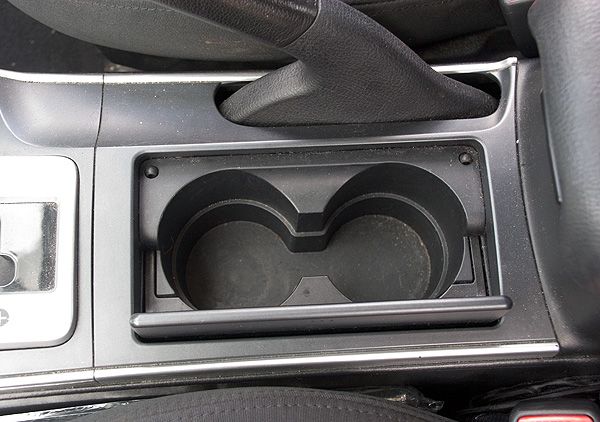 Behind that, between the seats, is another cubby: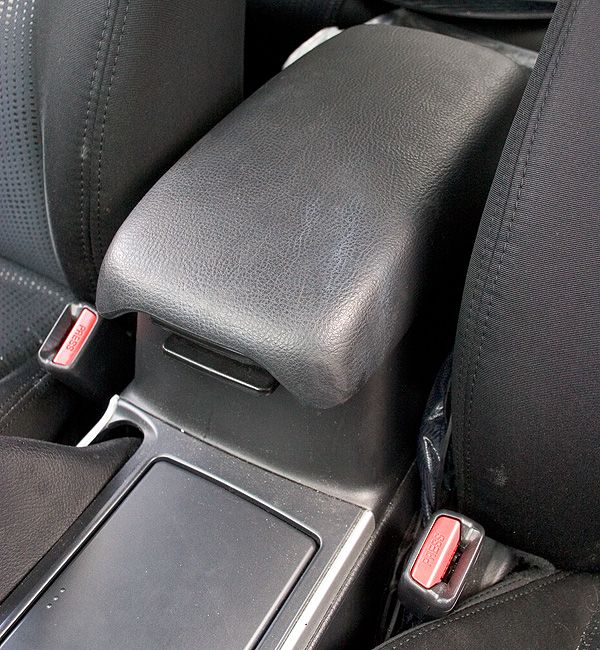 It has two levels. The top level holds hand lotion, lip gloss, some cash, gum and a little plastic wallet containing our driver's licences and roadside assistance card.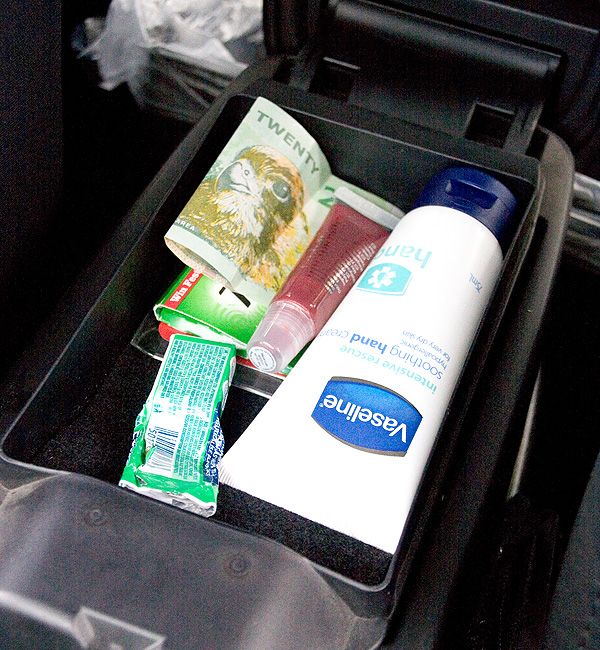 The level below that holds baby wipes, and sometimes our sunglasses. I usually have some cereal bars in there too but "somebody" ate them. (What?! I was hungry!)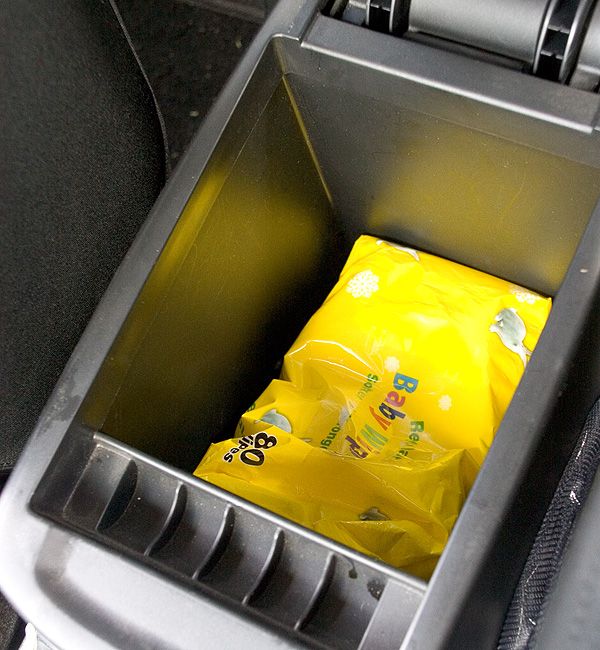 Moving around to the cubby hole. It contains a torch, pens, roll of toilet paper, car manual, local maps and a zippered pouch. Also, a disposable camera for evidence capturing in case of an accident (our ancient cellphones have exceedingly crappy cameras).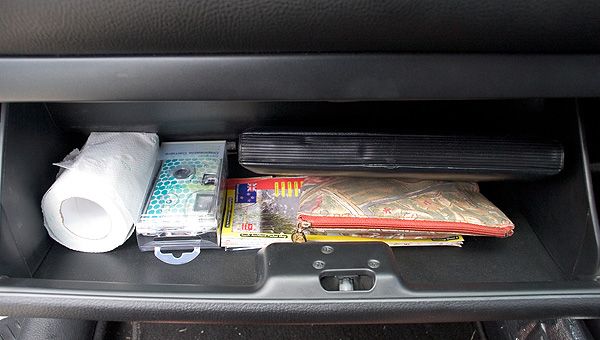 The zippered pouch contains scissors, band-aids, antihistamine tablets, paracetemol tablets, a nail file, tweezers, nail clippers and hand sanitiser.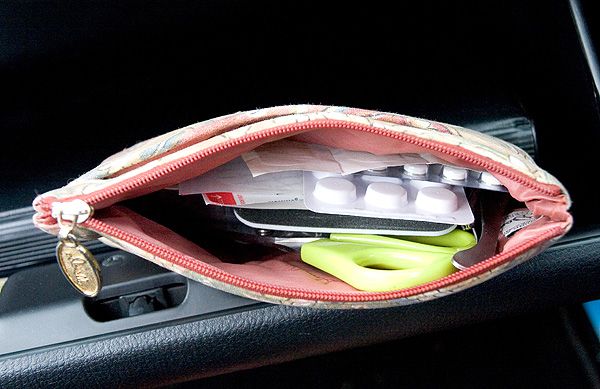 The centre of the dashboard has another cubby: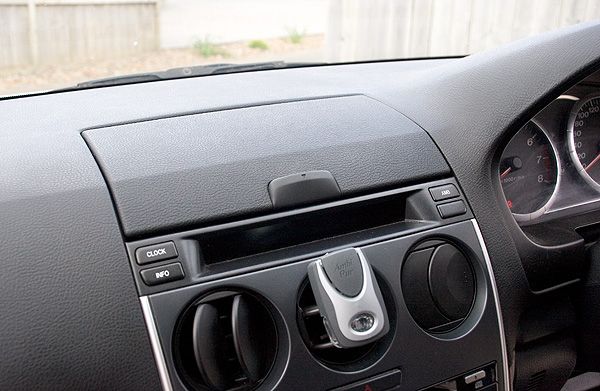 We put our sat nav in it when we use it for a trip.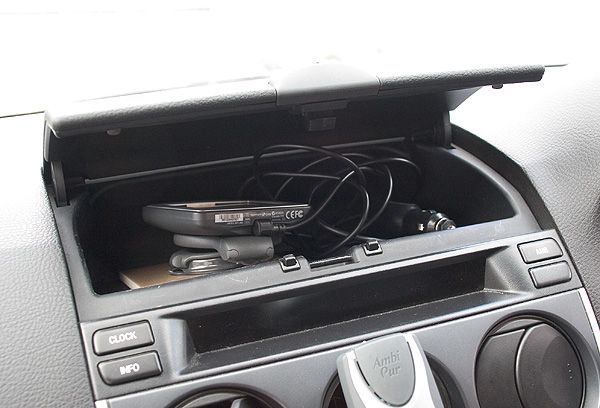 We have it stuck to a ceramic tile so all we have to do is flip up the screen and plug in the power cable. I like that it leaves our windshield clean and clear. If you have that tell-tale sucker mark on your windshield you are succesptible to a break-in whether or not you leave your sat nav in the car.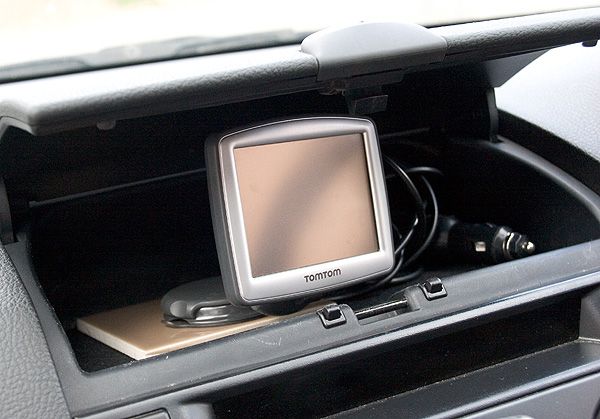 So ... that is how we keep all of the junk from taking over our car. Which leaves the way free for all of the sand and dirt to take over! Hope this was helpful. Now, I'm off to vacuum the car ...