We didn't bring our Christmas tree to New Zealand with us and it's actually been really nice to keep things simple for this year and last year. In fact, the other day Noah said to me, "I don't see the point of Christmas trees. You only put them up once a year and the rest of the year you have to store them."
I do have a few bits and pieces out but it's really simple and basic.
However, on the opposite end of the spectrum is my friend R. I wanted to show you the Christmas display that she and a team of helpers put together at her church last year. She supplied the items; the wreaths and trees were put together and decorated by the team with R helping and overseeing the process.
R says, "This is a collection I have added to, collected and made items for over approximately 9 years.
Some items I have designed and made, (sometimes they were made and constructed with help from others), some items have been collected in sales throughout the year. When you need multiples of things it helps to get them in the sales!"
As to why she spends so much time and effort collecting, making and putting together these Christmas items, R explains, "I have done this because it has allowed me to use a variety of skills and creativity for the glory of God and to share the good news of Jesus. My collection of items has been used for displays in churches for Christmas Outreach, plus also in our own home over the years.
"One year we hosted in our home two Christmas suppers over two nights and money was raised for charity. It was actually for a Christian Ministry involved at that time with helping to renovate an orphanage in Russia from donations people gave.
"When the collection of Christmas items is not used by a church community for outreach, then I can choose to set things up in and around our home. It is nice to be able to use it for a charity focus also.
"The way I see it is like this: Christmas and Easter are the occasions when there is a great open opportunity for those of us who have faith to share about God's love with the wider community - Great! I say. Let's do it while we have such a lovely opportunity to do so!"
With that being said, please enjoy the Christmas display. The first section is the angel display.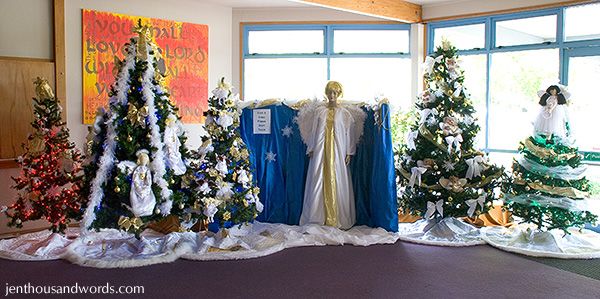 This comprises an angel mannequin which is dressed in robes made by R.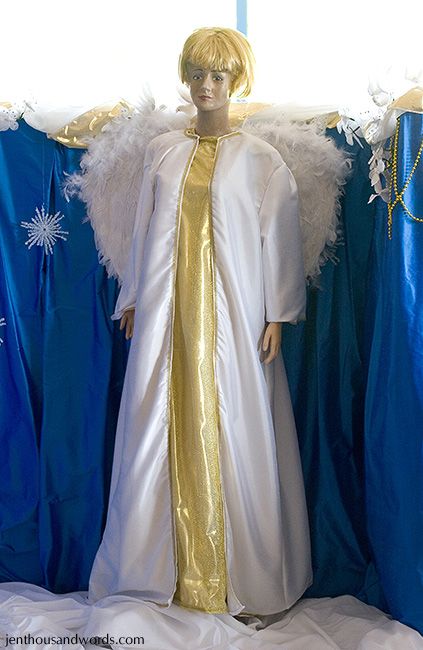 Along with the angel are five angel-themed trees.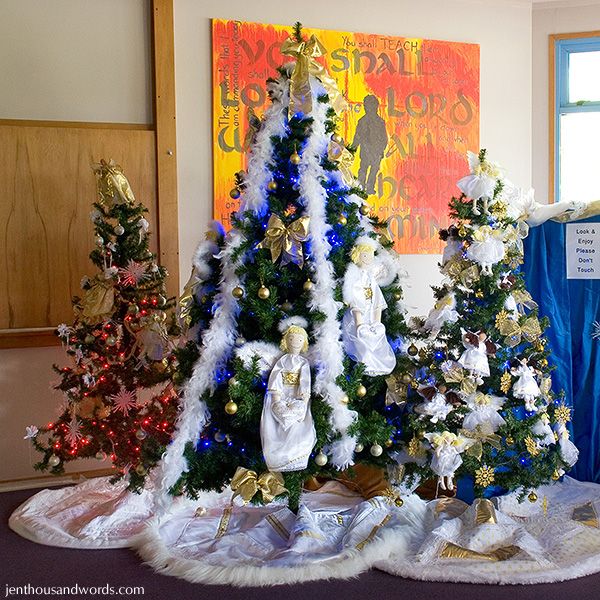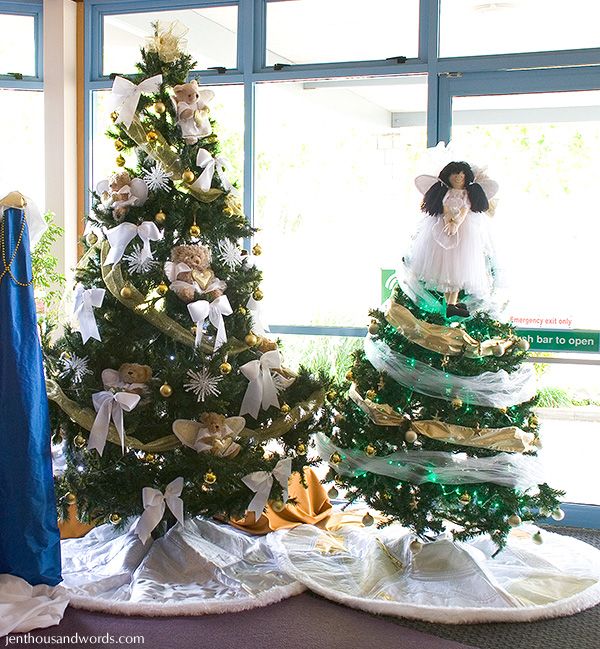 This tree has beautiful gold ornaments, gold and white bows, and snowflakes.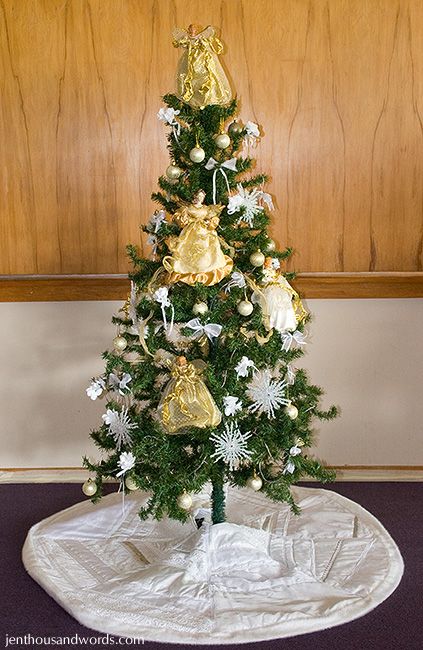 Even the gorgeous tree skirt was made by R.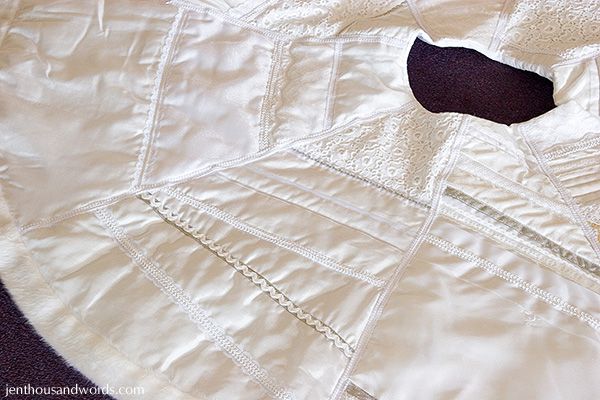 The ceramic angels were bought as-is and fit the motif perfectly.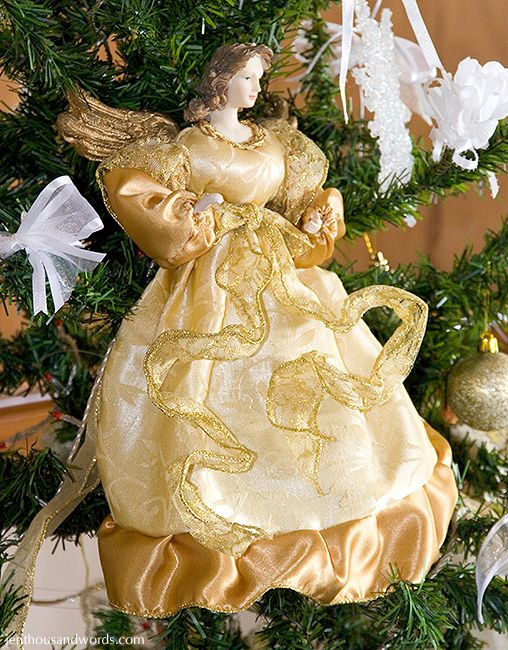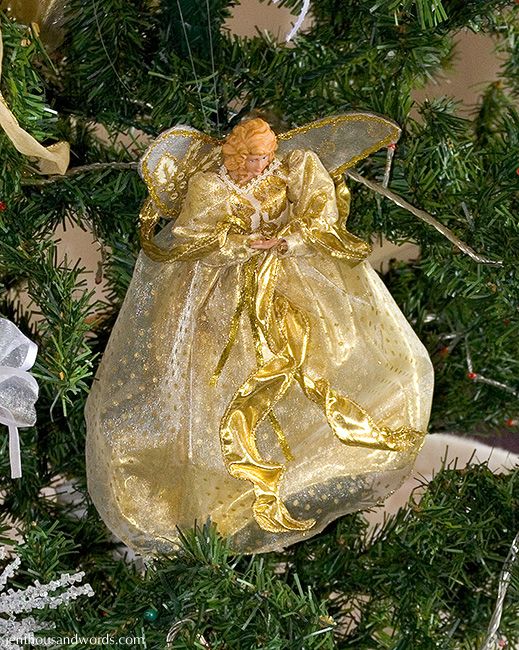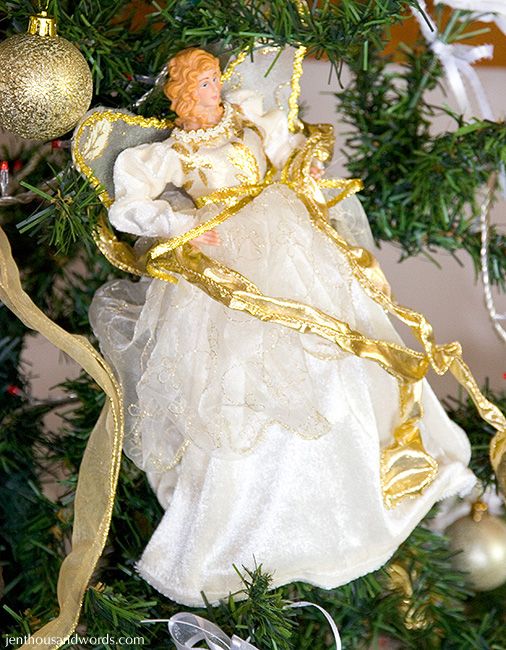 The second angel tree has feather streamers, gold ornaments and gold bows.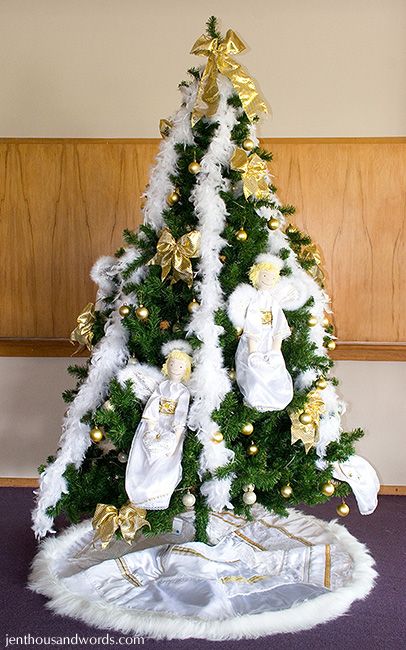 The angels on it are individually hand made by R. They have feather wings and gold sashes.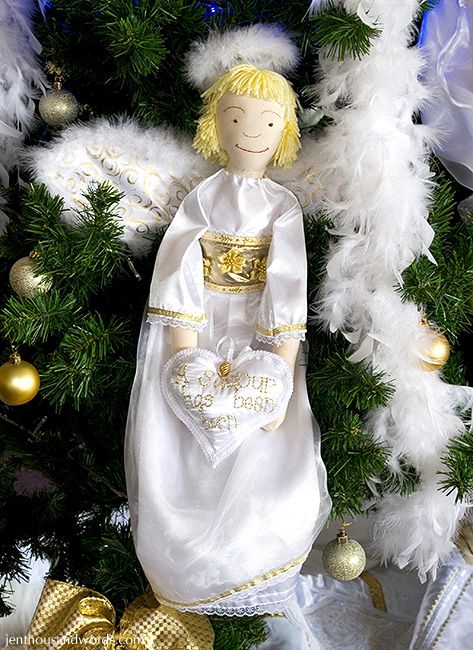 Each angel holds an embroidered heart. Just look at the detail of the heart and even the lace and ribbon trim on the angel's sleeves.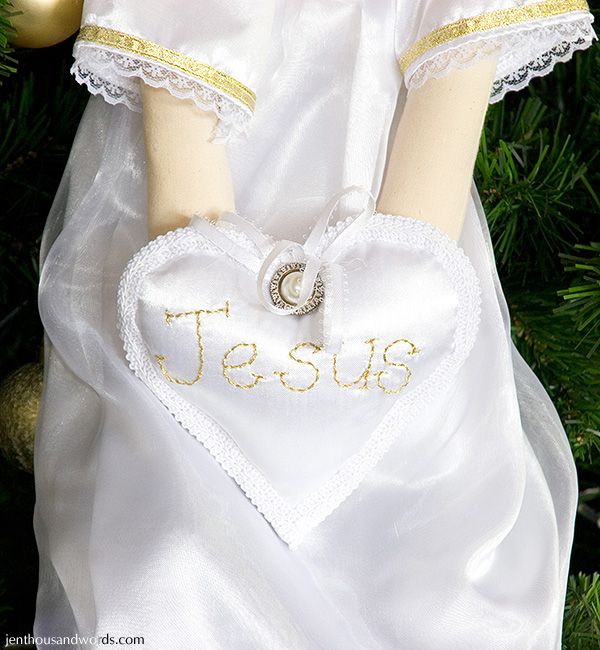 The third tree is home to a whole host of adorable angels, each hand made by R.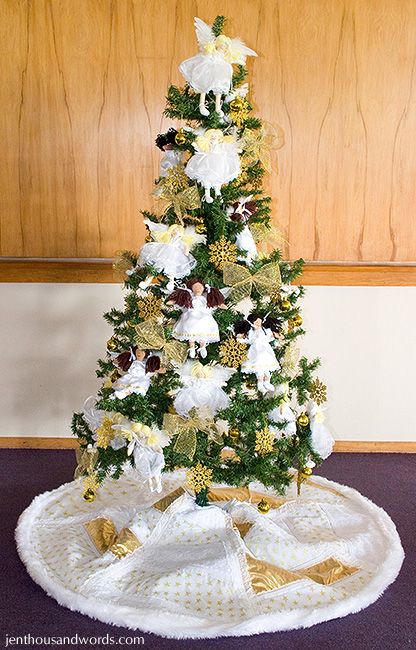 They have different hair lengths and colour.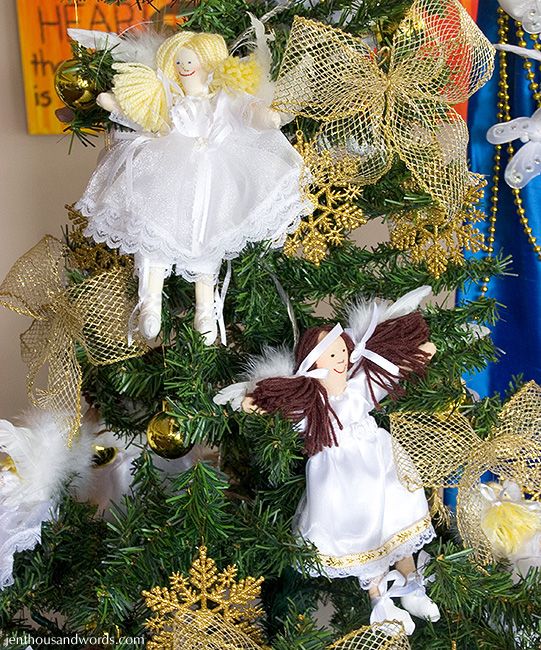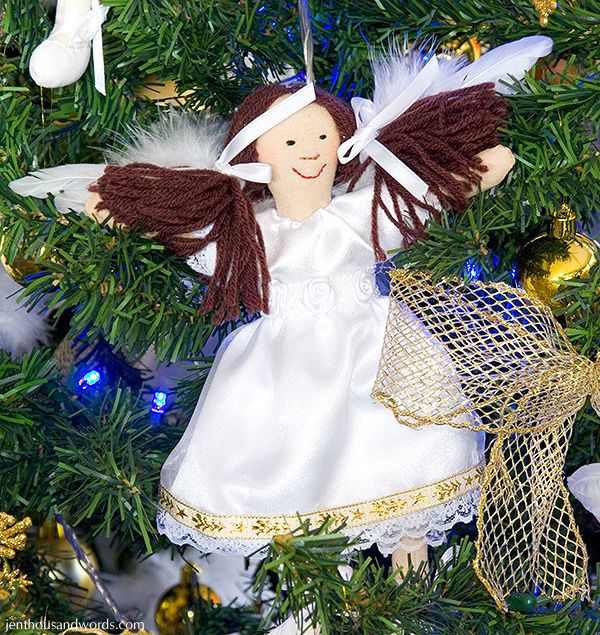 The attention to detail extends to ribbon-tied shoes, bloomers and petticoats trimmed with lace.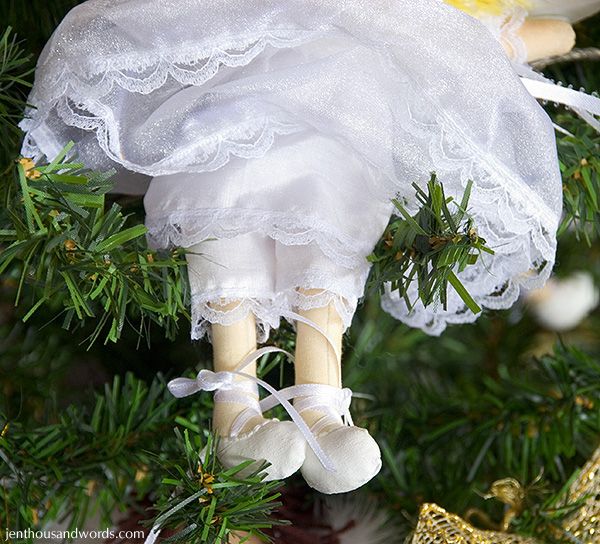 The angels hold decorated hearts, also hand made by R.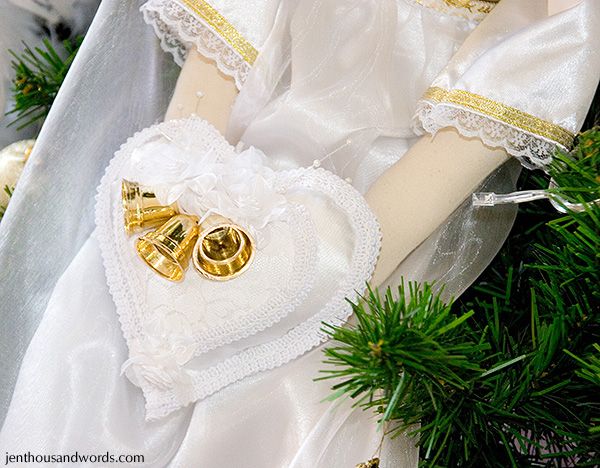 And of course she also made a beautiful skirt for this tree.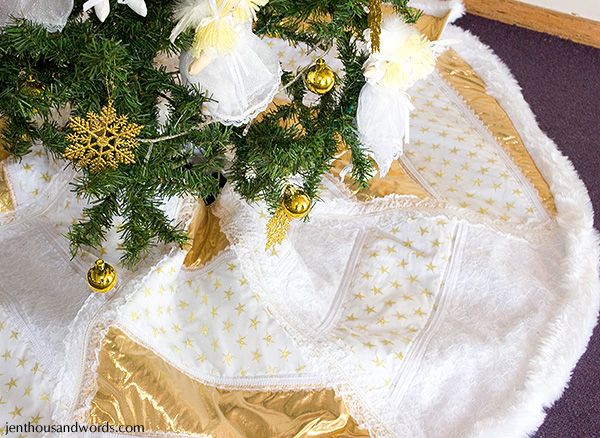 The fourth angel tree is swathed in gold ribbon and white tulle with some gold decorations and is topped by three angels, and of course sports a beautiful skirt too.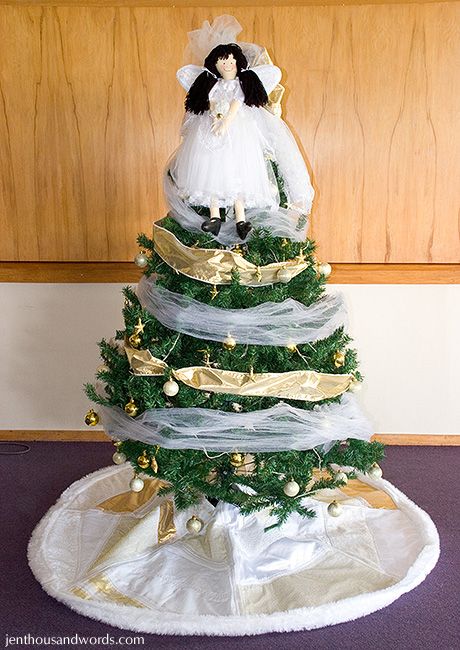 The angels that she made for this tree match the other tree's angels but are bigger.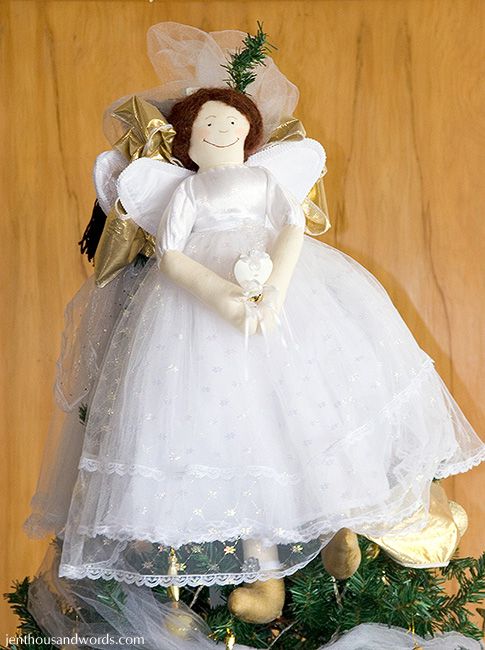 Of course they display the same meticulous attention to detail.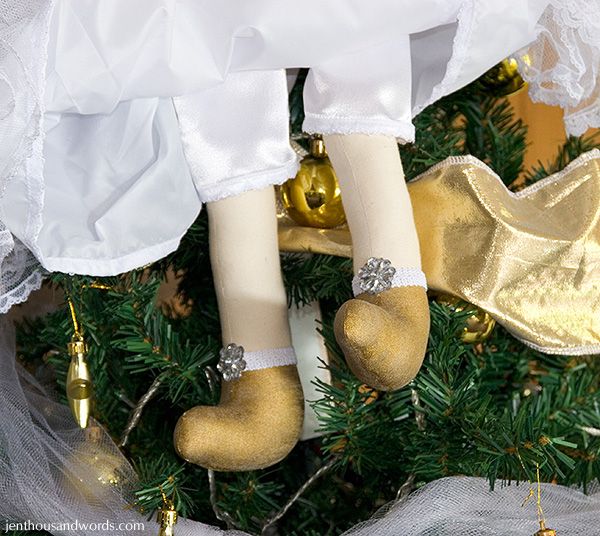 The final angel tree displays the teddy-bear angels, gold ribbon, snowflakes and gold ornaments.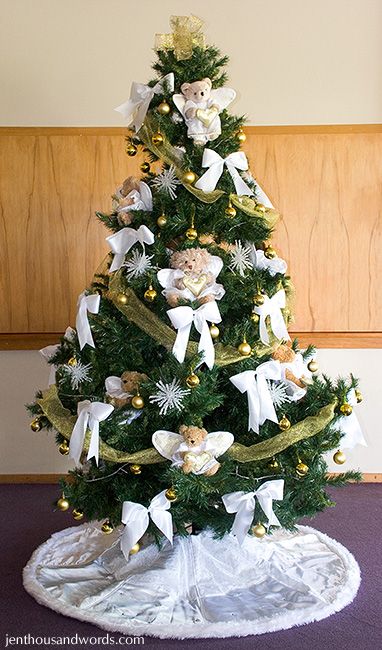 Each little teddy bear has been dressed in angel attire, holds a heart ornament, and sports a pair of wings, all made by R.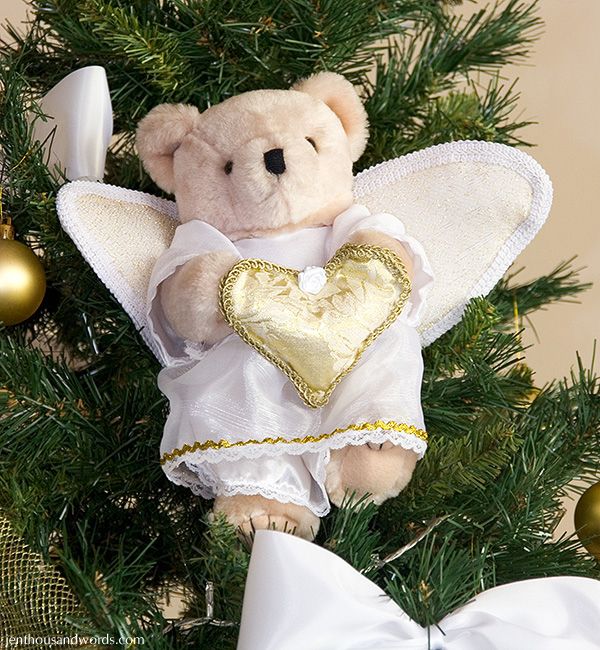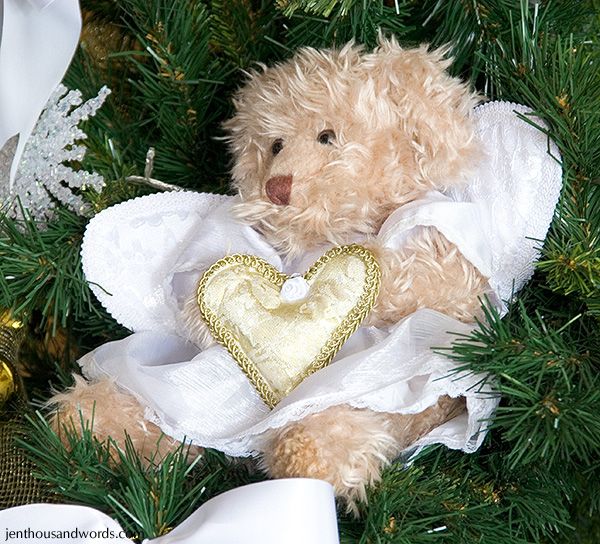 And of course she has made another beautiful tree skirt.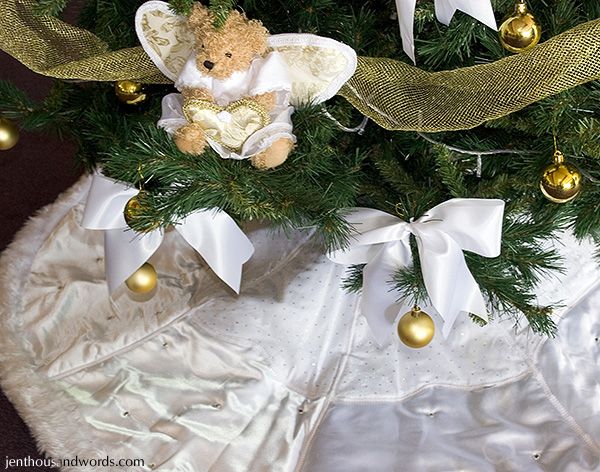 The second display is of the wise men.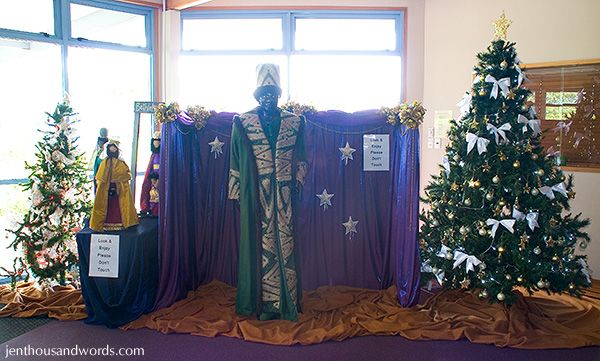 Here we have another mannequin all decked out in royal finery.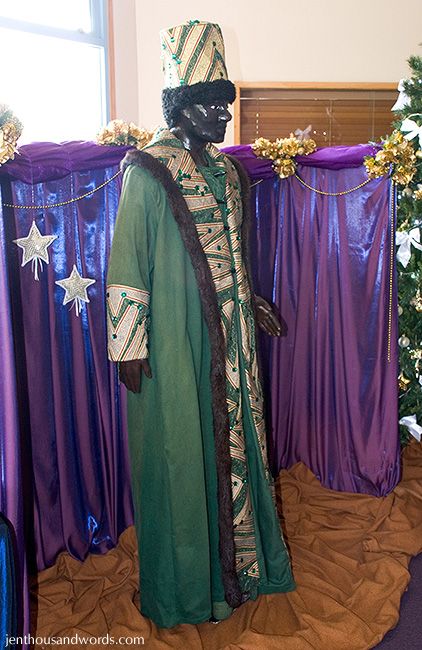 The set of three kings with their gifts were hand made by R.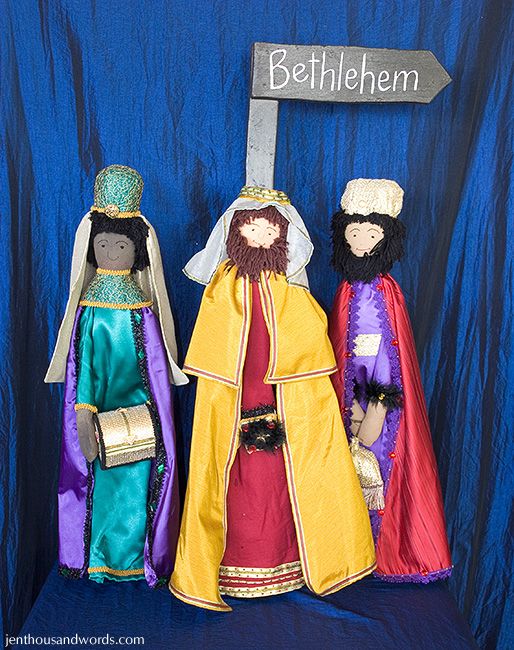 The wise men display also features two Christmas trees - this one decorated with gold ornaments and white ribbon bows ...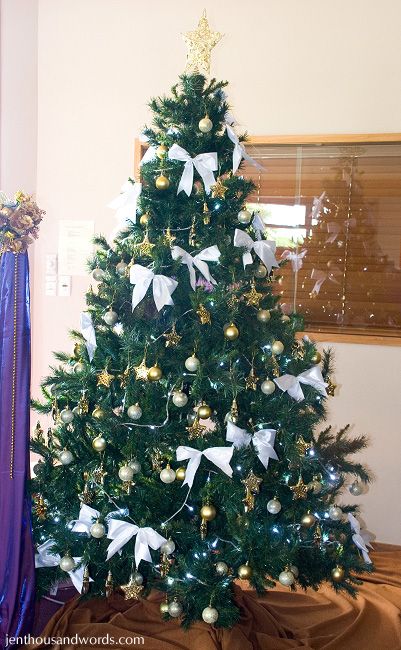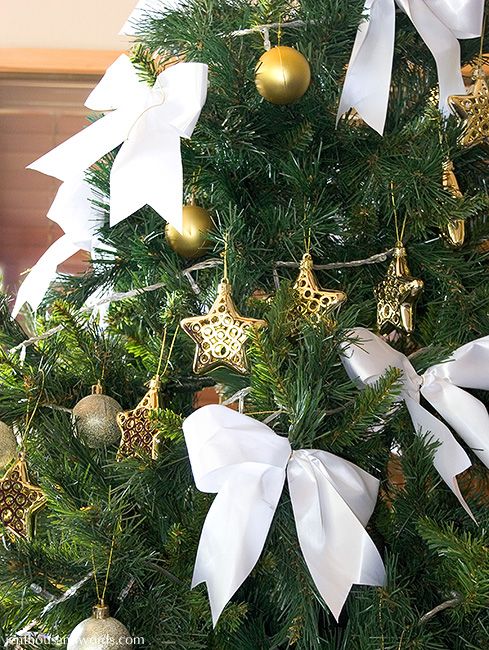 ... and this one features hand-made gold stars, and gold and white ribbons and ornaments.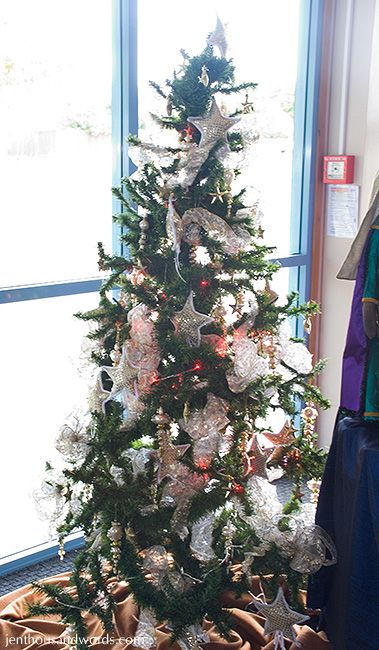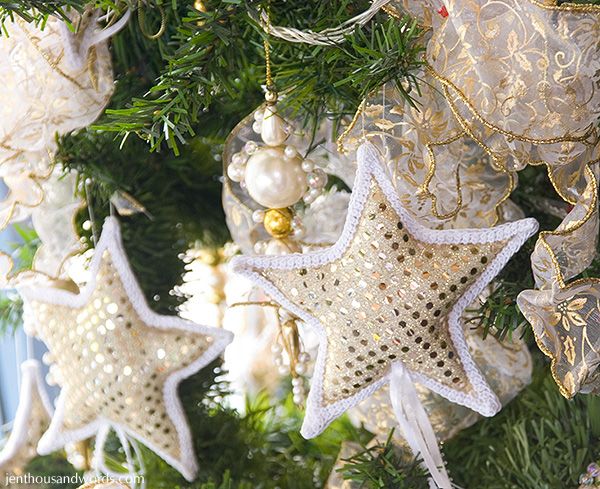 The third display in the collection is of the nativity.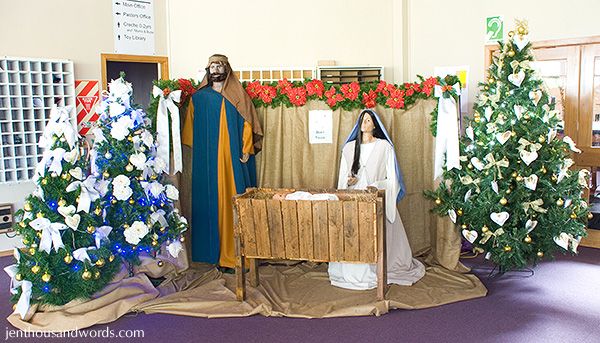 In the centre we have Joseph and Mary and a rustic manger filled with hay and the baby Jesus.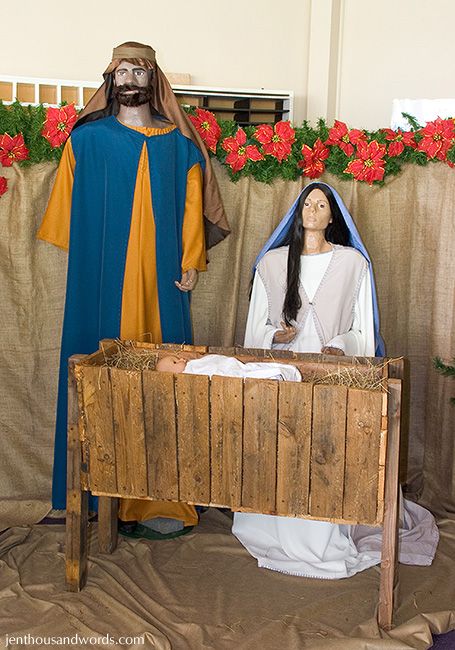 The display also includes three trees. The first and second sport gold ornaments, white ribbon bows and more hand-made heart ornaments.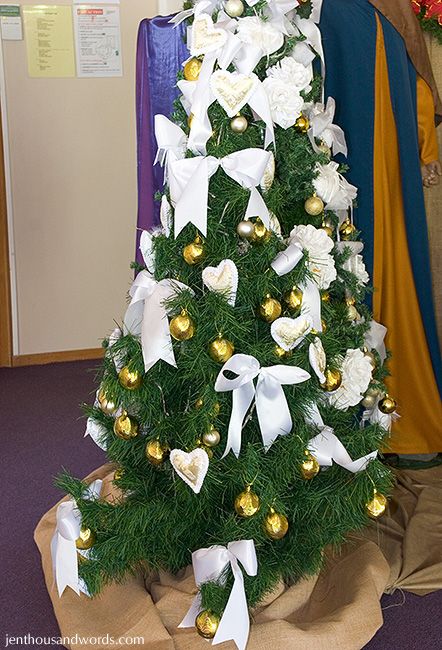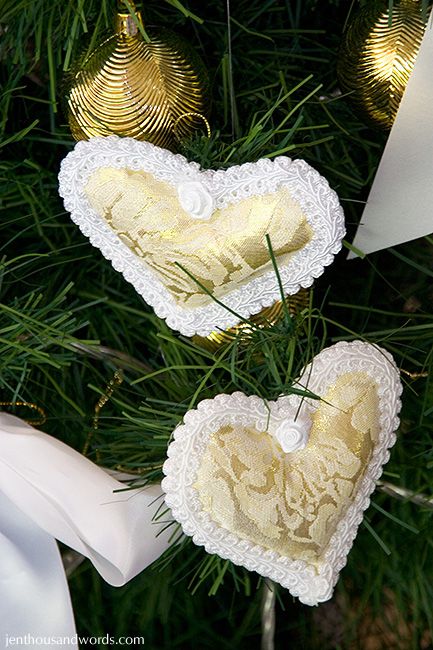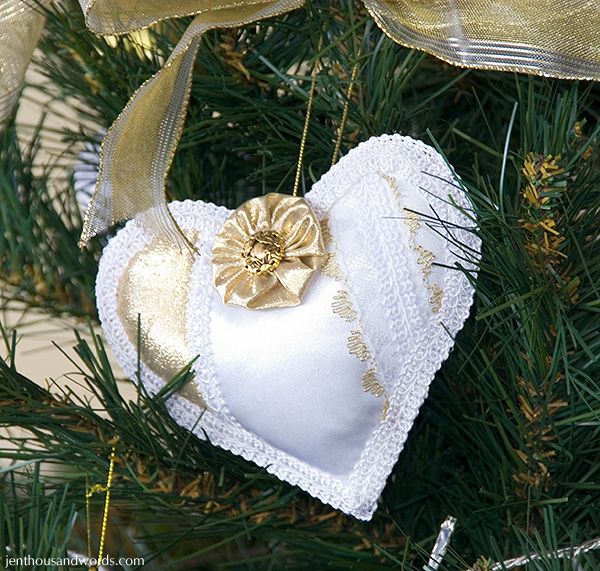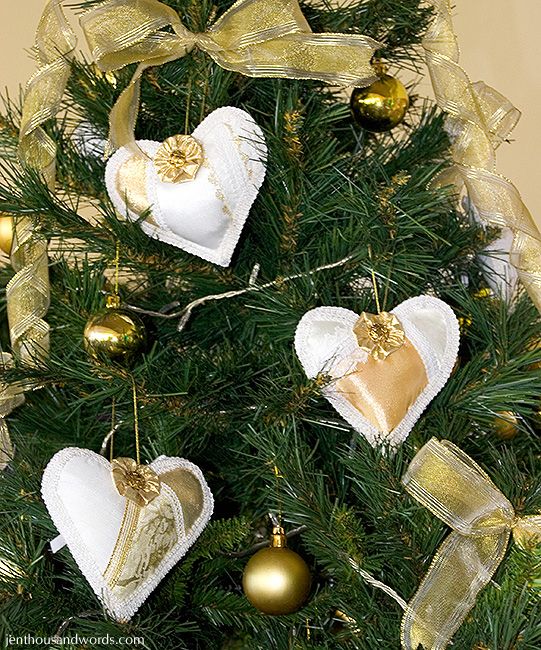 The third tree displays beautiful white roses, white ribbon, gold ornaments and white hand-made hearts.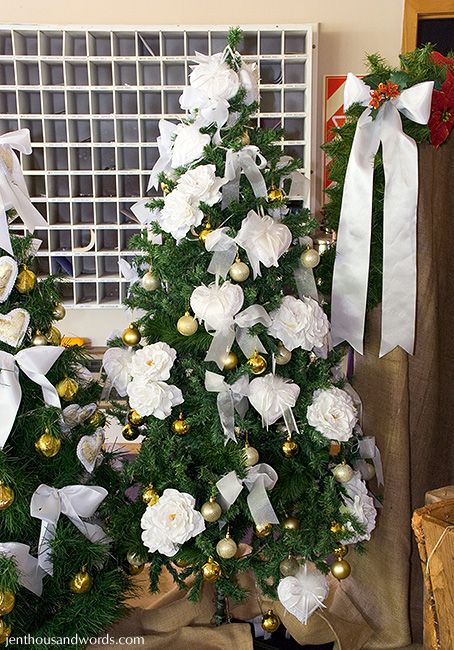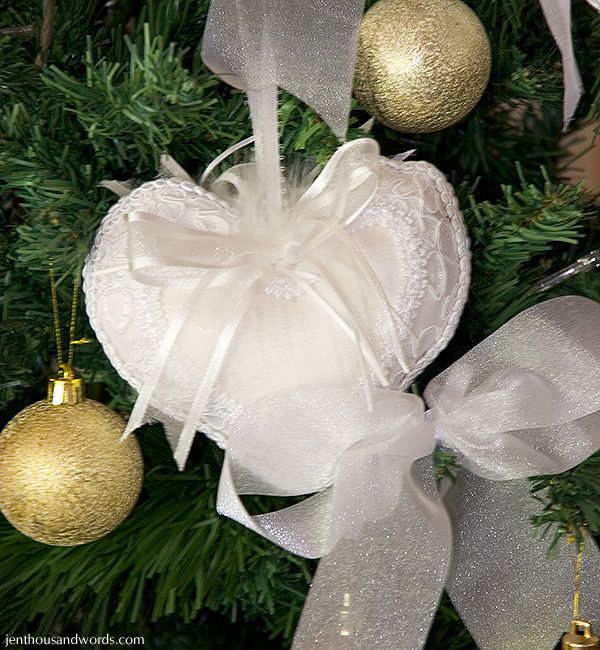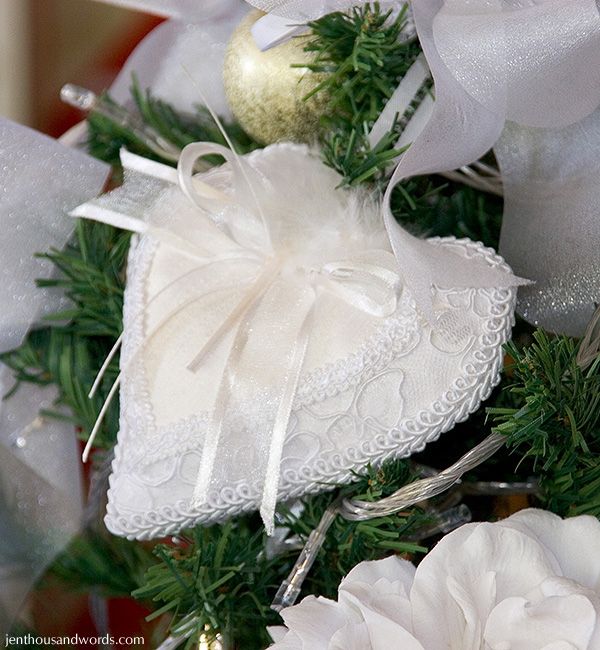 The fourth and final display is of the shepherds.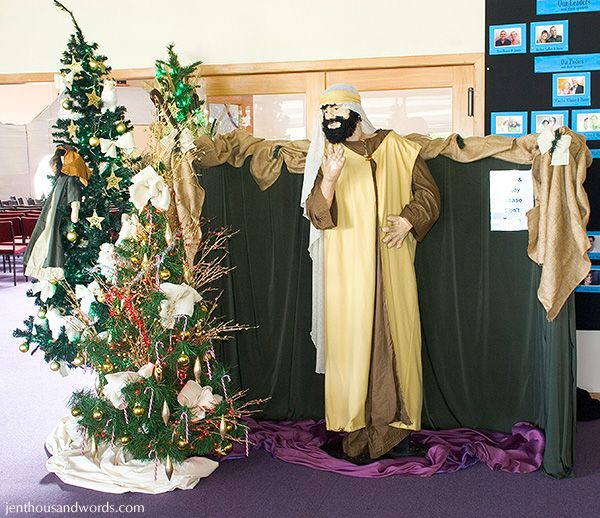 Three trees are included here. The first is the candy-cane tree, with red and white striped shepherds' crooks ...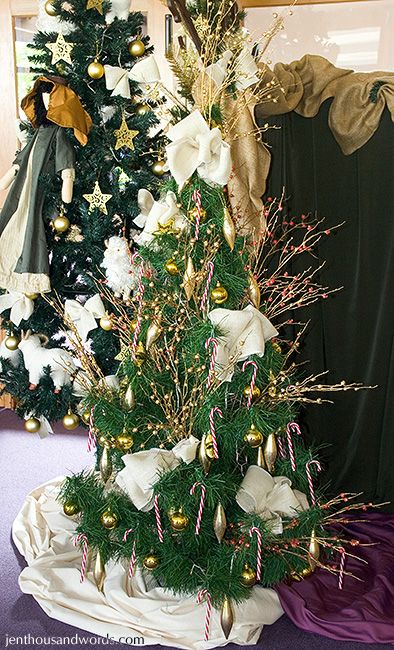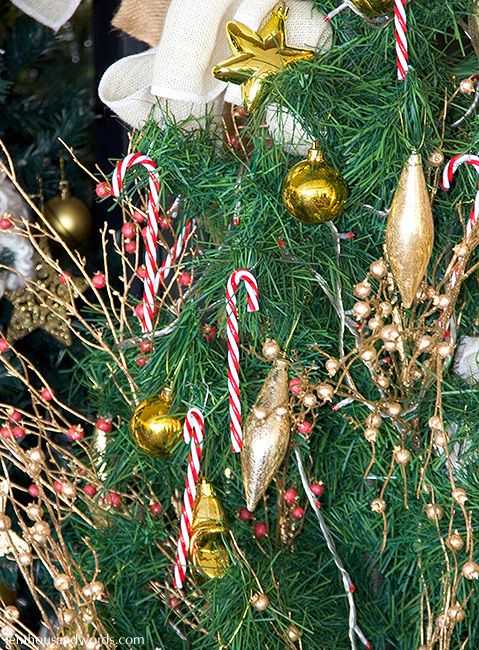 ... and a burlap bow topper.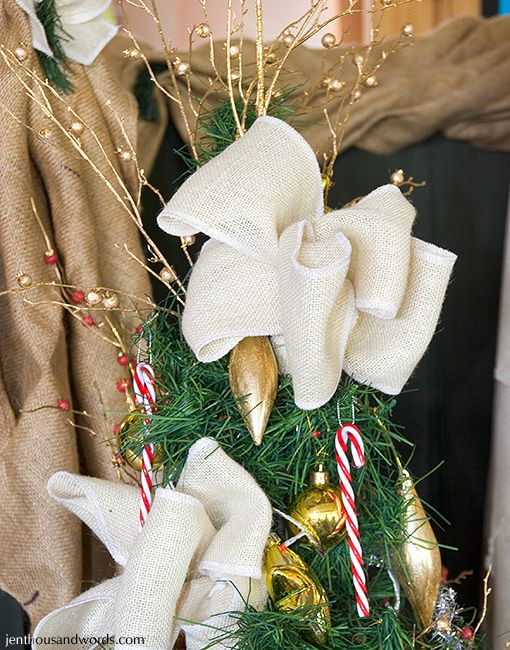 The second tree features a shepherd (of course made by R) and his sheep.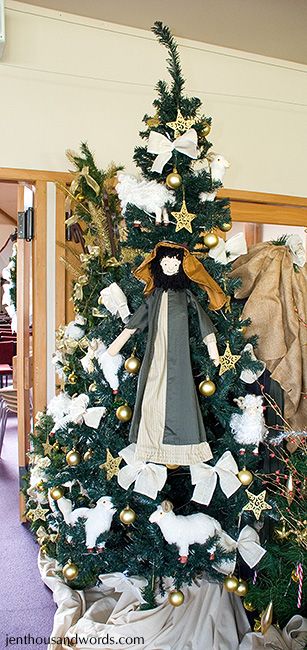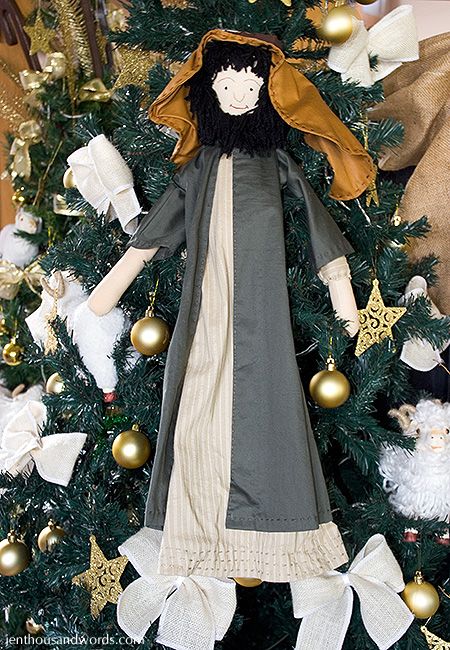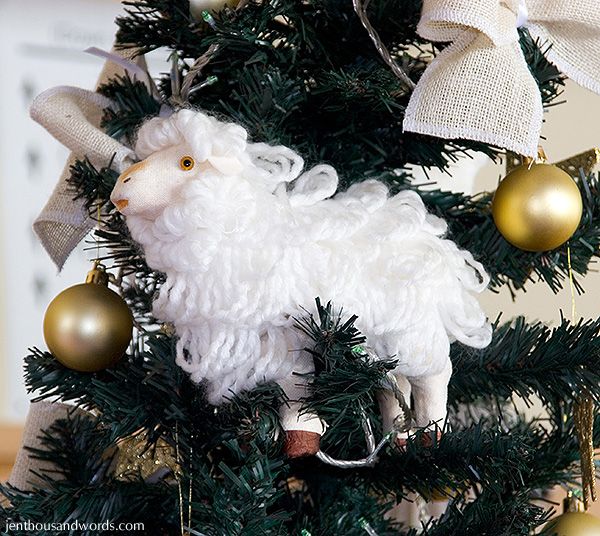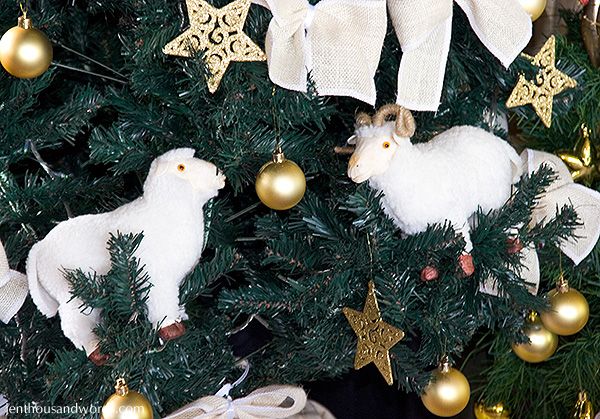 And the final tree displays more sheep with a shepherds' crook topper arrangement.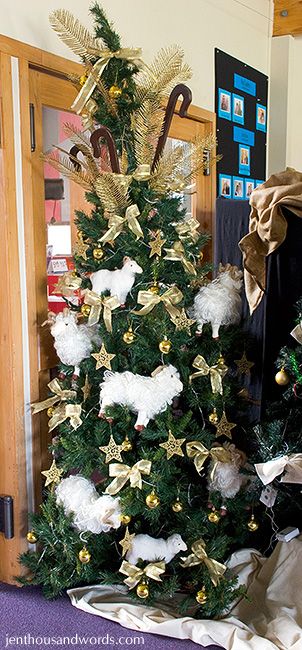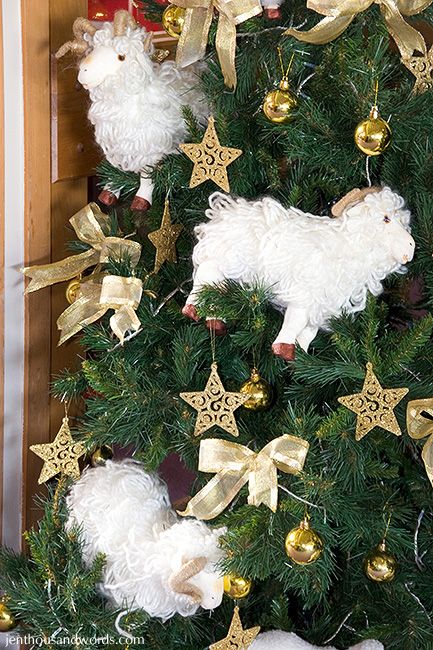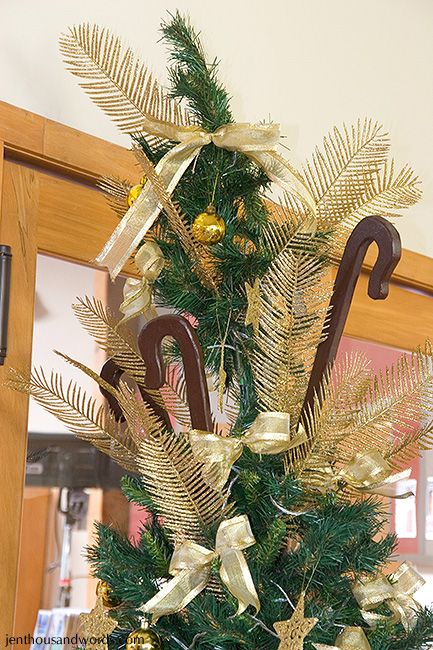 Not quite done yet, R also made some wreaths to hang around the church.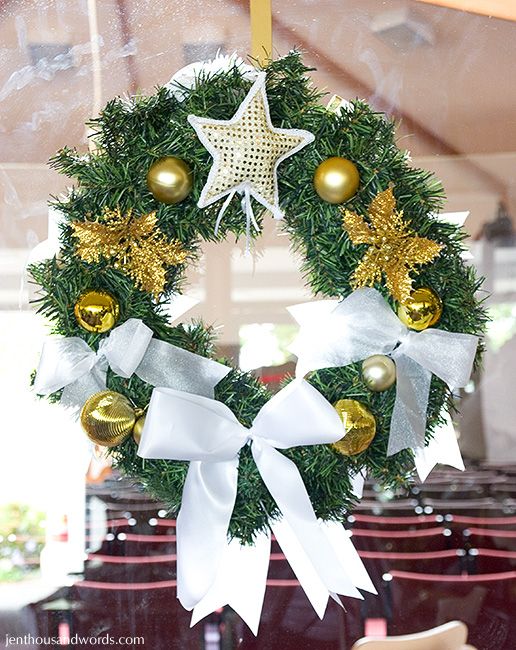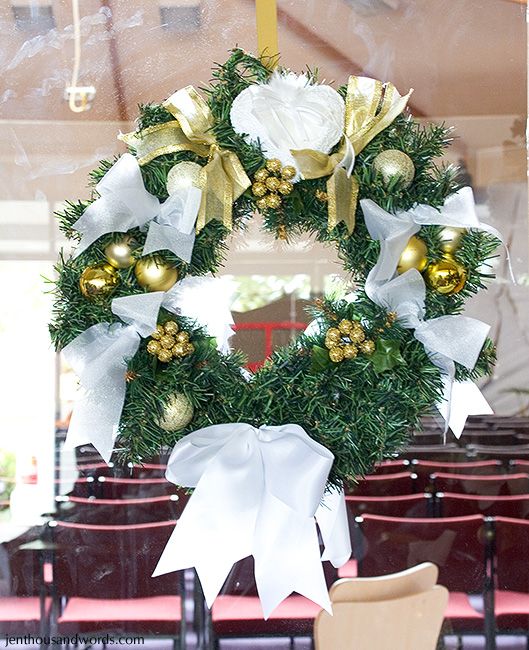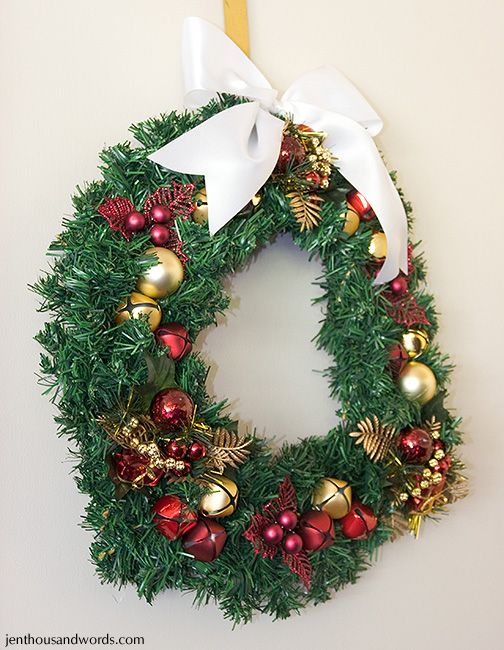 Which part of the display is your favourite? (I know it's hard to choose!!)
I am kind of in love with the shepherd's tree, and with the tree skirts. And the teddy bear tree. Oh, and the nativity display. And ... well all of it!