This post contains affiliate links and I will be compensated if you make a purchase after clicking on my links.
20 years ago, back when I was a teenager (okay, now I feel ooooold), I made my own magazine. It was called GT (which stood for Girl Talk) and I painstakingly wrote out articles, cut out and glued pictures and headlines from regular magazines, and "borrowed" articles to supplement my own.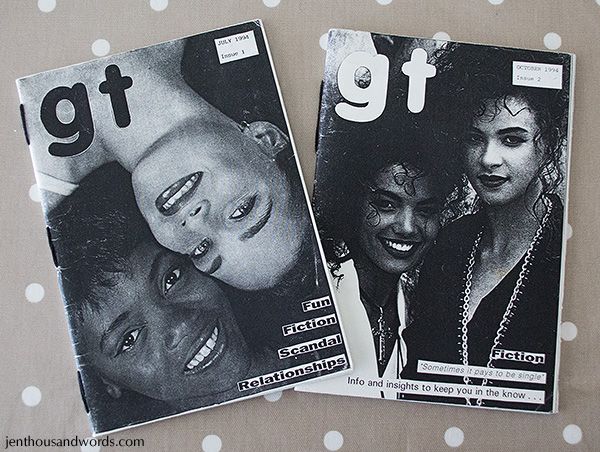 I created the spreads on white paper and my dad took me to his office on the weekend and I'd photocopy all of the spreads, trim them, collate them, bind them, and distribute to my friends.
I tried to get my gal pals to subscribe but they never did, so I gave it up after a couple of issues.
Looking at them now I cringe in embarrassment (although some of it is hilarious), but it was so fun at the time. I included gossip about people my friends and I knew (my cousin Di will laugh at this!)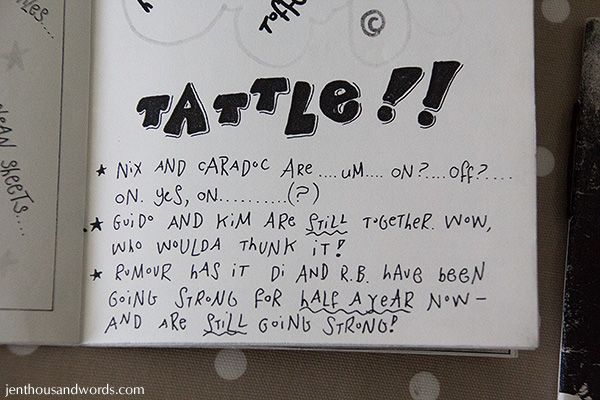 I even did journalistic research and interviewed some of the guys in my life for inside information:
It was fun to do but a lot of hassle and time putting the actual physical "magazines" together. It's so much easier to create your own magazine now that Blurb have brought out BookWright! Here is what they have to say about it - and check out the great discount code at the bottom, which is only valid until the end of the month:
Making Magazines with Blurb's BookWright: An Interview with Trevor Ehle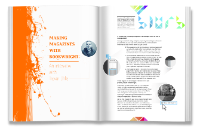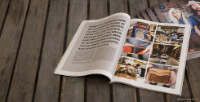 Recently, I had the chance to chat with Trevor Ehle, the Senior Product Manager at Blurb who's been working on BookWright. BookWright is a great new way to make a book, and more importantly, a magazine. Let me share his insider information about the new things you can do with Blurb that make it pretty easy to make a magazine—whether you're an experienced designer or not.

Apparently, building the foundation for your magazine using words and images in BookWright is pretty much the same process as making a book—but there are some differences, according to Trevor Ehle, that you should keep in mind before you start. Here are Trevor's tips for making a stunning magazine...


"The magazine format has the option of printing images and/or text on the inside of the front and back cover. We think this is a nice design addition that is exclusive to this print format. You'll find it in the 'Covers' section of BookWright."


"To keep printing costs as low as possible, Blurb requires that all magazine page counts be divisible by four—so keep that in mind when setting up the content for the pages portion of your book. You can always add blank sheets at the end to make your magazine fit this page count. But don't worry—BookWright will let you know on upload if your magazine's page count is incorrect."


"The magazine's spine is relatively small, even at larger page number counts, so it might be best to use an image, background color, or texture on the spine in place of text. Given the limited space that is available and the variation of the printing process, you are more likely to get a final product you are happy with if you stay away from using text."


"BookWright has soft proofing built in. If you have ever visited our [color management page] you know how complicated this can be—yet it's an important part of your book design process. We've taken Blurb's ICC Profile for color management and integrated it directly into BookWright to help save you time and make it available for everyone—regardless of technical ability."


"As you drop images into your book, we automatically apply the color profile to help manage colors more closely. (However, this can also be disabled in your Preferences view, if you wish to work without it.) If you are designing an ebook, BookWright will disable the profile automatically so you see the true colors, since digital files do not, obviously, need to be calibrated for print."
Are your creative juices flowing? Are you ready to publish the next Life magazine? Bookmark these tips, then head on over to Blurb. Right now, Blurb is offering 15% off on all printed products for returning customers and 25% off for first purchases made by new customers through May 31st! Simply use the code MYFIRST at checkout for new customers and 15%SAVINGS for returning customers. These deals expire next week, so if you're going to grab one, you better hurry!