Not every dress or top is high-cut enough for my taste, as I like to dress modestly. Being generously endowed in the bosom department doesn't help. But layering camisoles or T-shirts underneath isn't always practical - sometimes the extra bulk changes how a dress or top fits, and sometimes it's just too darn hot to wear an extra layer.
I decided to make a couple of faux camisoles, or "boob bibs" - just a bit of fabric to cover the old cleavage, without adding an extra layer around my middle, shoulders or back.
I started by cutting a pattern out of paper, making sure it was wide enough and long enough. I don't have a picture of this step, but I'm sure you can imagine it - just hold a piece of paper up to your chest in front of a mirror, and make some marks to show yourself where to cut.
Then I cut the shape out of the bottom of a T-shirt. Obviously you can use any colour T-shirt that you like - I made one in black and one in white. Excuse the wrinkles; I pulled the T-shirt out of my fabric scraps box for the photos (seems I didn't fold it neatly but just shoved it in there).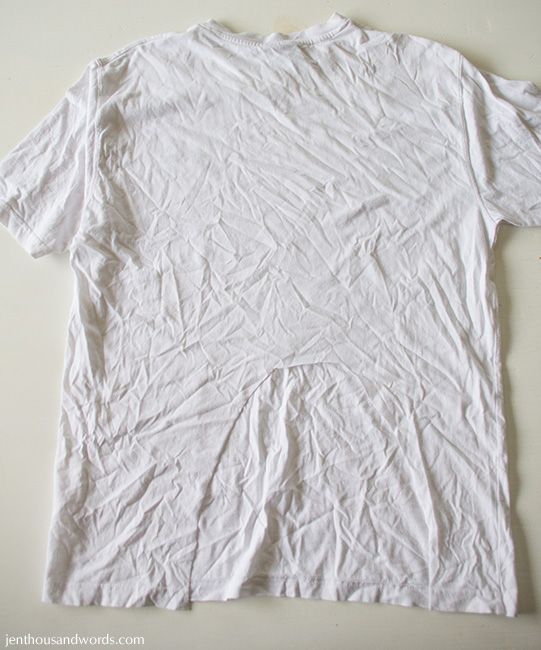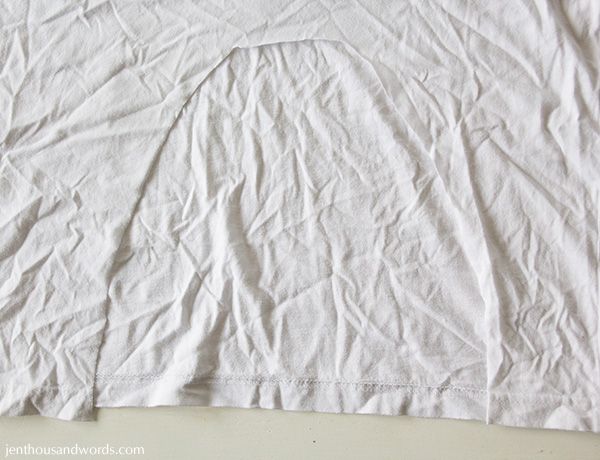 The hem of the T-shirt provides a channel to thread elastic through. I did so, and finished it off with a small hook, making sure to catch the actual fabric when I stitched.
Front: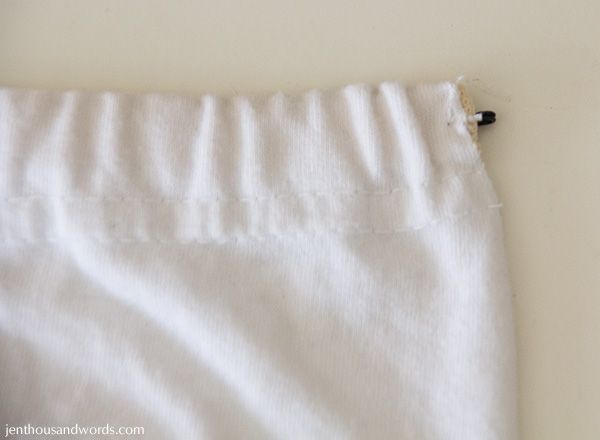 Back: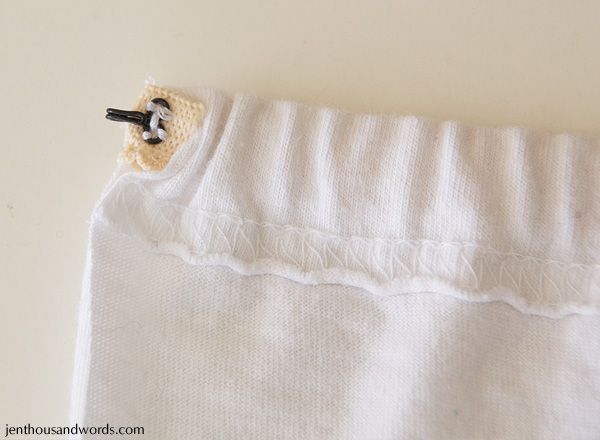 I thought I'd show you how it fastens, without showing you my goods, by putting my bra on over a nude coloured T-shirt. Obviously you'd wear it without the T underneath.
I just hook the little hooks into the lace / embroidery of my bra.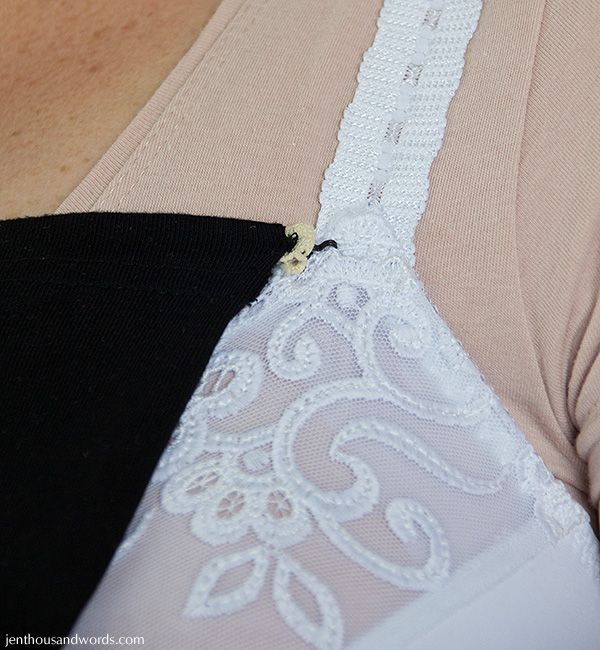 For bras that don't have this kind of lace / embroidery, the hook fastens to the strap. I also don't mind sewing the little eye part of the hook-and-eye set to my bra if needed.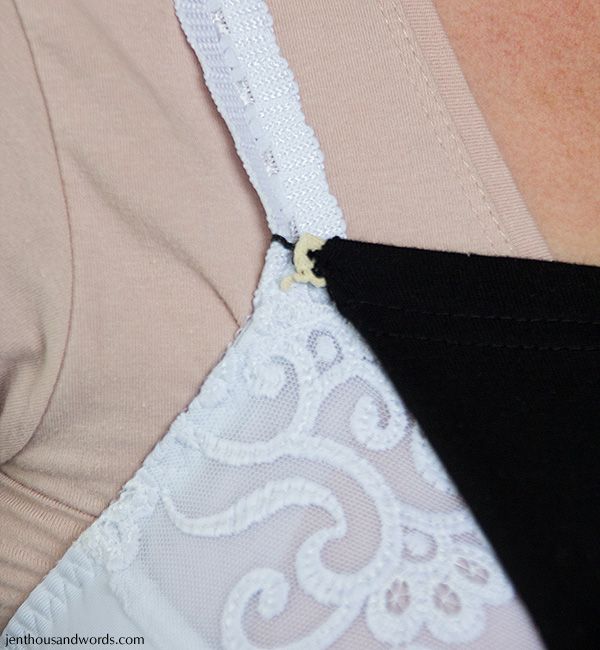 If you'd rather not use the hooks, simply make the elastic long enough to wrap around the strap and fasten onto itself with a hook and eye, press stud (dome), or velcro.
This is how it looks when attached - like a bib.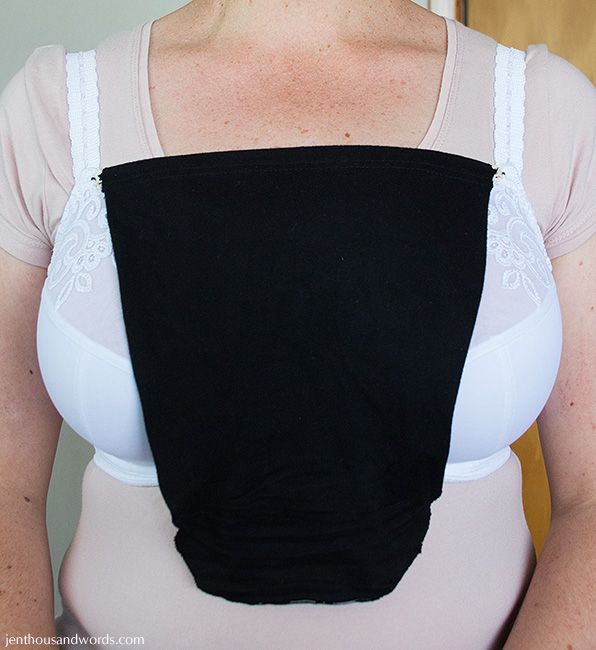 Tuck the bottom up under your bra and you're good to go.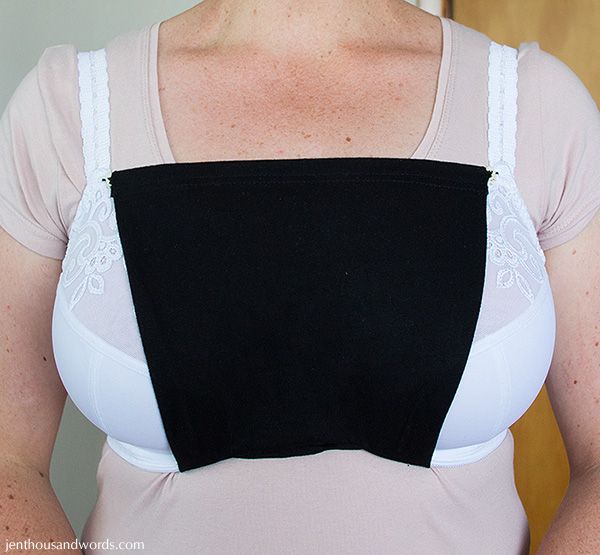 You can see from this picture that the black one is wrinkled on the bottom, from wearing. I've worn it a few times and it works a treat - covers the neckline without adding any bulk.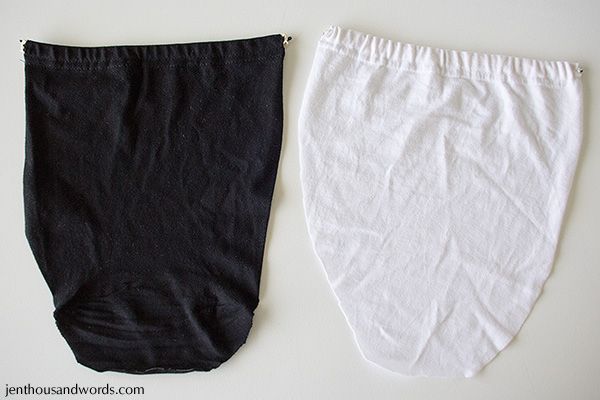 Here's how they look under a few different dresses / tops.