If asked to rank my favourite type of storage in order of preference, it would be:
1) Hanging rods or rails
2) Nothing - an empty cupboard (so I could install hanging rods or rails)
3) Drawers
4) Shelves
Most wardrobe / closet organising systems seem to feature a lot of shelves, like this: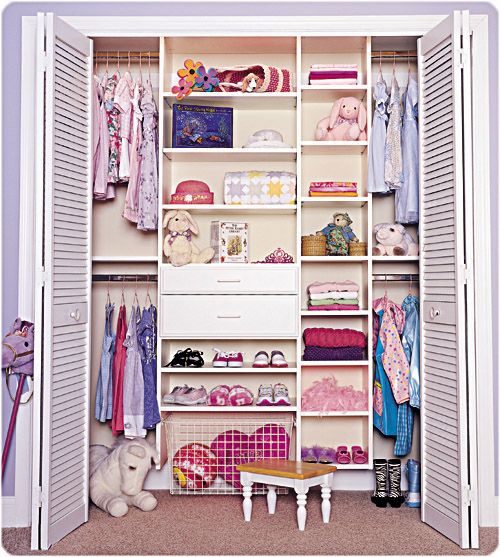 Source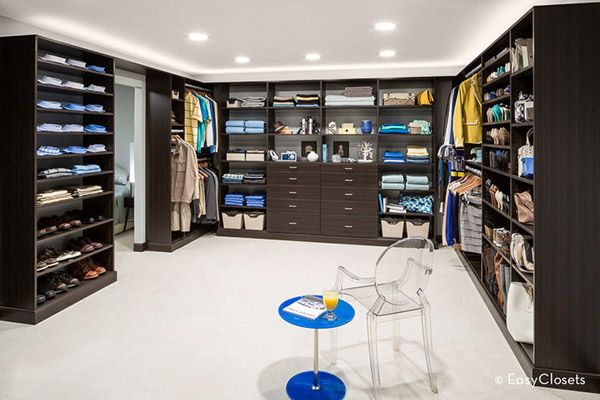 Source
Source
Source
Shelves, to me, are the
least
efficient use of space. They either require further products in the form of baskets or bins (essentially turning the shelves into drawers) or else items get lost at the back of the shelves, or you're having to deal with piles of items, such as folded clothes. And we all know what happens when you want the T-shirt or sweater at the bottom of the pile - an avalanche.
I hang everything - or as much as I possibly can. The only things I store in my chest of drawers in my bedroom are underwear and hosiery, socks and pyjamas. And even they could be stored in hanging space on those shelving units that hang from the rod or rail.
The rest of my clothes go on hangers and onto a hanging rail - jeans, skirts, T-shirts, sweaters, everything. I find it so much easier to keep my closet neat and tidy when everything is hung up. You just swipe the hanger to the section you want and pull out a single item. The same ease applies when putting things away. No teetering piles!
I also find that hanging my clothes takes up less room
than they would folded on shelves. (Here are
a few tips
if you have trouble with hanging your clothes.)
I maximise our hanging space by doubling up on rods. Extra rods are easy to install, I promise. (Even more so if you have an Ikea wardrobe.)
These photos show the Ikea wardrobes that were in our bedroom in England - they were taken after our stuff had been shipped to New Zealand, which is why they were so empty, but they show the double rails that we installed. This one had a space at the end for longer dresses.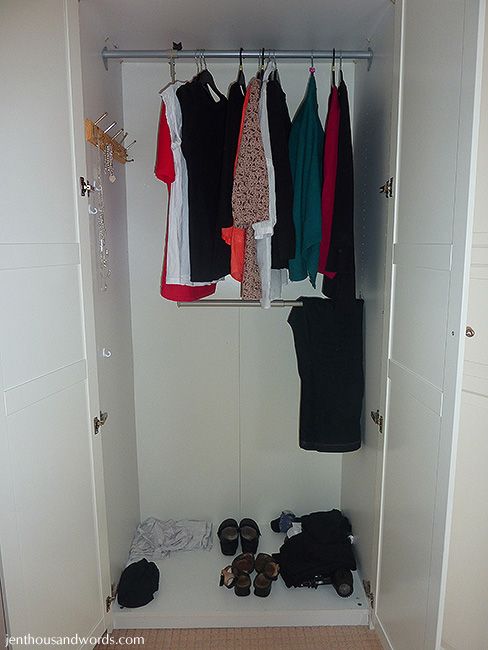 This one had two regular rods.
We are currently renting so we can't go around changing the closets, but it's easy to add a second hanging rail with portable clothing racks. Here are pictures of the closets in our previous home, featuring portable hanging rails. The advantage is that they seldom fill the entire width of the closet, leaving room to hang longer items such as dresses.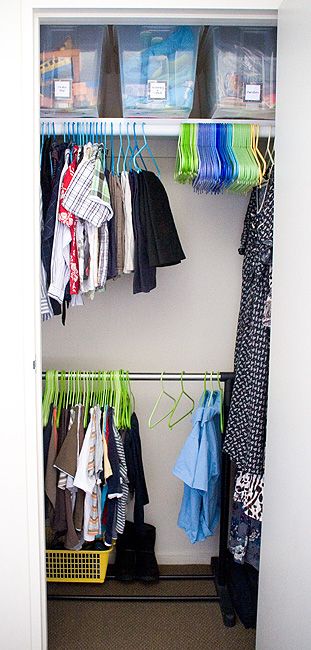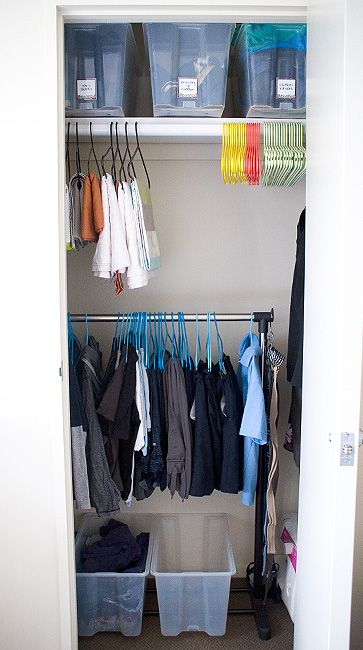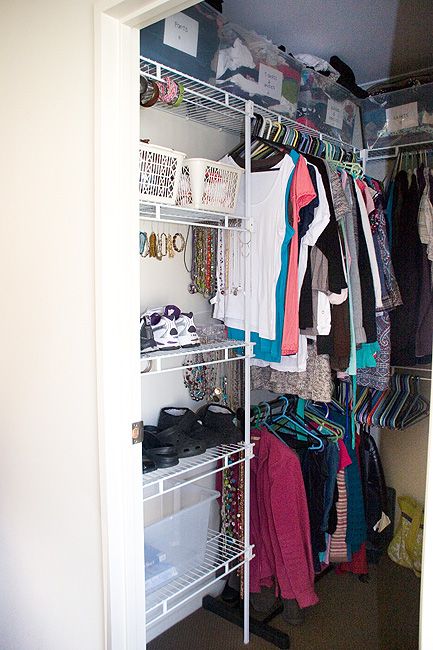 If you prefer, you could put shoe shelves or portable plastic drawers beneath the hung clothing instead of a second hanging rail.
When I said I hang everything I wasn't kidding. Hanging rails make storage so simple. You can hang tablecloths ...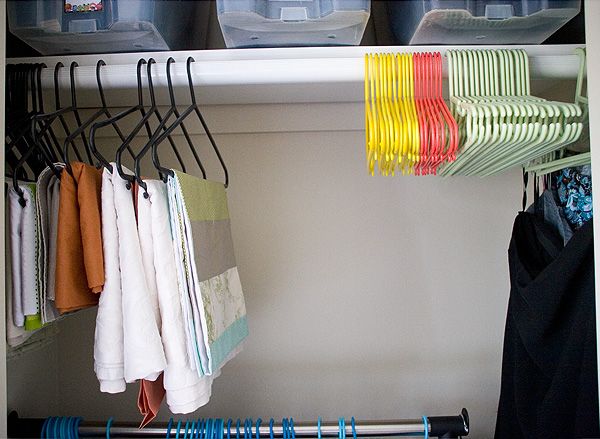 ... or
spare duvets
or blankets ...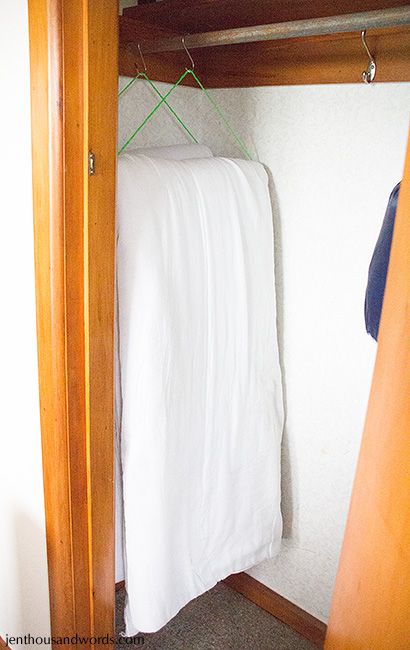 You could hang fabric in your craft room. You could hang towels in your linen closet if you added a rail.
If you really do need shelves, you can add hanging shelves - even
outside of the closet
.
You can even hang boots and flip-flops from the rails in your closet. These boots are hung with skirt hangers.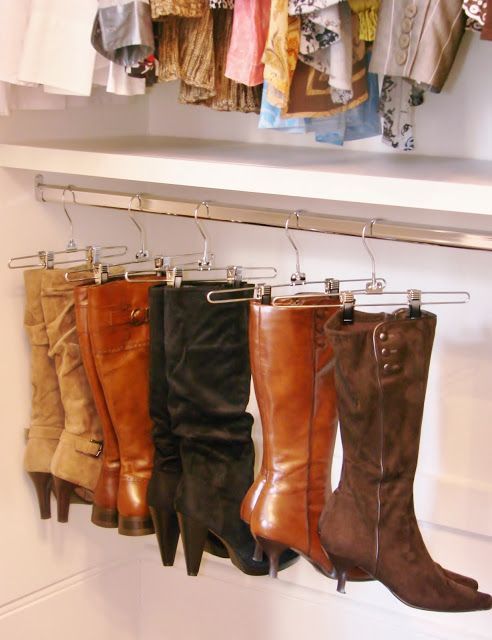 Source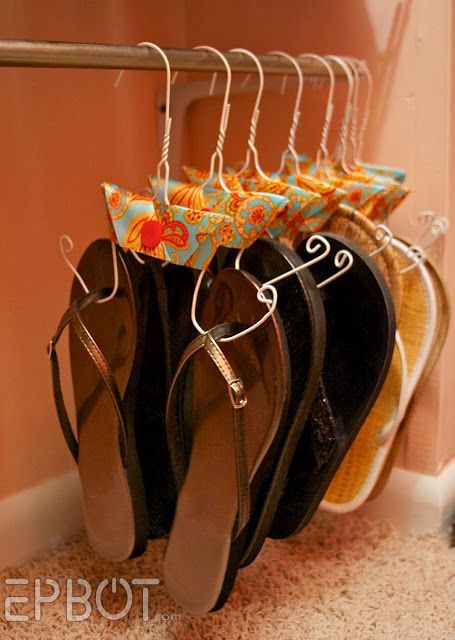 Source
Adding S-hooks to a regular hanging rod makes it even more versatile.
Source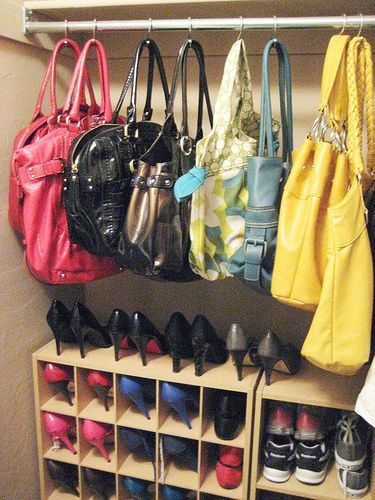 Source
What do you think? Are you likely to remove any shelves and install hanging rods? Or install second hanging rods in closets that already have one?