As you know, we have five chickens. Three of them are Wyandottes, one is a Barnevelder and one is a New Hampshire Red called Rosie. She was one of the babies that Marble (our Barnevelder) hatched (see
here
,
here
,
here
,
here
,
here
,
here
,
here
, and
here
for the cuteness - Rosie is the yellow one). Here's how she looks now: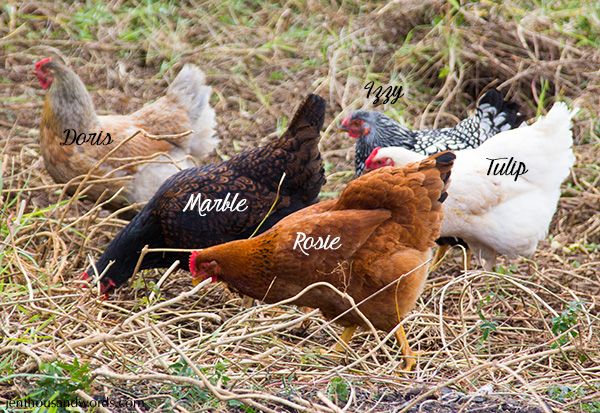 I probably shouldn't say this but she's my favourite out of the flock. She's just different. She's very sociable and curious.
One of the reasons we got a puppy instead of an older rescue dog is that we wanted the dog to grow up being used to being around the chickens, and knowing that they were here first. (We also deliberately chose a herding breed rather than a hunting breed). Daisy has been mildly interested in the chickens from the beginning, and has never shown any inclination to chase them (or herd them!) - the most she's done is want to play with them. They have been wary of her but not afraid at all.
But Rosie is different. She is
so
interested in Daisy! Even right from their first meeting, when the other chickens moved away, she came back to check Daisy out. She often comes and hangs out at Daisy's gate (the back yard is divided, with a chicken section and a dog section), waiting to be let in for a play date. When she is around Daisy they play together - Daisy will pretend to pounce and Rosie will pretend to peck her. It's just so cute! I'd think Rosie was simply being defensive if she didn't seek Daisy out all the time. I caught some of their play time on video and thought I'd share it here - the video starts with the very first time Daisy met the chickens (if you're reading this in a feed reader you may need to click over to the blog to see it).
Aren't they sweet? It always makes me smile to see them together.