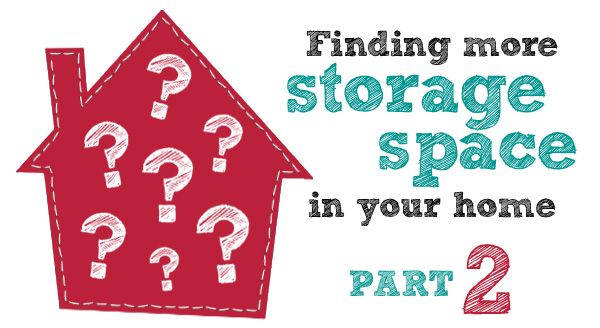 When applying logic to where you store things, it also helps to categorise the space you have available. There's no logic in storing something in the right room, or even the right area of a room, if it's still not easily accessible.
Your "real estate" is your physical space. Each shelf, each drawer, each rail in a wardrobe presents potential storage space, or real estate.
Grade A
real estate is the
most easily accessible
space that requires no effort to access items. Examples would be:
bottom shelves of your kitchen wall cabinets
the top drawer of your kitchen base cabinets
your chest of drawers (especially the top drawers)
your wardrobe hanging rails
Grade B
real estate is space that is
easily accessible but requires slightly more effort
such as bending or stretching. Examples would be:
the top shelf of your kitchen wall cabinets
the base cabinets in your kitchen
the lower drawers in your chest of drawers
under the sofa
under a bed
the floor of your wardrobe
Grade C
real estate is
fairly easily accessible but requires an extra step and/or the use of a tool
– standing on a chair or a step stool, moving a piece of furniture or going up or down a flight of stairs (for example, a cellar). Examples would be:
the top shelf of your closet
the tops of your kitchen wall cabinets
behind your sofa
your cellar
Grade D
real estate means a place where
you can get to the items if you need to but it's a bit of a hassle
. Examples would be:
your loft or attic
an outdoor shed
the garage
a crawl-space under your home
As you go about your daily life you'll notice which items you use every day. These items need to be stored in Grade A real estate.
The items you use once a week (for instance your church bag, sports kit, bread machine, etc) will be stored in Grade B real estate.
Less frequently used items such as out of season goodies (clothes, blankets, beach toys) will live in Grade C real estate.
Seldom used and bulky items such as your Christmas tree and tent will go to Grade D real estate.
Can you think of some items in your own home which are seldom used simply because they are stored in the wrong band of real estate and are too difficult to access? Would you use them more frequently if you could access them more easily? Move them!
Upgrade them to better real estate
.
Can you think of some items in your own home which are not used all that often and are in Grade A or B real estate, wasting the most precious storage space? Why don't you use them often? If it's a legitimate reason, such as seasonality or occasion,
store them elsewhere
! If you just don't like or need them or they don't work well,
they are clutter and you need to get rid of them
.
Part 1 - Logic for your life
Part 2 - Categorising your space
Part 3 - Go vertical
Part 4 - Hooks
Part 5 - Pegboard and towel rails
Part 6 - Doors
Part 7 - Magnets, ends and bottoms
Part 8 - Tension rods and nooks
Part 9 - Maximising cabinet space
Part 10 - Think outside the (storage) box